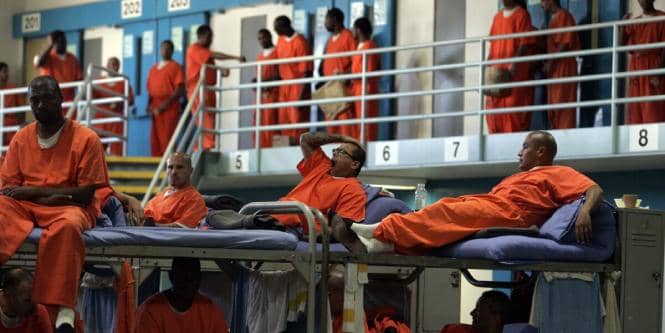 Hard Knock Life
The Los Angeles County Jails are the largest in the world and one of the most troublesome in the United States, housing an average of about 22,000 inmates every day. Included is the notoriously violent Men's Central Jail in downtown Los Angeles, a windowless dungeon where deputies have been known to beat and torture inmates for decades. Since 1985, the American Civil Liberties Union has been tasked by the courts to oversee conditions in the Los Angeles County Jails. Overcrowding, poor sanitation, and severe maltreatment by deputies have all been reported by the American Civil Liberties Union of Southern California during this period.
The American Civil Liberties Union reports that most people incarcerated in the United States are not yet convicted criminals. These people receive regular access to necessities like clean water, functional toilets, a shower, and appropriate food or medicine.
The American Civil Liberties Union (ACLU) petitioned U.S. District Judge Dean D. Pregerson for an emergency order to clean "medieval" conditions at the Los Angeles County Sheriff's Department's Prisoner Reception Center in Downtown LA. The petition brings back to life a class-action complaint from 1975, in which inmates successfully demanded that the county stop using unsafe and cruel tactics that violated their rights.
The Numbers
According to the Sheriff's Department, about 120,000 offenders go through the prison system's central processing facility each year. There has been a dramatic rise in incarcerated people with mental illnesses. The ACLU claims that two deaths have occurred at the shelter since April. Human rights activists said detainees were often chained to chairs and benches at the facility's medical clinic for extended periods. "This horrific conduct violates all fundamental rules of human decency and the Constitution," ACLU attorneys stated in a court filing.
An attorney representing an inmate who spent 99 hours sitting on a bench in handcuffs said his client had "continuous cuts, swelling, and bruises on the wrist of a guy with protracted shackles." They discovered two prisoners, one of them was lying in a pee pool that had been left on the floor. He said one inmate had seen a guy defecate in a trash can.
A prisoner Tony Jones stated in court that he was sitting on the front bench, and the chair-bound guy beside him pulled down his trousers and defecated on the floor. For two days, the stool sat on the floor. The front bench was not cleaned. The reek of filth and urine permeates the surroundings. People were urinating in orange juice cans. Some prisoners with serious mental illnesses, such as schizophrenia, bipolar disorder, or persistent post-traumatic stress disorder, have complained that the institution has denied them access to the drugs they need to manage their disorders.
If the ACLU requests a temporary restraining order, the county will no longer be able to hold anyone in the receiving center for more than 24 hours or chain them to chairs or benches for more than four hours. It would also mandate that the county ensure that all inmates have access to potable water, functional restrooms, and proper medical attention.
The county administration released a statement promising to "make critical reforms as swiftly as feasible," but no modifications were made to the facility's admission procedures. The LA County jail system is one of the biggest in the United States, housing about 14,000 prisoners at any time.
From August 9th through September 2nd, according to ACLU court documents, 252 convicts spent more than 24 hours chained to chairs or benches without bedding in the receiving clinic. A diabetic prisoner was "given just peanut butter and jelly sandwiches and orange juice which caused his blood sugar to soar and plummet," according to his attorneys. Other prisoners were dehydrated because they wouldn't drink water from the toilet/sink combination.
On September 16th, a federal court issued a temporary restraining order to address the "barbaric" circumstances at the Los Angeles County Jail.
The Los Angeles County Sheriff's Department cannot keep an offender at the overcrowded inmate receiving facility for more than twenty-four hours, according to an order issued by U.S. District Judge Dean Pregerson.
Clinic deputies will be prohibited from using excessive force (including handcuffing, chaining, etc.) for more than four hours. They are also prohibited from detaining more persons in holding cells than permitted by state laws "without first exhausting every other method."
According to the filings, someone cannot be detained for more than 12 hours or confined in a locked cell for more than eight hours.
Need an Attorney? CALL NOW: 310-274-6529
Seppi Esfandi is an Expert Attorney who has over 21 years of practice defending a variety of cases.