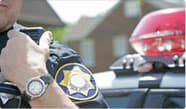 Domestic abuse is defined by the state as when a person inflicts injury on a former or current spouse, a cohabitant, or a mother or father of one's child deliberately. These types of crimes typically involve a lot of emotion and can be detrimental to the family dynamic.
In California, domestic abuse and its related violent offenses are wobblers, meaning they can be tried as either misdemeanors or as felonies. A defendant's criminal record and the details of the crime are the determining factors as to the severity of the offense.
For these types of crimes it's important to employ a skilled criminal defense attorney who has good-standing relationships with prosecutors and judges.
Visit our Los Angeles Domestic Violence Attorney Page for more information.