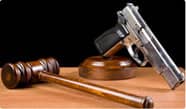 Getting caught carrying an illegal firearm comes with serious punitive measures in California. Most weapons and gun charges are felonies, meaning if convicted the defendant will serve mandatory jail time.
Examples of weapons charges include: carrying a concealed weapon, possession of a weapon by a convict, selling firearms without a license and aggravated assault.
There are also defense strategies that can be used against weapons and guns charges, including: self-defense, improper search and seizure, accidental firing, and non-ownership of the possessed weapon.