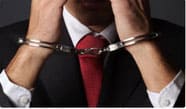 There are a variety of white collar crimes which require specific defense techniques.
Most white collar crimes involve an employee who's being accused of an offense against a company or institution. These cases require institutions to turn over records in your defense.
Defending white collar crimes is a particularly specialized field that only a small percentage of attorneys are willing to pursue. In these case, the defense attorney will need to investigate thoroughly in order to provide some reasonable doubt.
Please feel free to visit our Los Angeles Expungement Attorney Page.