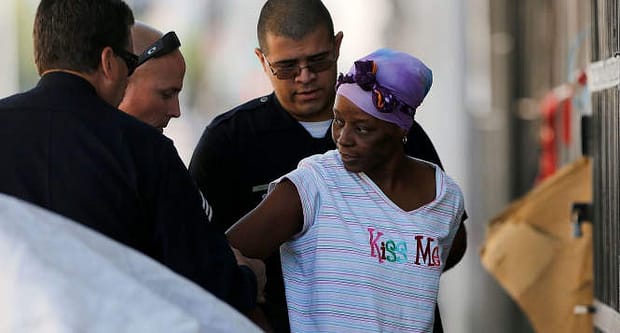 Homeless Crisis and Arrests of Homeless Increase in Los Angeles
Arrests of Homeless Increase in Los Angeles, the cost of rent in Los Angeles County has increased a whopping 30 percent over the last 15 years, and has recently been increasing even more. This is one of the underlying reasons why homelessness has dramatically grown in LA, with a 75 percent surge in the last six years. Another reason is mental illness. Nearly three-quarters of the homeless sleep in streets, alleys, canyons and riverbeds.
Los Angeles has the second largest number of homeless people of any city in the US with approximately 55,188 in 2017.
Next to New York City's estimated 76,501 homeless, the city of Los Angeles has the second highest number of homeless, which includes about 5,000 children. The city of LA has recognized the problem and is taking steps to solve the problem from many angles.
Police are Cracking Down
A report from the Los Angeles Police Department has indicated that homeless people are being increasingly criminalized. LAPD officers made over 14,500 misdemeanor arrests of homeless people in 2017, a 10 percent increase from the previous year. Felony arrests increased by 12 percent, with over 6,400.
There was also a 20 percent increase in 2017 of 'non-categorical (non-lethal) use of force', against homeless people, compared with the previous year.
The LAPD attributes the increase in crackdowns on "quality of life violations", barring sleeping and storing personal property on sidewalks.
HOPE or Hopeless to Arrests of Homeless Increase?
LA's "Homeless Outreach and Proactive Engagement" are teams of peace officers and specially trained outreach workers designed to efficiently and civilly cleanup streets and encampments within city limits. They primarily focus on citizen complaints about trash and drugs in various "tent cities". They are trained to use de-escalation tactics when dealing with the homeless, rather than aggressive, physical tactics.
Homelessness coordinator Dominic H. Choi said misdemeanor arrests are made as a last resort, only after homeless people are offered shelter and other services by the outreach teams, and they essentially refuse requests to clear sidewalks or obey other laws. Peter Lynn, executive director of the Los Angeles Homeless Services Authority, said that only 12% of homeless people contacted by the HOPE teams were placed in housing, shelters or detox centers or reunited with family members.
They also said the city and county are cooperating as never before to expand homeless outreach and shelter beds, staffing clinics to resolve homeless citations through community service and starting multiple diversion programs.
Police Commissioner Shane Goldsmith has asked the LAPD to reduce arrests and citations. But Choi said it would help to have somewhere to take people in need immediately. The city of Los Angeles plans to build a $1.2-billion homeless storage and housing project, but construction plans are delayed due to community opposition where they plan to build it.
One thing is certain, the city of Los Angeles cannot "arrest its way out of homelessness".
We're Here to Help
Are you under police investigation, have been arrested or have had your property seized in the greater Los Angeles area? We cannot stress enough the importance of consulting and retaining a lawyer to protect your rights, privacy and future.
Need a Criminal Defense Attorney? CALL NOW: 310-274-6529
Seppi Esfandi is an Expert Criminal Defense Attorney who has over 20 years of practice defending a variety of criminal cases.