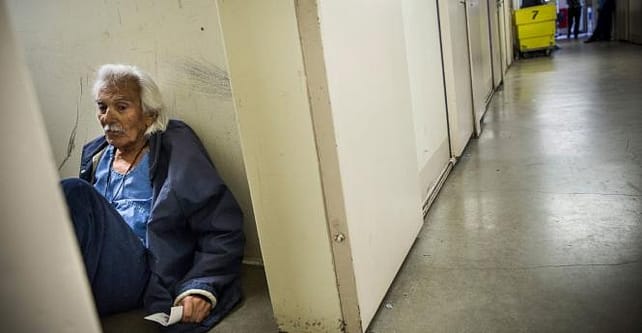 Inmates Over Fifty
The California Parole System has been updated to include the Elderly Parole Program. Good conduct during incarceration may result in a prisoner's release from jail before the conclusion of their (maximum) sentence, a process known as parole. In most cases, a prisoner's parole eligibility is determined by the offense or crimes for which they were incarcerated.
"Depending on a person's conviction and sentence they may be eligible for elderly parole after being incarcerated at least 20 years and reaching 50 years of age, or being incarcerated at least 25 years and reaching 60 years of age."
On February 10, 2014, an order was issued by the federal three-judge court hearing the California prison overcrowding class action lawsuit. In compliance with this directive, the state established a new parole system. Inmates sixty years or older and have served a quarter of their sentence or more will be considered for release by the Board of Parole Hearings. Age-based parole eligibility is indicated in the individual's Legal Status Summary. On January 1, 2018, the Penal Code Section 3055, "Offenses involving dishonesty or fraud," went into force thanks to Assembly Bill 1440. Section 3055 establishes the "Elderly Parole Scheme," similar to the federal court-approved program.
Among the several factors considered by the Board, "if age, time served, and poor physical condition, if any," has the most weight. The Criminal Code, Article 3055 (c). If the Board finds a parolee eligible, it must "release the individual on parole as stipulated in section 3041."
As a result, if parole is granted, the parolee must be released "subject to all applicable review periods" (the time limit within which the government may revoke parole or seek further review), as stated in Penal Code 3041.
Which Seniors Qualify for Parole Release?
Only some offenders in California are eligible for the Elderly Parole Program. Your family member may not qualify for the program if convicted of certain offenses. A prisoner must first meet these requirements to participate in the Elderly Parole Program:
Must be at least 50 years old
Must have spent at least 20 years consecutively on their present sentence;
Must be eligible for release for reasons such as good conduct.
There are a few reasons your loved one could not qualify for this program.
They have a conviction under California's "Three Strikes" law that has landed them behind bars.
They have been given a life sentence with no chance of release.
They are In the death penalty.
A guilty verdict has been rendered against them for the murder of a law enforcement official in the line of duty or retaliation for the officer's work.
Many of California's senior inmates are incarcerated due to three-strike offenses and, as a result, do not qualify for the state's Elderly Parole Program.
How does a person in California apply for elderly parole?
Elderly parole can be asked for in one of two ways:
At a regular parole hearing
Ask for a hearing before the inmate is eligible for Elderly Parole.
A hearing for elderly parole is the same as any other parole hearing in every other way.
Inmates and victims (or victims' representatives) will be allowed to attend and give testimony: Once the parole board has determined that a prisoner meets their criteria for release, the person will be freed. If parole is not approved, the parole board will consider whether or not elderly parole is warranted at the next scheduled parole hearing.
Hearing Durations for Parole of the Elderly and Expected Dates of Release
The method for reviewing decisions made by the Board and the review process used by the Governor apply to parole decisions. If it is determined at a parole hearing that a parolee is 65 years old or older, then the parolee will be eligible for release when all of the required review periods have elapsed, which might take up to five months. If an offender is beyond 65 when their parole hearing occurs, they will be denied release for fifteen, ten, seven, five, or three more years, depending on the hearing.
Disqualification from Parole for Sexually Violent Crimes (Senate Bill 445)
An elderly violent sex offender will no longer be eligible for early release under the Elderly Parole Program, according to Senate Bill 445. With this in place, it doesn't matter how old the offender is today; victims of severe sex offenses may rest sure that the person responsible for their physical, mental, and emotional abuse will spend their whole sentence behind bars.
Related Article: How to Apply for a Pardon in California
Need an Attorney? CALL NOW: 310-274-6529
Seppi Esfandi is an Expert Attorney who has over 21 years of practice defending a variety of cases.