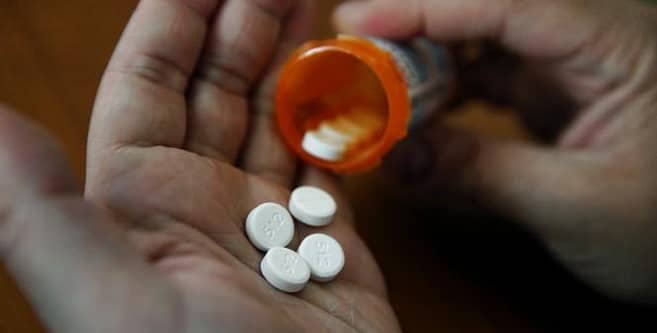 Possession of Controlled Substance
For many types of controlled substance laws in California, it's a crime to merely have the drug in your possession without a doctor's prescription, as this can create the assumption that since the drug was on your person or property, you were going to use it and must have obtained it illegally.
But, when it comes to prescription medication in the Golden State, the laws vary in terms of possession.
Of course, prescription drugs on their own are not illegal — even highly addictive and controversial prescription opioids are not illegal when you have a prescription for them. But, using someone else's prescription medication is illegal in California. Where the law gets a bit complicated is that there are certain scenarios where it isn't considered illegal to have someone else's medication in your possession, under California Health and Safety Code §11350.
There are two primary conditions to take into consideration when determining whether or not having someone else's prescription drugs on you is illegal — both relying on intent.
Take this example:
Maria keeps a bottle of her mom's Vicodin on her at all times so she can administer the medication to her mom when she needs it. Maria's mom has a history of prescription drug abuse, and Maria and her mom's doctor have decided this is the safest route to get Maria's mom the relief she needs without jeopardizing her sobriety.
In this case, Maria keeping her mom's Vicodin on her is completely legal because she meets both conditions:
She has the medication with the intent of distributing it to the prescribed person.
She has permission from her mother (and the doctor) to possess the drug.
It is critical that you have permission to hold the medication from the prescription holder to hold their medication — this also applies to parents holding and administering prescriptions for their children. You cannot under any circumstances take the medication yourself, and you must only give it to the person whose name is on the prescription.
The key to avoiding a criminal charge for prescription drugs is to make sure you have explicit permission from the prescription holder to hang on to it for them, never take a prescription medication that is not yours, and never give it to anyone besides the prescription holder and never sell it.
Can I Pick Up a Prescription for a Family Member or Friend?
Yes. A pharmacist has the discretion to use their professional judgment and experience to make a reasonable decision in the patient's best interest to decide whether or not to allow someone else to pick up their medication.
The fact that a relative or friend comes to the pharmacy and asks to pick up a specific prescription effectively verifies that they are involved in the patient's care. What's more, HIPAA allows pharmacists to give filled prescriptions to relatives or friends without any kind of notice in advance from the patient.
Common California Prescription Drug Crimes
Common California prescription drug crimes include:
Possession of Drugs
California Health and Safety Code §11350 makes it is illegal to possess any usable amount of a controlled substance — this includes illegal drugs and prescription drugs that are not lawfully prescribed.
Possession for Sale
California Health and Safety Code §11351 makes it illegal to possess controlled substances for the purpose of selling them. If you intended to sell drugs illegally to another person, you can be charged with possession for sale. This applies regardless of the amount of drugs in your possession and even if you were prescribed the drugs by a doctor.
Sale or Transportation
California Health and Safety Code §11352 makes it illegal to sell or transport controlled substances in the state. This law is aimed at the trafficking of illegal narcotics, but it's important to note that you can be charged with this crime without operating any kind of large-scale production. This means you can still be charged if you were illegally transporting, selling, giving away, administering, or importing a small amount of prescription drugs.
Use of Prescription Drugs
California Health and Safety Code §11550 makes it a misdemeanor to use or be under the influence of controlled substances, including prescription drugs like codeine and morphine, without a valid prescription from a healthcare provider and not used in accordance with the prescription.
We Can Help
If you've recently been charged with possession of a controlled substance or unlawfully carrying prescription drugs, reach out to Esfandi Law today. Seppi Esfandi has decades of experience working in California law and will develop a defense strategy that aggressively challenges any evidence collected against you.
Need an Attorney? CALL NOW: 310-274-6529
Seppi Esfandi is an Expert Attorney who has over 21 years of practice defending a variety of cases.