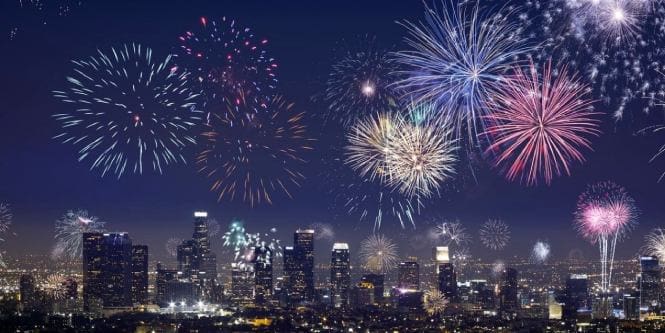 Party Time
In the criminal justice system, New Year's Eve and Day are the two busiest days of the year. When guests at a Christmas party have had a few too many mugs of cheer, the possibility of criminal activity rises. Across the board, large cities see an increase in crime during the New Year. Some typical crimes committed on New Year's Eve are listed below.
Drinking and Driving
Sadly, many New years eve partygoers will drink to the limit and then get behind the wheel. Some impaired drivers drive others home, putting even more lives in danger. The safest course of action if you have to drink at a party is to either stay the night or find a sober driver to take you home. DUI checkpoints are sometimes set up at random locations to apprehend intoxicated drivers.
Intoxication in a Public Place
Suppose a person appears in a public place while intoxicated to the extent that they may harm themselves or another person; it is considered a violation in most states. You should drink moderately to avoid getting in trouble on New Year's Eve or Day.
Sex offenses
In addition to driving under the influence, sexual misbehavior is another possible outcome of alcohol intake. People's inhibitions are lowered, and their judgment is clouded by alcohol, leading to improper behavior. If you're going to a party, watch your alcohol intake and refrain from making suggestive remarks or touching anybody until you've sobered up. Women drinking heavily are more likely to be the target of rape or sexual assault.
Domestic violence
This time of year, many individuals spend more time with their families than at any other. The holidays may be volatile for families with unresolved issues, particularly when substances like alcohol or drugs are involved. That's why law enforcement gets more calls about domestic violence during the holidays. 
Theft offenses
Theft offenses – Shoplifters will try to take advantage of busy store clerks and security guards around the states during the busy holiday season. "Porch pirates," who steal items left unattended after delivery, are a growing problem in a world where many people shop online. Last but not least, many homeowners and their family take lengthy trips around the holidays, leaving their houses unoccupied for weeks or months, which attract burglars. 
Property Loss
New Year's Eve festivities may rapidly become an insurance nightmare, whether on private property or a public place. During this time of year, property damage caused by drunken visitors overserved customers, or a drunk driver is prevalent.
Auto Theft
Most individuals may respond to drunk driving when asked what they believe is the most prevalent crime on New Year's Day. However, vehicle theft is the most widespread crime at this time.
Drug possession
Many individuals celebrate the new year in pursuit of euphoria. Possession of substances during the celebration may result in severe criminal penalties, regardless of the substance used. A portion of the increase in reported crimes may be attributable to heightened police patrols and enforcement over the Holiday season.
Utilizing a Firearm
New Year's Eve gunfire is hazardous and may result in serious fines. An individual may be prosecuted with Disorderly Conduct for firing a weapon in a public place or over a public road.
Possession Illegal of a Firearm
Dealing with a firearm in celebration of the New Year may result in further weapons-related penalties, such as illegally possessing a firearm. 
Trespassing
According to scientific studies, alcohol starts to impair the brain's normal function practically instantly. Loss of inhibition is one of alcohol's first consequences. Unfortunately, this implies that drinking alcohol might lead to unwise actions, such as trespassing on another's property.
Assault and Battery
It would seem that heavy drinking and New Year's Eve go hand in hand, with an estimated 54% of Americans expecting to partake. It is well known that drinking alcohol is directly related to increased aggressive behavior.
During the new year season, if you face charges of theft, DUI, violence, or another crime, don't hesitate to get in touch with an experienced lawyer at once. These are serious charges, so you shouldn't attempt to handle them without qualified legal representation to provide you with sound advice and fight for you.
Need an Attorney? CALL NOW: 310-274-6529
Seppi Esfandi is an Expert Attorney who has over 21 years of practice defending a variety of cases.