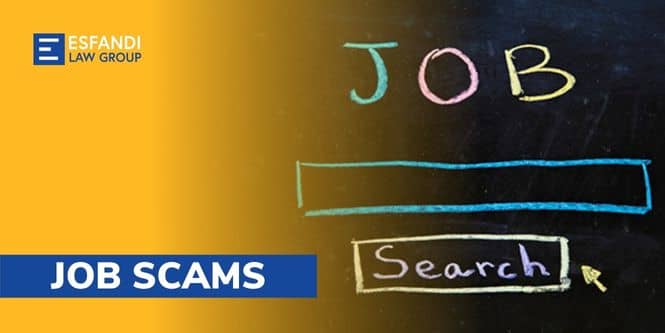 What is Job Scam?
Have you ever encountered a job posting on the internet and immediately dismissed it as a scam? That may be the case. Even if fraudsters have always existed, they've become more inventive and able to target a wider audience because of the prevalence of modern technologies. Anyone may fall prey to a job scam on the internet, so it's essential to be cautious.
Examples of Job Scams
There are different types of jobs that often fall under scams, including:
Work-at-home job scams: Making money from home has long appealed to job-seekers. One of the most popular employment scams is ads that offer high cash in return for working from home. For example: addressing envelopes, reselling products, data entry, reshipping, rebate processors, and assembling handicrafts or goods. These scams try to get you to pay for worthless training, pointless credentials, or registration fees.
Government and postal employment job scams: Some job scams include the promise of employment with the federal government or the United States Postal Service (USPS). The job offer is a scam if the website/employer requires you to pay a fee to get the position or purchase study materials to obtain a high score and qualify for employment.
Signs a Job Offer is a Scam
Even though it doesn't happen often, scams and fake job opportunities can sometimes be found on actual job boards. During your job search, here are some things to look for to help you figure out if the job you're looking at is real or a possible scam:
A recruiter gets in touch with you. Employers that get in touch with you first and say they saw your resume online or in an email are a red flag that your employment offer may not be authentic.
You're immediately offered a job. Job offers without prior application, contact with a hiring manager, or participation in a job interview are a significant red signal. They should be taken very seriously. Getting a job offer from a firm without first contacting them might signify that the opportunity isn't as authentic as it seems.
Fraudulent user profiles and web pages. Social media accounts and websites are easily accessible, allowing fraudsters to construct online platforms for imaginary employers or fraudulent channels for legitimate organizations. The fact that these accounts are either incomplete or brand new should be a red flag.
Unfamiliar software. It's not uncommon for a genuine company to utilize a well-known, well-regarded app while doing an online interview. The work is probably a fraud if you're asked to install proprietary software you've never used before.
Posting a job and sending emails that are both sloppy. This has been done before: There's something wrong with the language used in a job description or email. However, if it is messy in vocabulary and punctuation, it may not be appropriate for the intended audience. Professional firms hardly tolerate this; if it happens, it is usually minimal.
The recruiter's email address is generic. A business email address should be expected regardless of whether you communicate with an HR worker working for an agency or a recruiter from a recruitment firm. Employers that use Gmail or Yahoo as their primary email provider are either not legitimate or are unprofessional.
Requesting an interview using a messaging app. Phone or video conferencing technologies like Skype and Zoom are still the primary means of conducting interviews. A scammer may easily mask his identity using a highly unprofessional message or chat service.
Something costs money. You've been seeking a work-from-home job and found one. You must pay upfront for the equipment you'll need to get started. This is a major red flag.
Protect Yourself from a Job Scam
Scammers "re-invent" work scams, yet you may need a job and fall for one. Despite knowing the numerous kinds and indicators of work scams, you may never be 100% secure. When you encounter a questionable listing, be careful to:
Use Google. Check Google for the firm, employer, or recruiter. If a strange name claims to be a recruiter and emails you a job offer, look them up online to verify.
Tell someone. If a job offer appears too good, share it with a friend. They can help you determine whether it's a job scam or legit.
Accept no wire transfer. Thieves use wire transfers often. They include transferring money fast from one account to another and then losing it. If you receive an email from a corporate executive requesting you to send money, it's an employment scam.
Don't provide a prospective "employer" your bank info. Your employer will require sensitive information like your bank details. No legitimate employer will ask for bank info before you start working.
Employers that pressure you to behave quickly should be avoided. The fraudster wants you to respond promptly to "close the transaction" and send them money or personal details. Depending on the corporate procedure, recruiting takes 1-3 weeks. Any employer that pledges in a rapid recruiting process is a fraud.
Need an Attorney? CALL NOW: 310-274-6529
Seppi Esfandi is an Expert Attorney who has over 21 years of practice defending a variety of cases.