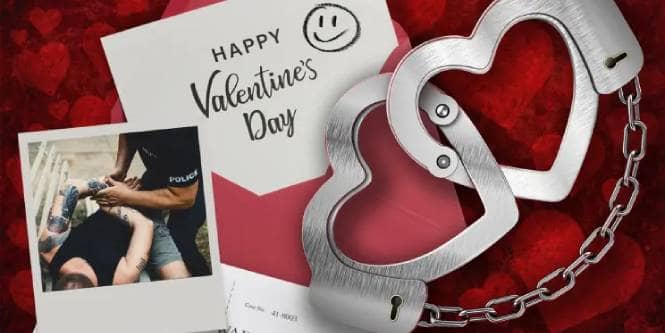 Valentine's day is a day to rejoice and celebrate love. Despite this, a large number of crimes are recorded on this day. It is evident from the records that there are several arrests on this day, making bail necessary.
Criminal activity increases due to excessive drinking during Valentine's Day bar parties. Jilted lovers, who are also at their weakest at this time, may act vengefully. Some betrayed lovers discover their spouses' infidelity around Valentine's Day or shortly afterward and plot their vengeance.
Some common crimes include:
Drunk Driving
Valentine's Day is a holiday that goes well with a few drinks. This is fine and dandy if you're drinking in the safety of your home, but it can be dangerous if you're drinking in public and then trying to drive a car. There are a large number of DUI-related arrests on this day. Taking a taxi home after a few drinks is the safest way to go home after a night out on the town. Under the influence of alcohol, some individuals become aggressive and frequently fight about trivial matters.
Domestic Abuse
Suppose you're coping with a jealous or abusive relationship. In that case, Valentine's Day may be a trying time for you, and alcohol can play a role in domestic conflicts or even instances of physical violence. There are several different ways in which Valentine's Day might increase the likelihood of domestic violence between partners. From learning of an ongoing affair to being a touch tipsy and allowing a recurrent disagreement to get out of hand.
Stalking
Valentine's Day may be terrifying if you have an ex or someone from a past relationship who just can't let go. Ex-partners who can't handle the fact that you've moved on may resort to internet harassment or even stalking if they can't get over their jealousy. Although stalking offenses don't happen often, they tend to spike around Valentine's Day.
People who have committed to a partner in a love relationship are often deemed "fortunate" since they seem to have "found the one." On the other hand, the research found that some long-term couples engage in creepy behaviors, such as mobile phone stalking their spouses. What's more bizarre is that males are likelier to engage in this behavior against their wives or girlfriends.
Sexual Harassment on Valentine's Day
Valentine's Day is a day to celebrate romantic relationships outside of the workplace. Supervisors and colleagues may think sending Valentine's Day cards, or electronic greetings to the whole office is amusing. Managers may also use this opportunity to admire an employee or colleague. Regarding workplace harassment accusations, Valentine's Day is typical for incidents.
Indecent Exposure
Keep your evening of passion private if you don't want the public to see you and your significant other making out. This situation may make everyone feel uncomfortable. The law also classifies indecent exposure as a crime with fines and jail time.
Soliciting Prostitution
Heart-shaped candies, chocolate, and candlelit meals for two are typical Valentine's Day fare. For others, it's a day that brings out their feelings of isolation and despair. And so, some guys look for love in all the wrong places and wind up behind bars.
Crimes of Passion
One of the reasons why many couples argue on Valentine's Day is infidelity. Most individuals uncover their spouse's infidelity on Valentine's Day and seek to exact vengeance. These revenge plans can quickly escalate from violence to assault and battery to murder. Some couples may also jeopardize their connections with their loved ones when under the influence of alcohol.
An example was In 2019, a love triangle between Amanda Michelle Naylor McClure, her then-boyfriend John Thomas McGuire, and her father resulted in a violent Valentine's Day. John McGuire was beaten with a bottle of wine, injected with methamphetamine, then strangled on February 14. Two days after torturing McGuire, they buried him in the backyard. His corpse was exhumed, mutilated, and reburied six days after death. The remains were not found until September 24, 2019.
Robbery
The fact that individuals are purchasing gifts for their loved ones and attending date evenings implies that business is flourishing for merchants. It also suggests that someone may want to steal or rob something.
On Valentine's Day, 2022, the Fresno Police Department apprehended a man suspected of assaulting and robbing street vendors. The defendant, identified as 21-year-old Martin Chavez, was shown on a video assaulting and threatening the victims, including a 77-year-old male, before stealing his property.
Need an Attorney? CALL NOW: 310-274-6529
Seppi Esfandi is an Expert Attorney who has over 21 years of practice defending a variety of cases.