PC 4573 – Bringing Drugs or Paraphernalia Into Jail or Prison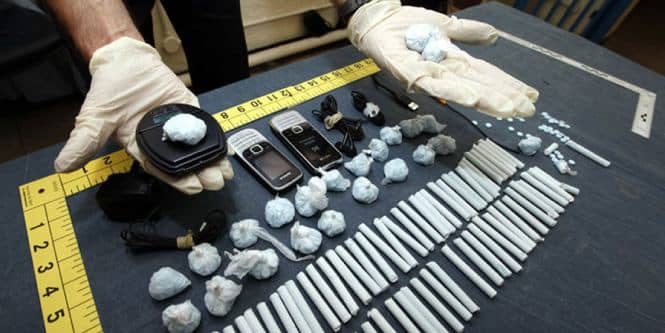 Bringing Drugs or Paraphernalia Into Jail or Prison – Table of Contents
PC 4573 – Overview
What is the definition of bringing drugs into a jail or prison as defined under California Penal Code 4573?
Any person who knowingly brings or sends into, or knowingly assists in bringing into, or sending into, any prison, jail or detention facility where inmates and prisoners are detained and under custody of peace officers, any Dangerous Controlled Substance; and or Device, Instrument, or Paraphernalia, used to unlawfully consume, or inject a Dangerous Controlled Substance.
What is the mental state required for a violation of California Penal Code 4573?
It is implied that the mental state required is knowingly. Knowingly is a conscious understanding of the environment, the nature of the act, and the surrounding effects and consequences of the steps utilized to achieve the result. Therefore, a person must be aware of use of a Dangerous Controlled Substance (CDS) or the listed paraphernalia under Health and Safety Code 11364, and their purpose. And desire to bring either and or both, the Controlled Dangerous Substance or their Paraphernalia into a detention, jail or prison facility for personal use or for the satisfaction of another with the conscious desire and objective awareness of the consequences of that would result by doing so.
PC 4573 – Prosecuting
What are Dangerous Controlled Substances as described under California Penal Code 4573?
In terms of the references to drugs, Health and Safety Code 11364 HS examples include:
Opium;
MDMA;
Mushrooms;
Psilocybin;
Fentanyl;
Peyote;
Meth;
Mescaline;
GHB;
Opium extracts such as CO2 base and derivates like crumbles and dabs;
PCP;
Ketamine;
Testosterone;
Cocaine; and
Heroin.
What is Paraphernalia as described under California Penal Code 4573?
Drug paraphernalia is any equipment, products, materials and its derivates designed for the use, marketing, manufacture, sale, compounding, producing, pounding, testing, injecting, inhaling, storing, ingesting, or growing any controlled substance listed as a Category I, Category II, Category III. Examples include, zip lock bags, rolling papers, containers, carrying cases, straws, razors, carbs, stirrers, grinders, shifters, triple beam weighers, pens, spoons, digital weigh machines, pipes, C02 dispensers and compression machines which contain the residual proof of drugs and their compounds as specified under Health and Safety Code 11364.
Are there any exceptions to paraphernalia as described under California Penal Code 4573?
The general listed exceptions are hypodermic needles. Because of the need to preserve the health, safety, and welfare of the affliction of AIDS. This also includes cancer patients and those afflicted with hypoglycemia. This is an initiative to permit those afflicted with these ailments to have the freedom of choice to administer their medication without intervention.
What is a peace officer as defined under California Penal Code 4573?
Yes, a peace officer. A peace officer's initially after certification and training by the Commission on Peace Officer Standards and Training is any person employed by the:
Sherriff;
Police Department;
Municipality;
Harbor Police;
Inspectors and investigators employed by the District Attorney's Office;
Attorney General's Office;
Department of Justice;
Deputy employed by the Sheriff in all counties of the State of California;
California Highway Patrol;
University Police Department;
Office of Correctional Safety of the Department of Corrections and Rehabilitation;
Department of Internal Affairs and Department of Corrections;
Department of Fish and Game;
Department of Parks and Recreation;
Department of Forestry and Fire Protection;
Department of Alcohol and Beverage Control;
Board of Directors of the Exposition and California State Fair;
Department of Cannabis Control;
Deputized persons;
Is there any notice of this violation to complement the mental state of knowingly?
Yes. there are posted signs at the check in points of most jail, detention, and prison facilities, but the signs list the violations and the penalties for the crimes charged.
PC 4573 – Sentencing
What are the penalties for a violation of California Penal Code 4573?
The penalties for a violation of the Penal Code are charged as a felony. The confinement upon a conviction range between 2, 3, 4 years in State Prison; with fines not exceeding $10,000.
Are examples of a violation of California Penal Code 4573?
Desere, a Consultant for a Big 5 Tax Firm, has been visiting her boyfriend Mabe for consistent 1 month in State Prison at Pitchess Detention Center. He was arrested for DUI under California Vehicle 23153 and 23158. His BAC was .28 and he caused a 10-car pile-up for which the initial victim on the initial impact rolled three times before entering a ditch. The injuries caused a comprised rib fracture, with "aches and pains", and required 3 months of physical therapy. It was his 4th DUI; but his 3rd DUI with a BAC higher than .20. Each time, in the past, she would check in with Officer Doyle. She would also notice the signs and postings in the front checking gate prior to leaving, but she never read them. The notice signs and postings were attached to the window where Officer Doyle always appeared. One of the signs listed the penalties for violence of PC 4573. But today was a Friday and she was in a good mood with the help of a friendly 2-G THC-A pre roll from Jeeter. She smoked half of it on the way to the Prison. But used an Ozuim aerosol in her car and to spray her clothes and the interior to take away the cannabis odor prior to entry to the facility. To her satisfaction the medicinal effects made her Friday much brighter. She stopped on the side of the road, prior to entering the prison check point to place the pre roll in her storage compartment. She did not lock the storage area. When she entered the prison check point, Officer Doyle, did smell cannabis but could not disregard the open retail bag in the back of her convertible with the green cross on it. He asked her to pull over and to exit the vehicle. Officer Doyle searched the vehicle and opened the storage unit that was not locked. He found the pre roll. Desere was arrested.
PC 4573 – Defending
What are the exceptions to a violation of Penal Code 4573?
The paraphilia is an exception to the violation and a syringe used for permissible medical use for the accused.
The Drug confiscated is not a listed CDS.
The party in possession of the Drug or Paraphernalia was not in the direct control of the accused.
Diminished Capacity.
Duress.
PC 4573 – Hire a Lawyer
If you or your loved one has been arrested for a violation of Penal Code 4573, call The Esfandi Law Group.
Seppi Esfandi, Principal Attorney of The Esfandi Law Group, his staff, and attorneys are delighted to discuss your legal issues and seek retainment to provide solutions.
Call Us for a FREE Case Review: 310-274-6529
How to Win Your Case
We cannot stress enough that you read, understand and follow these 10 basic rules if you are criminally charged or under investigation: