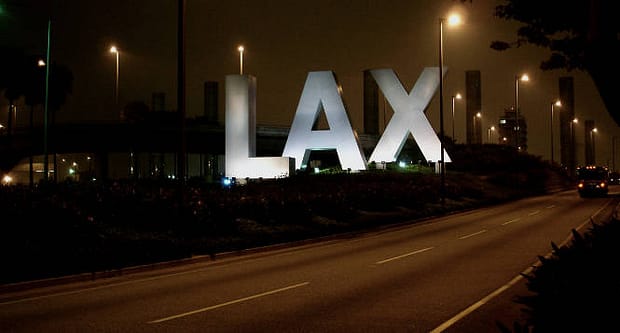 Increased Security and Your Rights
Since 9/11, security has increased in all US airports, but criminal charges at the airport in LA(LAX) can be particularly frustrating due to the high volume of people and more intense screening process. This tightening of enforcement led to closer attention on the part of the Transportation Security Administration, and hence to an increase in the number of criminal offenses occurring at the airport.
If you were arrested for a crime at an airport in Los Angeles, contact criminal defense lawyer Seppi Esfandi. We have a number of case victories after an arrest at local airports, including:
Los Angeles International Airport (LAX), located in West LA and is, by far, the busiest airport serving the city
Bob Hope Airport, located in Burbank, California
Ontario International Airport, located in Ontario, California
John Wayne Airport, located in Santa Ana, north Orange County
San Bernardino International Airport, located in San Bernardino
The Most Common Types of Criminal Offenses at the Airport in LA
Any crime can be committed at the airport, no matter how minor or serious, but these are by far the most common:
Possession of an unlicensed weapon or other charges related to violating California's gun regulations;
Crimes of violence such as assault, battery or resisting a police officer;
Trespassing, or causing a security breach at Los Angeles area airports;
Possession of narcotics, including prescription medication not in a properly labeled prescription bottles and controlled substances like cocaine, LSD, meth, heroin, ecstasy, or steroids;
Possession of Drug Paraphernalia;
Possession of Large Sums of Cash;
Bench and Arrest Warrants;
Disruptive behavior and endangering an aircraft upon takeoff or landing;
Interfering with the flight crew; or
Shoplifting and theft;
Driving under the influence of alcohol or drugs (DUI) on airport property;
Possession of marijuana (often called: cannabis, pot, weed or the devil's lettuce). It is worth noting that many states relate to the possession of marijuana in different ways. What is perfectly legal at an airport in one state can be a criminal offense in another. Even in California, where marijuana was decriminalized, someone who has the right to own and carry marijuana in Los Angeles may be prohibited from having it in other cities of California if they does not have a proper license. And when traveling by plane with marijuana between two countries can often lead to obvious problems, including federal charges.
Defending Criminal Charges at the Airport in LA
If you are a tourist or a resident of Los Angeles and were arrested at any airport in the greater Los Angeles area, it is important to hire an experienced lawyer. Airport arrest charges can result in federal charges, or state felony/misdemeanor charges that can lead to imprisonment, fines and a permanent criminal record if convicted.
In many airport arrests, an individual with no prior arrest record is arrested and detained in the county jail. We can assist in helping you get your loved one out of jail.
Obtaining a knowledgeable Los Angeles Criminal Defense Lawyer can make all avenues available for your defense and for attacking the criminal charges against you. An attorney can help you secure the names and addresses of relevant witnesses and obtain video from security cameras in the terminals and elsewhere before they are destroyed or erased.
Were You Arrested for Criminal Charges at the Airport in LA?
If you are faced with criminal charges after being arrested at one of the Los Angeles area airports, you need to hire an attorney who has experience handling these types of cases. Don't panic. Let us help and get you a FREE consultation 24/7. Call us and get your free consultation today.
Call Us: 310-274-6529
Seppi Esfandi is an expert in Criminal Law who has over 20 years of practice defending a variety of criminal cases.