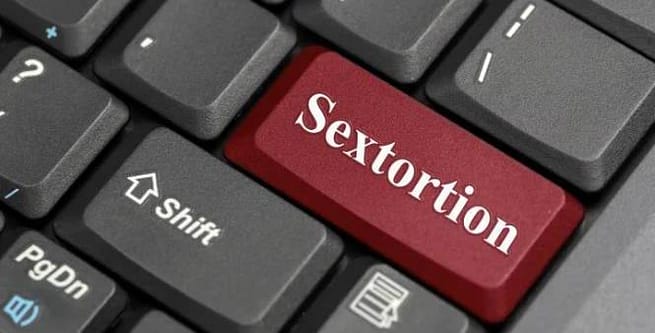 Sextortion – The Internet Sex Crime
"I won't get caught, I'm a hacker I covered my tracks"… "If u don't play I promise I'll f*ck your life over." ~ Famous last words by Richard Finkbiner
When Richard Finkbiner, a former youth minister from Indiana, was arrested by the FBI in 2012, he was 40-years-old and had over 22,000 videos of webcam feeds featuring the minors he had Sexually Extorted [Sextorted]. He received a 50-year sentence. In 2019, 36-year-old Barton George Scott was sentenced to 25 years in prison for hacking into dozens of Snapchat accounts to access explicit images of 14 to 16-year-old girls, then manipulating and coercing the girls into "turning over their passwords, [thus] giving him access to images not intended for public dissemination. He then used those private images as leverage to pressure the teens into sending more nude photos and videos." [cyberbullying]
Sextortion is an Internet Sex Crime. According to the FBI, Sextortion is a kind of blackmail. It occurs when someone threatens to distribute your private and sensitive material online if you don't provide them with sexual images, sexual favors, or money. Sextortion targets are mostly children and teens. The FBI attests that it has seen "a huge increase in the number of cases involving children and teens being threatened and coerced by adults into sending explicit images online." According to the FBI's Brian Herrick, "the troubling thing that we're seeing in these cases is that when we arrest the subject, we're finding they're not just extorting one, two, and three kids, but they're extorting 30, 40, 100, 200, 300 kids. [FBI Audio Repository]
The Cyberbullying Research Center defines Sextortion more explicitly as, "the threatened dissemination of explicit, intimate, or embarrassing images of a sexual nature without consent, usually for the purpose of procuring additional images, sexual acts, money, or something else."
The Data
In 1998, The National Center for Missing and Exploited Children [NCMEC] launched its CyberTipline "to provide the public and electronic service providers with the ability to report suspected child sexual exploitation." More than 12.7 million reports of suspected child sexual exploitation were made to the CyberTipline between 1998 and June 2016. More than 8.2 million in 2016 alone.
In October 2013, the NCMEC began specifically tracking Sextortion. Between its 2013 inception and June 2016, the CyberTipline received 1,428 reports of Sextortion. Seventy-eight percent of the reports were made by (or for) females, 15 percent of the reports were made by (or for) males. Sixty percent of the Sextortionists reported to the CyberTipline were known to their victims; usually they were ex-romantic partners trying to regain control of a failed relationship by using sexually explicit materials they'd (consensually) acquired during the relationship in order to do so.
The other 40 percent of the reported Sextortionists were strangers whom their targets met and engaged with solely online.
Sextortionists might pretend to be younger than they are, pretend to be a member of the opposite sex, or pretend to be a modeling agent. Sextortionists may initially offer money, gift cards, or drugs in exchange for sexual images from their targets. Sextortionists may secretly record chats or video conversations, later using them to threaten the victim with exposure. Having formed relationships and gained knowledge about their victims' families and friends, Sextortionists are also inclined to threaten harm to them.
The NCMEC defines Online Enticement as "an individual communicating with someone believed to be a child via the internet with the intent to commit a sexual offense or abduction. This is a broad category of online exploitation and includes sextortion, in which a child is being groomed to take sexually explicit images and/or ultimately meet face-to-face with someone for sexual purposes, or to engage in a sexual conversation online or, in some instances, to sell/trade the child's sexual images. This type of victimization takes place across every platform; social media, messaging apps, gaming platforms, etc."
In 2019, the Cyber Tipline received 19,174 reports of Online Enticement. In 2020, the Cyber Tipline received 37,872 reports of Online Enticement. So, between 2019 and 2020 there was a 97 percent increase in Online Enticement reports.
In 2015, Thorn, a technology-driven non-profit founded in 2012 by Demi Moore and Ashton Kutcher, partnered with the University of New Hampshire's Crimes Against Children Research Center (CCRC) to conduct a survey of 1,631 people between the ages of 18 and 25 who had been Sextortion Targets.
As one might expect, the Thorn study showed that 95 percent of Sextortion happens on social networks and messaging/photo apps, 54 percent and 41 percent respectively. Twenty-five percent of Sextortion Targets sought medical/mental professional help. Thirty-three percent of Sextortion Targets did not tell anyone. Twelve-and-half percent of Sextortion Targets moved from their homes for fear of their safety. Forty-five percent of the Sextortion Targets surveyed had contact with their Sextortionists on more than one platform.
Sixty percent knew their Sextortionists in person before the threats.
Forty percent met their Sextortionists online.
With regard to reporting the Sextortion, 54 percent of the targets told family or friends, 26 percent reported to a platform/website, and only 17 percent reported to law enforcement.
In late 2017, Thorn did another Sextortion survey; this time 2,097 subjects between the ages of 13 and 25 were included.
Twenty-five percent of those surveyed were 13 or younger when threatened. Sixty-six percent of the Sextortion Targets were girls under the age of 16. Sixty percent were threatened within two weeks of initial contact.
Since the CyberTipline began tracking Sextortion, reports have "skyrocketed" from 50 in 2013 to 1,500 in 2018. Boys are both more likely to be targets of sextortion and less likely to report it to an adult.
In 2016, the Cyberbullying Research Center conducted a national survey of about 5,500 students. Their results showed that about five percent of students had been Sextortion Targets and about three percent had committed Sextortion. Only 40 percent reported the incident to an adult, "with girls more likely to do so than boys."
In April 2019, the Cyberbullying Research Center conducted another survey with about 5,000 middle and high school students. There was no significant change in the percentage of Sextortion Targets (5 percent in 2016 and 5.3 percent in 2019). There was also no significant change in the percentage of students who admitted to committing Sextortion (3 percent in 2016 and 3.4 percent in 2019).
The Cyberbullying Research Center's studies found that 75% of the Sextortion Targets consensually sent the first explicit image. Forty-three percent said the Sextortionist threatened to send the explicit image to the Target's friends, 35 percent said they would post the explicit image online, and 29 percent threatened to tell the Target's parents. Twenty percent of the explicit images were sent to the Target's friends or posted online. Thirty-eight percent of the time nothing happened.
Thirty-eight percent of the Sextortionists wanted more photos, 29 percent wanted sex or a sexual act, and 29 percent wanted money. Twenty percent wanted to be in, or stay in, a relationship with the target.
Twenty-three percent of the targets sent more photos, 19 percent sent money, and 18 percent had sex or performed an onscreen sexual act.
Almost half the time, the Sextortionist was not a stranger, but the Target's ex-boyfriend or ex-girlfriend. Two-thirds of the time, the Sextortionist was the same age as the Target. Only five percent of the Sextortionists targeting the middle and high school students surveyed were over the age of 18.
Males were more likely to be "involved in sextortion both as a target and as an aggressor."
Only eight percent told the police and only three percent reported it to the app or site on which the Sextortion occurred.
The U.S. Justice Department has labeled Sextortion as the most important and fastest-growing cyberthreat to children, with "more minor victims per offender than all other child sexual exploitation offenses."
A 2016 Brookings Institute study showed that "Youth victims appear to be much more likely to voluntarily share the image with the perpetrator after being tricked to do so, whereas adults are more likely to lose control over private images through hacking."
The Internet Crimes Against Children Task Force [ICAC] reports that one in six youths (ages 9 – 17) who were surveyed have shared a nude image, that 50 percent of those who had shared a nude image did not care if they knew the person with whom they shared the image in real life, and that 41 percent of those who had shared nude images sent them to people they believed to be adults. Sixty percent knew their Sextortionist, 51 percent did not report the Sextortion to family or friends, and only 13 percent reported the Sextortion to law enforcement.
On April 28, 2022, the FBI Los Angeles Field Office announced that it has been "receiving an increasing number of reports of adults posing as young girls coercing young boys through social media to produce sexual images and videos and then extorting money from them." The number of the reports is given as "dozens."
In February, Congress passed the Eliminating Abusive and Rampant Neglect of Interactive Technologies Act of 2022 [the EARN IT Act of 2022]. The EARN IT Act "revises the federal framework governing the prevention of online sexual exploitation of children. The bill establishes the National Commission on Online Child Sexual Exploitation Prevention. The National Commission on Online Child Sexual Exploitation Prevention is charged with developing "best practices for interactive computer services providers (e.g., Facebook and Twitter) to prevent, reduce, and respond to the online sexual exploitation of children. Additionally, the bill limits the liability protections of interactive computer service providers with respect to claims alleging violations of child sexual exploitation laws. The bill replaces various statutory references to child pornography and material that contains child pornography with child sexual abuse material. Finally, the bill makes changes to the reporting requirements for electronic communication service providers and remote computing service providers (providers) who report apparent instances of crimes involving the sexual exploitation of children to the National Center for Missing and Exploited Children. Among the changes, the bill requires providers to report facts and circumstances sufficient to identify and locate each minor and each involved individual. The bill also increases the amount of time that providers must preserve the contents of a report."
Despite the FBI's excited urgency and Congress' regulatory legislation, despite the plethora of educational outreach programs created by a multitude of well-meaning non-profits and research centers encouraging parents to monitor their youths' online activities and encouraging those youth to think of themselves as victims, who can safely confess/report to authority figures and, subsequently, be forgiven for and protected from the consequences of behaving sexually online, it's likely that (as the statistics show), a young person's desire to maintain social media presence will usually trump notions of civic responsibility and only a very small percentage of online youth will fail to independently adapt, block unwanted online associates, and survive.
In California, criminal penalties for Sextortion could be said to be down-trending; serial Sextortionists Jared James Abrahams [2014], Karen "Gary" Kazaryan [2013], and Luis Mijangos [2011] were sentenced to 18 months, five years, and six years respectively.
Remember: If you are being investigated for or have been accused of Sextortion, do not engage with authorities without the safety provided by capable legal representation.
Need an Attorney? CALL NOW: 310-274-6529
Seppi Esfandi is an Expert Attorney who has over 21 years of practice defending a variety of cases.