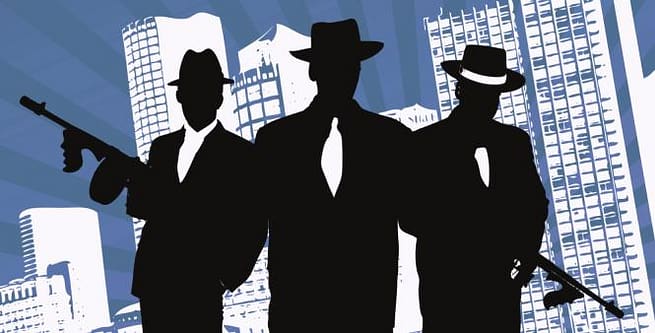 Conspiracy or RICO?
Feds stoutly prosecute racketeering and conspiracy, so you have to understand the stakes if accused. Conspiracy is a collective criminal activity that occurs when two or more people plan to commit a crime and follow through with those plans. To be convicted of a federal conspiracy felony, it is unnecessary to prove that any illegal acts were carried out, just that the defendants intended to carry them out.
Racketeering, on the other hand, because of its roots in the term "racket," is a form of criminal enterprise. Racketeering entails participating in unlawful activities as part of a group or operation, such as gangs. Traditionally, racketeering is connected with organized crime. However, it can also apply to other illicit actions.
Congress passed Racketeer Influenced and Corrupt Organizations Act (RICO) in 1970 to combat racketeering. Conspiracy and RICO offenses are loosely defined and can encompass innocent persons or those with a small role with no criminal past in a large-scale drug trafficking or RICO case.
Crimes The Rico Act Covers
Many illegal activities can lead to federal racketeering charges when tied to an ongoing criminal operation. The RICO Act requires at least two "predicate" offenses in 10 years to bring criminal charges. Some RICO offenses include:
Kidnapping
Murder
Arson
Bribery
Drug trafficking
Contravention of the Law
Investing scams
A mail rip-off
Electronic wire theft
Gambling
Money laundering
Counterfeiting
Embezzlement
Extortion
An example of racketeering would be when the Department of Justice announced indictments against forty individuals in December of 2020. Convicts at the South Carolina Department of Corrections utilized mobile phones seized as contraband to plot and carry out homicides, kidnappings, and drug trafficking.
Penalties For A RICO Conviction
The purpose of California's racketeering statutes is to provide a legal remedy for the state's citizens who criminal enterprises have victimized.
Federal RICO conviction penalties include:
Twenty years of life (if charged with sentenced for crimes like murder as part of the racketeering offense).
$250,000 fine or double revenues.
All crime proceeds, property, earnings, and the defendant's interest in the criminal organization must be forfeited (for all RICO convictions).
California has its own California Control of Profits of Organized Crime Act. The state's crime control is determined by various factors, including the offenses' kind, amount, and severity. The following are some of the possible consequences for violation of the California Penal Code:
Twenty years in prison.
Bail.
Confiscation of stolen items, illegal profits, and property gained with them.
Probation.
Compensation is equivalent to three times the victims' damages legal justifications for racketeering.
Actions That May Lead To Conspiracy Charges
In conspiracy, at least one co-conspirator or the defendant must "further" the criminal plot. This furtherance is referred to as the overt act. The overt act must be more than agreeing or preparing to commit a crime; it need not be a crime: a phone call, automobile rental, or letter. The co-conspirators' agreement need not be explicit, precise, or official. Under California law, conspirators don't need to know each other's identities or responsibilities.
These situations might lead to conspiracy charges:
Conceding to rob and buy a firearm lawfully.
Driving past a target home to scope it out.
Driving the getaway car following a friend's murder.
Using a false ad to market secondhand motorboats as new.
There are three types of illegal activity that are connected to conspiracies that also need to be put in mind. These include:
Gang-related activities.
Aiding and abetting.
Accessory after the fact.
Attempt.
Penalties For Conspiracy
If two or more people scheme to kill and then kill someone, each conspirator might be guilty of two crimes: murder and conspiracy. Rarely is the defendant found guilty of conspiracy but not the finished crime.
A conspiracy member is legally accountable for any crimes committed by co-conspirators in furtherance of the conspiracy, regardless of whether they helped conduct the crimes or were aware of them. When conspirators commit a felony, they're penalized for that offense.
If charged with conspiracy to conduct residential first-degree burglary and residential burglary, punishable with state jail time of two, four, or six years, depending on the severity of the crime, a person found guilty of both would get the term for each.
Defenses Against RICO And Conspiracy charges
Having competent legal representation is crucial if you are facing charges of conspiracy or RICO. Defendants accused of conspiracy or racketeering have various legal defenses that the defense attorney would recommend or use.
These include:
Witness or police report fabrications
Rights abuses
The prosecution lacks concrete evidence
Illegal raids which are violating the Fourth Amendment.
Misdemeanors
Innocent defendant
Your federal criminal defense lawyer might be able to suppress prosecution evidence if law enforcement violated the 4th Amendment during its investigation.
The evidence may be inadmissible in court if a law enforcement agency fails to get a warrant for specific monitoring.
If the police lack reason for a traffic stop, the court considering your case, may dismiss any evidence acquired during the stop.
Excluding evidence might undermine the prosecution's case and lead to dismissal. Sometimes we can dispute First Amendment free speech.
Need Legal Representation?
If you or a loved one is being charged with RICO or Conspiracy, we invite you to contact us.
Need an Attorney? CALL NOW: 310-274-6529
Seppi Esfandi is an Expert Attorney who has over 21 years of practice defending a variety of cases.