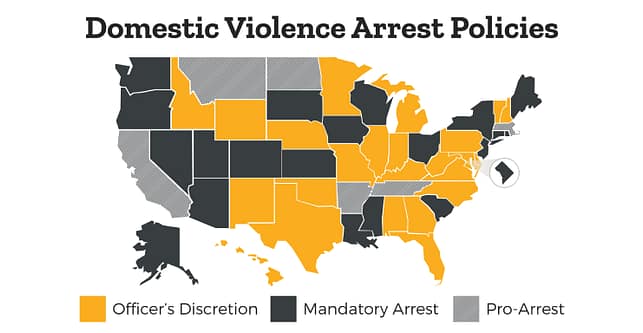 Domestic Violence Laws in California
Domestic violence laws in California make it a crime to cause harm or threaten to harm a current or former spouse, co-parent, co-habitant, or another form of an intimate partner. Sometimes, this list also stretches to parents, children, and other relatives.
Under California law, domestic violence is classified as:
Physically hurting or trying to hurt one of the above-mentioned parties.
Sexual assault.
Making one of the above parties reasonably afraid that they or someone else in the home is going to be seriously hurt.
Abusive behaviors such as harassing, stalking, hitting, kicking, shoving, and destroying someone's personal property.
Forms of emotional, verbal, and psychological abuse.
Types of Domestic Violence Charges in California
The most common domestic violence charges in California include:
Financial abuse (being overly controlling with money or withholding money from a partner)
Corporal injury, Cohabitant Abuse (PC 273.5)
If you are convicted of violating California Penal Code 273.5, you will be required to pay hefty fines as well as serve a mandatory sentence in county jail or state prison.
To be convicted of PC 273.5, you must have:
Wilfully caused a physical injury to a former or current intimate partner
The injury caused a traumatic condition
It's important to note that PC 273.5 does not cover mental or psychological injury.
Mandatory Arrest
Although other domestic violence violations may not lead to required jail or prison time in California, arrest is always mandatory if police believe domestic violence has taken place. If an officer has probable cause to believe that someone has abused their spouse, ex-spouse, partner, or family member, the officer is required to arrest them, no matter what. Even if the alleged victim changes their mind and says they don't want to press charges or they overreacted, the officer will still make an arrest.
Penalties for Domestic Violence
The penalties for domestic violence will typically depend on the type of abuse, the defendant's criminal record, and whether or not a protective order was violated. Here's a general overview of what you can expect in terms of punishment for common domestic violence-related crimes:
Battery: If you are charged with domestic battery in California, you can expect to pay up to $2,000 in fines and spend up to one year in prison. Probation is granted in some cases as long as you agree to participate in a batterer's treatment program for at least one year.
Traumatic injury: As we discussed above, under PC 273.5, when an injury leads to a traumatic condition, the defendant may be charged with a felony, punishable by up to four years in prison and a fine of up to $6,000.
Stalking: Stalking can lead to fines of up to $1,000 and up to one year in prison. If the crime was a violation of a restraining order, prison time might be increased to up to four years.
Violating a protective order: If you are found to have violated a domestic violence protective order, you will be subject to penalties, jail time, and additional restrictions. This is true even if no abuse actually took place.
Domestic Violence Charges Defenses
If you have been accused, arrested for, or charged with a domestic violence offense, it's imperative that you find a qualified attorney ASAP. The sooner you find an attorney, the sooner they can start building your case to have the charges reduced or dropped. Some defenses to domestic violence charges include false statements and/or allegations, self-defense, and the defense of others, say, for example, if you were protecting your children.
Domestic violence charges are very serious, and as such, the penalties are severe. A skilled criminal defense attorney will guide you through the difficult court process and help you get the justice you deserve by finding inconsistencies in the plaintiff's claims, witnesses to corroborate your side of the story, and defend your rights in court.
We Can Help
Seppi Esfandi is a Los Angeles domestic violence attorney who is a specialist in defending domestic abuse charges like PC 273.5. He is one of 70 hand-picked attorneys to hold the distinction of "Certified Specialist" in 2010, and is ranked among the top attorneys in Los Angeles.
Need an Attorney? CALL NOW: 310-274-6529
Seppi Esfandi is an Expert Attorney who has over 21 years of practice defending a variety of cases.