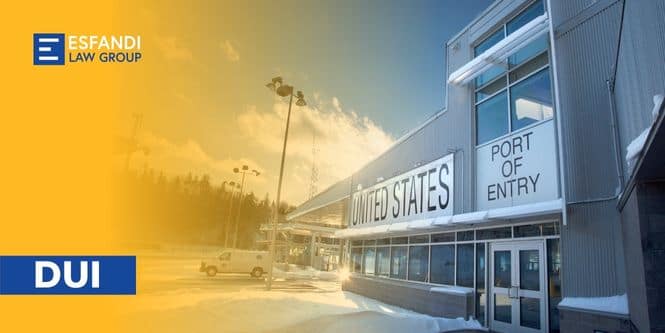 If you are arrested for DUI while in California, you can be certain that the penalties you will face are equivalent to those of a state resident. Nonetheless, the procedure can be intricately complex. It may impact your ability to operate a vehicle in your residence and across the country. It is essential to secure the services of a competent California DUI attorney and vigorously contest your case.
Successfully handling your case involves two crucial aspects: safeguarding your driver's license from the California DMV and mounting a solid defense against criminal charges.
Driving While Intoxicated (DUI) Offenses and Global Entry
The United States Customs and Border Protection's Global Entry program enables quick clearance for visitors who have obtained prior authorization. This helps to speed up the entrance procedures and is especially helpful for people who frequently travel abroad.
The California Department of Justice receives information about the arrest after someone is detained in California for DUI, and the department then enters the data into databases nationwide. If the driver is ultimately found guilty of the DUI charge, the conviction will be noted on their criminal history. It could potentially make them ineligible for entry into other countries. The DUI detainment may still be listed on the person's criminal history that is sent to national records even if the charges against the offender were dropped or no legal action was taken. Applicants may not be accepted into the global entry program if they are suspected of drunk driving.
It might be necessary to file a lawsuit against the rejection to show how a DUI arrest resulted in no conviction, criminal charges, or any other circumstance that justifies the application's approval.
Expungement May Not Affect Global Entry
People who have been arrested for DUI frequently attempt to clear their records by filing a successful motion following California Penal Code Section 1203.4 PC at a later date. Even though this motion can have the charges dropped, the federal government may still give the prior conviction a lot of weight when determining whether or not to approve an applicant for Global Entry. Therefore, even though the charges are dropped, the visitor may still be affected by the past DUI record. The national criminal databases may not have been informed of the expungement because a covert message may have been sent to the California Department of Justice alone.
Even if a visitor's application for global entry is rejected, they can still make a strong case for reconsideration by proving that any prior offenses were cleared up through appeals.
Maintaining Possession of Your Driver's License
If a person from California gets arrested for DUI, the DMV will suspend their driver's license even before they attend the court hearing. If you're a driver from another state, you'll have to go through a similar process, but you'll encounter certain advantages and disadvantages compared to someone who resides locally. This is how the process operates:
When an individual is arrested, their California driver's license will be confiscated by the police and replaced with a temporary license, effective for 30 days. Your out-of-state driver's license cannot be taken away.
Instead, the police will notify you that your driving privileges in California will be suspended within 30 days. You may be to retain possession of your license.
Notification of your DUI charge will be sent to your residence state.
Your local DMV might opt to suspend your license, similarly to how it would be done in California.
Residents, as well as non-residents, have the right to contest the suspension. The process is identical in both cases. To initiate a hearing with the DMV, you must submit a request. You must file this request within ten days of being arrested.
Filing for a DMV hearing can significantly benefit you. The DMV might take several months to arrange a hearing, and they cannot revoke your license until then. If your case has been resolved in court by the time of the hearing, then the hearing will be pointless. However, if you fail to meet the 10-day cutoff, there will be no opportunity for a second chance.
Attending the DMV hearing in California is not a requirement. Your California DUI lawyer can take care of the hearing on your behalf.
More DUI Resources
For more information on how to handle a DUI charge or arrest, please feel free to browse our blog articles on California DUI:
Need an Attorney? CALL NOW: 310-274-6529
Seppi Esfandi is an Expert Attorney who has over 21 years of practice defending a variety of cases.