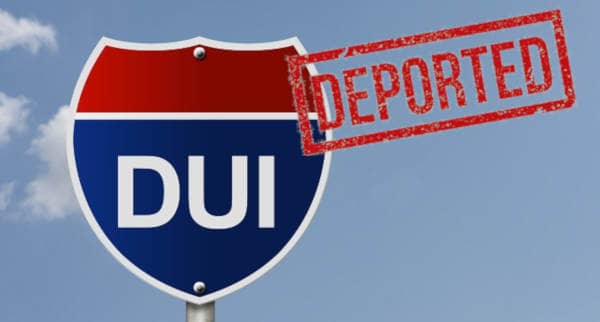 Will ICE be Alerted about Getting a DUI Charge as an Undocumented Immigrant?
Short answer for getting a DUI charge as an undocumented immigrant:
It's Probable.
Here's how:
The arresting officer or agency may alert ICE directly.
(it varies, entirely at the discretion of the police)
Your criminal arrest will be entered into a computer database, and ICE may see it. (more likely)
Even after your case is over for many months, ICE may scan court records and come across your case. (DUI with no damages/injuries, less likely)
Will You be Deported for a DUI?
While being arrested for a DUI (California DUI Types, VC 23152)
while undocumented will put you at higher risk, there is actually nothing set in stone that guarantees you will be deported. And that's a good thing.
With a qualified, well-connected defense attorney representing you in your case, you have a stronger chance of not being deported. Despite the current Republican administration's crackdown on illegal immigrants, deportation is still very costly and time-consuming. Their resources are not infinite, and you can beat it in many instances.
The probability of deportation is the highest in cases involving crimes of moral turpitude. A few examples of these types of crimes are:
assault with intent to commit murder
attempted lewd acts on a minor, Penal Code 288 PC
arson, Penal Code 451 PC
burglary, Penal Code 459 PC
child abuse, Penal Code 273d PC
criminal threats, Penal Code 422 PC
domestic violence against a spouse
failure to register as a sex offender, Penal Code 290 PC
felon in possession of a firearm, Penal Code 29800 PC
felony hit and run, Vehicle Code 20001VC
grand theft auto, Penal Code 487 PC
murder, Penal Code 187 PC
perjury, Penal Code 118 PC
sale of controlled substances, Health & Safety Code 11351 HS
rape, Penal Code 261 PC
receiving stolen property, Penal Code 496 PC
robbery, Penal Code 211 PC
trespass with the intent to injure
voluntary manslaughter, Penal Code 192 PC
welfare fraud, Welfare & Institutions Code 10980 WIC
ICE categorizes cases as "high priority" and "low priority". If you have a prior criminal record, you will be more likely to fit into "high priority". Therefore, your best chances of NOT being deported is a prior CLEAN RECORD.
There is actually nothing set in stone that guarantees you will be deported.
We're Here to Help
Have you been wrongly accused of a DUI or other crime as an immigrant in Southern California? We invite you to contact us immediately. The sooner you call us the higher your chances are to win your case.
Our experienced and assiduous attorneys will be sure to fight for your innocence and achieve the desired results.
RELATED ARTICLE:
THINGS TO REMEMBER DURING A DUI ARREST
GETTING A DUI AS A DOCUMENTED IMMIGRANT
Need a Criminal Defense Attorney? CALL NOW: 310-274-6529
Seppi Esfandi is an Expert Criminal Defense Attorney who has over 18 years of practice defending a variety of criminal cases.