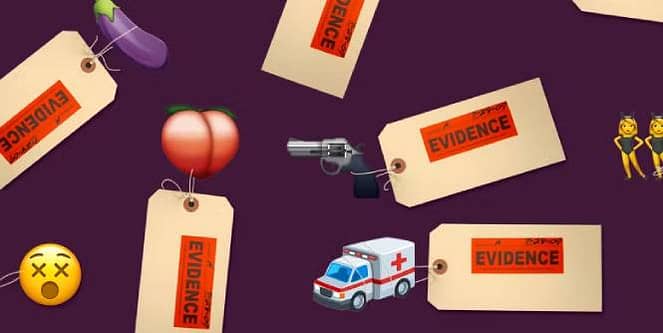 The Emoji as Evidence during a Trial?
Yes, emojis may be used as evidence in a trial. Expert forensic linguist witnesses often rely upon judicial proceedings to offer interpretations of written and spoken proof, including emojis. They can attribute writing to specific individuals depending on the words they choose to employ. When it comes to incidents where emojis have been found to libel others, the United States is likely at the forefront. The plaintiff, in one instance, claimed the "tongue out" emoji was used to offend and slander him online. The judge ruled that the emoji was meant to be offensive and ridiculing. The facts and other considerations were considered to arrive at this conclusion.
In cases where the intended meaning of an emoji is unclear, context, such as the type and tone of previous communication, the connection, and external variables, will be used to establish the appropriate interpretation. There will be a need for a cautious understanding of this in contexts where people of different cultural backgrounds communicate. Think twice before using a winking face or clapping hands emoji in your message. You may unintentionally send the wrong impression or even leave yourself vulnerable to legal action. The risk is most significant in the workplace, where careless use of emojis has led to allegations of sexual harassment and has prompted frantic efforts to update company policies.
However, it's problematic to use emojis and emoticons in court for two reasons:
The first is when your argument takes a hit since the emoji's meaning is obvious.
The second occurs when the emoji message is vague or confusing, which may also be used against you in court, even if your goal in utilizing the emoji was pure.
Examples of Emojis Being Used as Evidence
The Verge covered recent developments in the emoji court system, including one illuminating criminal case from California. The prosecution attempted to insinuate the defendant's "guilt of pimping" by presenting evidence that included emojis of high heels and cash beside the words "Teamwork makes the dream effort." According to the prosecution, the messages and emojis point to a "working connection." The accused claimed that the emoji and text message could only refer to a sexual encounter.
Still, even if many judges don't rely on their rulings on emojis and emoticons (and others ignore them), the issue is a cause for alarm. Using emoticons and emojis may alter how a piece of text is interpreted. Professor of law Eric Goldman has researched the impact of media on court proceedings. Since Internet and database searches can only find the term "emoji" or the phrase "emoticon," he acknowledges that his research may be missing numerous photos. Most instances involving sex offenders have included the use of emoticons. Emojis have been discovered in almost every scenario where there is a need for facilitated interpersonal communication.
According to Professor Goldman, the emoticon may convey a person's "propensity to commit a crime," purpose, or mental state. He mentioned a legal case in which an Israeli couple was held liable for communicating their interest in a lease agreement using a string of emojis that included a champagne bottle, a comet, and a squirrel. The landlord said he did not pursue other rental bids because he trusted their "optimism," as the emojis show.
Sexual Harassment and the Use of an Emoji
Sexual harassment is a significant cause for worry. It's easy to misinterpret a wink or a heart as a joke. However, the reader may find it too personal and insulting. This might lead to issues if it were a regular occurrence. Many people have filed harassment lawsuits using emojis and "likes" on social media. Several companies have noted the presence of such messages as indicative of a hostile work environment.
One such possible downside is that even a neutral emoji might convey the impression of unseriousness. In a study, more than a third of upper-level managers said it was inappropriate to mention them in internal memos and emails. Despite appearances to the contrary, another research found that using a smiling emoji is associated with an impression of ineptitude.
Yet, attorneys advise against drawing too many conclusions from emoji lawsuits. Individuals claim that these symbols might symbolize various things to different people. The cartoon icons, however, lack any accurate legal weight because of their subjective nature. Emotional expressions in the workplace, however, are a different story. Workers who choose to use them are advised by employment attorneys to do so with caution and judgment, if not to refrain from using them entirely. Meanwhile, attorneys recommend that corporate clients update their employment policies to include emoji use.
Need an Attorney? CALL NOW: 310-274-6529
Seppi Esfandi is an Expert Attorney who has over 21 years of practice defending a variety of cases.