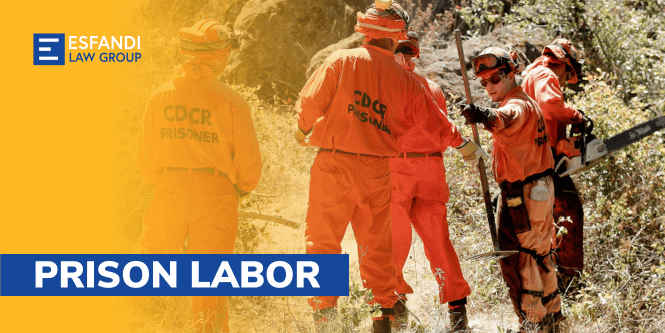 Am I Required to Work in a Prison?
If you are in prison under the Federal Bureau, you must work. All prisoners in federal prison have to work unless the Health Services or Psychology Services say they can't because of their health. Most prisoners work within the federal prison, but some minimum security prisoners in Federal Prison Camps can work in the nearby communities to prepare for their release.
Federal inmates can discover a job matching their skills, training, and aspirations as work assignments vary significantly. Compensation is determined by a pay-grade system that accounts for various factors such as responsibilities, tenure, and job performance. Performance bonuses may be given. Prisoners don't have standardized pay rates for specific jobs across the federal prison system. Most inmates receive low wages, although a few can find jobs and pay grades that meet their needs. Most federal inmates earn $10-$25 per month, but usually closer to $10.
What are Job Options for Prisoners?
Facilities Department Jobs
The Maintenance Department consists of various maintenance shops. This comprises an electrical shop, HVAC shop, plumbing shop, paint shop, maintenance, and landscaping/grounds crew. Inmate technicians work in different specialty shops and are supervised by a staff foreman to achieve department goals. A handful of clerks oversee work orders, shop scheduling, and assignment and perform clerical tasks for the Facilities Department.
Food Service Jobs
The Food Service Department utilizes various work details to cater to the nutritional requirements of the inmate and staff populations of the institution. Prisoners typically work as orderlies, sanitation workers, or helpers in several locations, including the warehouse, kitchen, dining areas, and officers' quarters. Cooks, bakers, and line servers can apply. Newcomers often get assigned to Food Service duties until better jobs become available in prison.
Education Department Jobs
The Education Department typically has a library for leisure and law, several classrooms, and potentially a space for watching DVDs. Prisoners are often assigned jobs such as librarians, orderlies, tutors, and Adult Continuing Education (ACE) teachers. Highly educated inmates who like teaching usually try to find employment in the Education Department.
Commissary Dept. Jobs
The prison's store, known as the commissary, utilizes inmate clerks. Prisoners assigned to this work detail are in charge of restocking and keeping track of merchandise, completing orders made by inmates, noting items that are out of stock, cleaning, and carrying out other commissary tasks. Prisoners are banned from acting as cashiers or checkout attendants. Prison staff members fulfill these. In federal prison commissaries, a few inmates are employed and paid a reasonable amount, but they work arduous and taxing shifts filling orders and stocking shelves.
Laundry Services
The Laundry Services team's inmates collect, wash, dry, and return inmate clothing. Like those in the commissary, inmates on this work detail put in long hours but also receive generous pay and special benefits. Workers who can perform standard laundry tasks, alterations, and other comparable jobs are hired by Laundry Services.
Safety Dept.
The Safety Department manages the recycling and distribution of cleaning chemicals and orderly supplies like toilet paper and paper towels. Safety Department jobs entail a range of administrative roles, such as clerical and organizational positions.
Conservation Camp Program Jobs (Firefighters)
Several states, including California, Florida, Oregon, and Washington, have relied on prisoners to combat forest fires for many years. They undergo rigorous training to carry out demanding tasks despite being paid meagerly, often as low as $2 per day.
Conservation Camp Program entry mandates security requirements and two-week training for prisoners.
Worship Services
Federal prisons usually have different positions available for chapel attendants. These attendants are responsible for cleaning duties and aiding in the execution of services. Orderlies help other inmates access library books, enroll in special classes or religious programs, and make religious Special Purchase Orders (SPOs).
Barbershop
Inmate barbers at the prison's barbershop perform haircuts and maintain cleanliness.
House Unit Jobs
The inmate housing units have a considerable amount of inmate orderlies responsible for performing various janitorial duties such as sweeping, mopping, trash, recycling collection, shower cleaning, and other similar tasks.
UNICOR
UNICOR, a government-owned company, signs agreements with government and private sector entities, offering a variety of factory and service jobs to federal prisoners. UNICOR, also called Federal Prison Industries, Inc., uses inmate labor to produce a wide range of items, including prison uniforms and sensitive military electronics, wherever possible. UNICOR factories sometimes utilize prisoners to do tasks like entering data or organizing hangers for retail stores, including Target.
Some prisons allow inmates to work in supporting roles, including assisting physically challenged inmates with tasks like pushing their wheelchairs on top of their regular duties. Mental health support person or volunteer for suicide prevention.
Related Articles:
Need an Attorney? CALL NOW: 310-274-6529
Seppi Esfandi is an Expert Attorney who has over 21 years of practice defending a variety of cases.