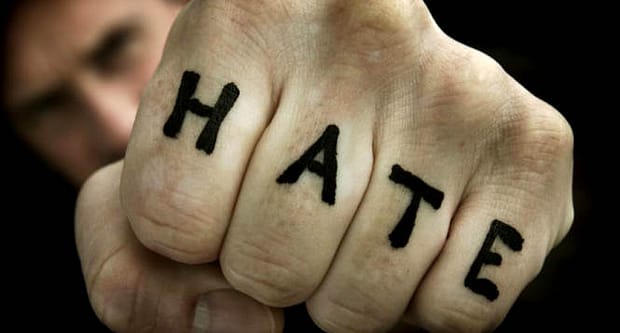 What is a Hate Crime in the USA?
A hate crime in the USA is on the rise is defined as a violent crime, motivated by hatred of someone else's race, color, national origin, religious beliefs, sexual orientation or political beliefs, among other things.
Some primary motives for hate crimes are, but are not limited to:
Race or ethnicity
Religion
Sexual orientation
Gender
Nationality
Disability
Associating with a person or group mentioned above
For it to be considered a hate crime, the act has to be done willfully, with intent to cause harm based on one or more of these biases.
Hate Crimes Spike Nationwide
In 2017, hate crimes have jumped by nearly 20 percent in major U.S. cities, after increasing by only 5 percent in 2016 nationally, according to police data compiled by the Center for the Study of Hate and Extremism at California State University in San Bernardino.
The majority of hate crimes in America are directed at Muslims, Jews, African-Americans and LGBT.
Demographics for the type of hate crime by US city: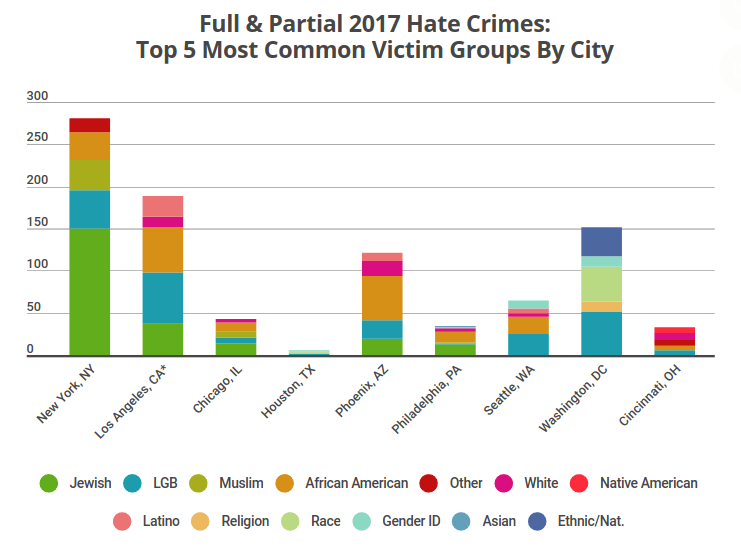 The number of hate crimes in 13 cities with a population of over 250,000 rose 19.9 percent. Among the nation's six largest cities, including New York City, Los Angeles and Chicago, hate crime increased by an average of a whopping 22.4 percent. In New York City, hate crimes jumped 28.4 percent; in Los Angeles by 13 percent; in Philadelphia by 9 percent; in Chicago, by 8.3 percent, and in Phoenix, Arizona, by a whopping 46 percent.
Most Hate Crimes go Unreported
Critics argue that current hate crime data is unreliable. The FBI publishes annual hate crime stats collected from thousands of police departments, but reporting is voluntary and most agencies don't participate in the report.
Furthermore, according to a report by the federal government's Bureau of Justice Statistics, it is estimated that most hate crimes were not even reported to the police at all by the victims. When they are reported, there are relatively few prosecutions.
Although the FBI is required by law to collect data about hate crimes, they rely wholly on local law enforcement to collect the data, and local law enforcement officers are often poorly trained at identifying hate crimes. The consequences are predictable: While the FBI lists on average 6,000 hate crimes per year, a survey by the Bureau of Justice Statistics estimates that the number is closer to 250,000.
We're Here to Help
Are you under police investigation for a crime in the greater Los Angeles area? We cannot stress enough the importance of consulting and retaining a lawyer to protect your rights, privacy and future.
Need a Criminal Defense Attorney? CALL NOW: 310-274-6529
Seppi Esfandi is an Expert Criminal Defense Attorney who has over 20 years of practice defending a variety of criminal cases.