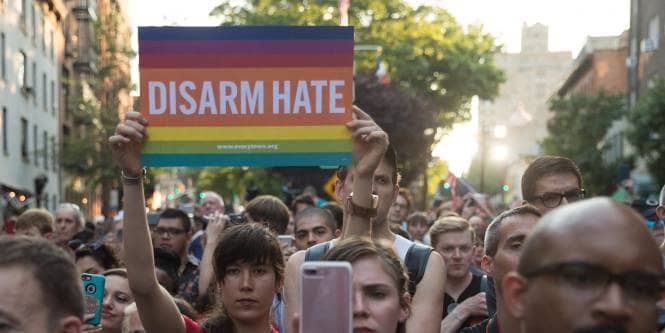 High rates of harassment and violence are experienced by the LGBTQ community, presumably considered higher than what is recorded by the FBI or other law enforcement organizations. Efforts have been made in certain jurisdictions to enact hate crime legislation that mandates the investigation and prosecution of acts motivated by hatred against the LGBTQ community.
Compared to other kinds of criminal acts, hate crimes stand out because of their intended effect on an entire group or class of individuals. Since 2009, Congress approved Matthew Shepard and James Byrd Jr's. Hate Crimes Prevention Act, the U.S. Department of Justice has had the authority to investigate and prosecute hate crimes against the LGBTQ community. The high incidence of violence against LGBTQ persons, especially transgender women of color, is a priority for anti-violence activists and LGBTQ rights activists. Their primary goal is to guarantee the protection and dignity of LGBTQ persons who contact the police to report crimes.
The legal framework for dealing with these offenses varies throughout the United States, even though they occur often. Some states exclusively handle hate crimes based on sexual orientation, while others include crimes based on gender identity in their protections against sexual orientation-related offenses. While some states have passed laws requiring the collection of data on anti-LGBTQ hate crimes but do not increase civil or criminal punishments, others have passed laws that increase such penalties.
Anti-Gay Hate Crimes in California Are on the Rise
Bias assaults on the LGBTQ community are among California's greatest hate crimes in over 20 years.
The attorney general highlighted the disproportionate effect on the state's Black population, noting that the statistics for many other groups were rising. According to the data, the number of hate crimes registered in the state climbed by 32.6% between 2020 and 2021, with offenses directed at Black people being the most common target. Reports of such occurrences rose from 456 in 2020 to 513 in 2021, a 12.5% rise. There was a "dramatic surge" of 147 percent, from 89 hate crimes committed in 2020 against Asians to 247 in 2021.
According to the Human Rights Campaign, the biggest LGBTQ advocacy organization in the nation, at least 12 transgender persons were murdered or killed "by other violent methods" this year. The Human Rights Campaign reported that 35 trans individuals in the United States were killed due to acts of violence.
Is a Possible Hate Crime Crisis Around the Corner?
Threats and actual acts of violence against LGBTQ safe places and festivities have increased as the debate around these topics has heated up. Critics of a new Florida law in the field of education, which has been called the "Don't Say Gay" rule, have been accused by conservative politicians, media commentators, and other public figures of seeking to "groom" or "indoctrinate" youngsters. For a long time, the term "grooming" has been used to falsely accuse members of the LGBTQ community, especially homosexual men and transgender women, of being sexual predators against minors.
In February, a pepper spray bomb exploded at the Brooklyn club Nowadays, disrupting a gathering for the Black LGBTQ community. An unidentified individual entered the New York City gay nightclub Rash Bar in June with a container of combustible liquid and started a fire.
The 2016 massacre at a gay nightclub in Orlando, Florida, had 49 people killed and dozens injured. Federal prosecutors said that a man vowed to sabotage this year's New York Pride March with "firepower" that would have made the 2016 Orlando Pulse Nightclub massacre seem like a cakewalk." He was caught late last year.
Not to forget, LGBTQ people are still getting over the mass shooting at an LGBTQ bar in Colorado Springs in November 2022. The accused shooter is facing 48 counts of violence motivated by hate.
Nationwide archive of mass shootings and other gun violence published by GunViolenceArchive.org
Recent research from The Williams Institute shows that those who identify as LGBTQ+ are six times more likely to have been stopped by police. According to a different survey performed by a think tank at the University of California, Los Angeles, in 2015, 48% of LGBTQ+ victims still face different misbehavior from police after reporting crimes to authorities.
All these incidents trickle down to the conclusion that the possibility of violent crimes against the LGBTQ community is imminent as long as politics and religion, or beliefs are involved.
Need an Attorney? CALL NOW: 310-274-6529
Seppi Esfandi is an Expert Attorney who has over 21 years of practice defending a variety of cases.