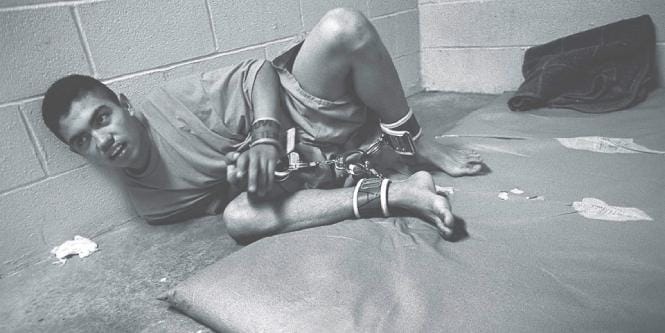 Eighth Amendment
The eighth amendment gives prisoners some rights to be protected from cruel and unusual punishment while locked up. These rights mean that prisoners have the right to live in a place that is fit for humans, receive enough medical help, and not be harmed by other prisoners. When there are too many people in prison, it can cause problems. Even though the Supreme Court believes prisoners can face harsh conditions and rules for terrible crimes, overcrowding can worsen things.
Instances of Legal Judgments Regarding Inhumane Penalization
The interpretation of "cruel and unusual" remains hazy, whether referring to imprisonment situations or punishment, as it did in 1790. The Supreme Court requires an assessment of penalties based on evolving social norms.
Courts have deemed certain punishment methods as cruel and unusual, including:
Execution of mentally ill individuals.
A sentence of 56 years for making fraudulent checks amounting to less than $500.
Exposing a prisoner to the sun for several hours while handcuffed to a horizontal bar.
Imposing a life sentence without the possibility of parole on a juvenile who did not commit homicide.
Constitutional punishments may include:
A defendant with a prior felony may face felony punishment for petty theft.
Selling or having heroin for sale results in immediate probation disqualification.
Prosecution of a homeless alcoholic for being intoxicated in public.
Aggravated kidnapping for ransom resulting in physical harm carries a sentence of life imprisonment without the possibility of parole.
How Can Unmanageable Prison Conditions Be Proven?
Suppose a prisoner wants to complain about poor living conditions, such as inadequate food or poor medical care. In that case, they must show that the prison's administrators were aware of the issue but did nothing about it. This suggests:
The facility staff knew that the prisoner might suffer harm or run into issues.
The employees did nothing to address the problem.
The fundamental rights of the prisoner were violated.
The inmate must provide additional evidence in addition to errors made by the corrections officers to establish deliberate indifference. It's, however, challenging to accomplish this.
Complete All Necessary Administrative Procedures
Usually, prisoners must complete their administrative claims of cruel and unusual punishment before filing their case in court. While administrative processes can vary by state, they typically require the completion of a form that outlines the relevant events and seeks resolution from the prison system.
The inability to exhaust administrative remedies could commonly lead to the dismissal of an excessive force complaint in court for reasons such as:
They presented every accusation stated in their complaint on their initial administrative claim application.
Before bringing their complaint to court, it is recommended to pursue their claim through all stages of review thoroughly.
Excessive Force Allegations
Prisoners have the right to assert that excessive force has been used against them as a violation of the unusual and cruel punishment and conditions provided within the Eighth Amendment. A prisoner can claim with more certainty that correctional staff used undue physical force against them by stating that an excessive force claim has been made. Nevertheless, it is routine in a correctional facility to employ physical coercion and restraints to preserve order and safety.
In a 1992 Supreme Court case, it was reported that a prisoner was physically assaulted by correctional officers while being restrained with handcuffs and shackles, and a supervisor witnessed this act. In that case, it was questioned whether the convict had sustained a substantial injury that needed medical treatment or if his injuries were insignificant and did not require any medical attention. According to the Supreme Court, a prisoner is not required to demonstrate a significant injury; instead, a minor one would suffice, and this ruling should instill more confidence in prisoners seeking legal action.
The focus should be on implementing force instead of just the injury, according to the court's decision in excessive force cases, more precisely, if the application of force was made in a sincere attempt to uphold or reinstate discipline or instead out of malicious intent to inflict pain and suffering.
Showing that the use of force was excessive can lead to a successful claim under this standard:
Not in good faith;
Not aimed at the restoration of discipline; rather.
The intention behind it, to some extent, was malicious and sadistic.
Need an Attorney? CALL NOW: 310-274-6529
Seppi Esfandi is an Expert Attorney who has over 21 years of practice defending a variety of cases.