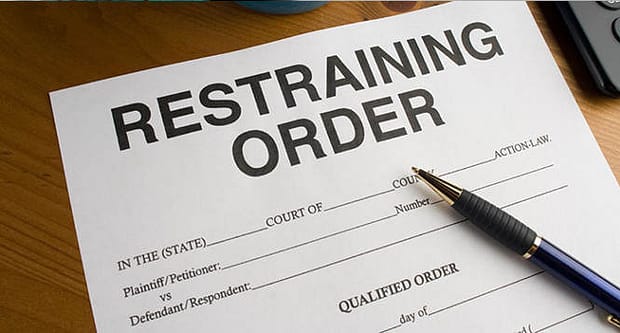 How do the Police Enforce Reporting a Violation of a Restraining Order?
How do the Police Enforce a Restraining Order? Alleged victims are told to report violations of restraining orders immediately. If the person that got a restraining order against you claims you violated the order, they will likely initiate the process by contacting the police. The police will ask for proof the restraining order exists, and then either serve you with papers to ensure you know you are prohibited from violating the order, or they will arrest you if you already have been served these papers.
Next, the alleged victim will start putting together evidence that you violated the order, by making a written claim of the incident, brainstorming potential witnesses, getting witness statements, exposing your texts or calls or emails or letters that may incriminate you, and obtain any medical records they needed as a result of contact with you.
The Police Power when Enforcing Restraining Orders
Because restraining orders are legal documents and carry the weight of a court behind them, violations can result in substantial fines or even jail time. The District Attorney in charge of the case will have some discretion in handling the matter. The DA may not pursue the case if there is insubstantial evidence that you violated the order, or the DA will move forward with the charges if the violation is clearer.
Violating a restraining order is considered contempt of court, meaning you can be punished civilly, even if the underlying matter behind the restraining order was a criminal matter. You could receive a 5-day jail sentence or fine for each violation. However, the threshold for proving up a contempt of court charge is much higher than what is required to receive the restraining order, and you will be allowed to have an attorney present to fight for you in these matters.
Out-of-State Restraining Orders
California police and courts uphold restraining orders that are valid in other states, and law enforcement is actually required by law to treat it as valid. The alleged victim has the opportunity to take an out-of-state restraining order and get it registered in California, as well.
Fighting for the Police Enforce a Restraining Order
Restraining orders are only legally issued if they are done so by a court with proper authority and jurisdiction to hear the case. For example, if a court without authority to issue restraining orders in certain types of cases, including yours, issues a restraining order over you, it may appear valid but likely will be illegally issued. An illegally issued restraining order is not enforceable.
A restraining order must also be based on some legal foundation. If a judge issues a restraining order for any other reason, such as a personal vendetta against you, the order will be invalid, and thus unenforceable.
Defending Against to the Police Enforce Violation of a Restraining Order
In order to show you violated a restraining order, and therefore are in contempt of court, the prosecutor must be able to prove the judge issued a legal restraining order, you knew about the restraining order, and you violated it intentionally.
As mentioned, there are a number of circumstances where a protective order can be issued illegally. If this is the case for you, the order is invalid.
You must also be aware of the order, meaning you had an actual chance to read the restraining order. You do not have to have read it, but you are afforded the chance to do so. Notice becomes very important in these cases, and California law is explicit in terms of when legal notice is sufficient. Because restraining orders are usually a significant restriction of your personal liberties, the law says notice can be given by a judge to the restrained person if present in court, by a writing by a third party directly to the restrained person, or by an officer that was called to enforce the order. This third method of giving notice applies when the officer determines the restrained person did not previously have notice of the restraining order.
Lastly, the order must have been violated intentionally. Contacting the person that sought the restraining order is strictly prohibited, as is going to a place you know they will be. However, running into that person by pure happenstance is not an intentional violation. You do not need to know in advance the person that wanted the restraining order against you will not be present in a place you intend to go. However, if you do run into that person by accident, it is required that you leave the area immediately and not communicate with that person in any way.
Hiring an Attorney
It is of the utmost importance that you seek the advice of an attorney in these types of cases. First and foremost, there may be a defense available to you, as described above, but articulating the defense is exactly what a defense attorney is trained to do in court in front of a judge. Negotiations with your district attorney may be important in your case, as well.
In addition, restraining order cases are the breeding grounds for false allegation claims. It is very easy to fall into a trap that results in you violating a protective order. The person that has the restraining order against you is allowed to contact you, but if you contact that person, you are in violation. It is important to remember this, because if that person can set you up to contact him or her, that person can then hand over call or text logs to police to prove you violated the order.
We're Here to Help
Did the police arrest you for violation of a restraining order in the greater Los Angeles area? We cannot stress enough the importance of consulting and retaining a lawyer to protect your rights, privacy and future.
Need a Criminal Defense Attorney? CALL NOW: 310-274-6529
Seppi Esfandi is an Expert Criminal Defense Attorney who has over 20 years of practice defending a variety of criminal cases.