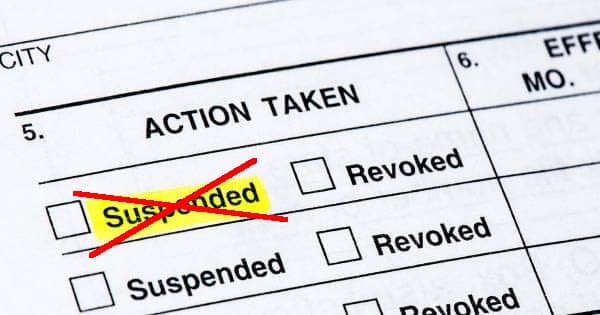 After a California DUI Arrest
There are several legal terms around the nation for driving while suspected of inebriation: driving under the influence (VC 23152), driving while intoxicated or impaired (DWI), impaired driving, or operating under the influence (OUI), for example.
The consequences for being pulled over for a DUI offense vary based on age, driving status and blood alcohol content (BAC). If a driver is found to have a BAC over the legal limit, he/she is at risk of having their driver's license apprehended.
Typically, in the case of an initial DUI, the arresting officer will seize the person's original license and replace it with a temporary one. Refusal to give blood or urine samples, or to take a breathalyzer at the scene of the arrest, will lead to an automatic suspension.
The length of a DUI license suspension will depend on several factors including the specific facts of the case, any prior DUIs on the defendant's record and the particular offense charged.
To get your license back you may need to:
Attend an administrative and/or DUI hearing and present your case.
Pay required fees (including court, reinstatement and/or bail fees).
Complete a period of license suspension (varied length of time).
Complete any court requirements, including DUI traffic school.
Prepare Form SR-22, evidencing new insurance coverage.
When a driver is suspected of driving under the influence (DUI) in California, the Department of Motor Vehicles (DMV) has the discretion to bring an action to revoke the person's driving rights.
Typically, the DMV will suspend the driving privileges of a person who was arrested while driving with 0.08 percent or more of alcohol in his/her blood. A person 21 years of age or under will be subjected to license suspension if driving with a BAC of 0.01 percent or more. And it only takes 0.04 percent to trigger suspension if driving a vehicle that requires a commercial driver's license when cited.
If a person is already on probation for a previous DUI and is found to have consumed any alcohol while driving (i.e., maintains a 0.01 percent BAC), he/she will automatically have their license suspended. Anyone who refuses a chemical test following a DUI stop will be subject to license revocation.
Challenging a suspension requires a driver request a hearing with the DMV to dispute the agency's decision to suspend his/her driving privileges.
After notification, a driver is given the opportunity to make a case as to why the DMV should "set aside" its disciplinary measures. To do this, a motorist must request an Administrative Per Se (APS) Hearing. This request must be made within 10 days of receiving notice of the action, although it is best to request an APS hearing immediately after being arrested or detained.
A driver should be sure to request the DMV forward a copy of the police report and prepare a defense as soon as the application for a hearing has been made.
After a DUI Arrest
APS hearings take place at driver safety offices, are recorded and are presented before a DMV Driver Safety Hearing Officer. During the hearing, the driver is:
Advised of the legal grounds for the action.
Presented with the DMV's evidence.
Given an opportunity to challenge the DMV's evidence.
Allowed to introduce evidence, offer witnesses and submit testimony.
The purpose of the proceeding is to convince the hearing officer that the measures taken were improper and request that the DMV modify or rescind the action against his/her license.
Reinstatement, as opposed to challenging the suspension, comes after a driver has completed his/her period of license suspension (and any applicable jail time), and permits a defendant to once again obtain a valid California driver's license.
Following a DUI conviction, a driver may apply for his/her license back after serving the entire length of the suspension and successfully reinstating the license. This can involve completing a DUI program, filing proof of financial responsibility with the DMV (i.e., Form SR-22), and paying the DMV a license reissue fee.
(Note: In order to obtain a California SR-22, a driver must get in contact with their car insurance company and this may alert them to the fact that something significant has happened in regards to the motorist's driving record.)
After a DUI Arrest
A DMV revocation or suspension is a completely separate matter from any court-rendered suspension for a DUI. As noted above, the DMV can suspend a person's driver's license following a DUI arrest.
Additionally, however, a court can order that a motorist's license be suspended following a DUI conviction. Please keep in mind these two types of suspensions involve entirely distinct proceedings from one another.
A court suspension, for example, can only take place if the driver pleads guilty to his/her DUI charge or if the driver is found guilty of the crime at his/her DUI trial. A defendant may be found guilty of the crime if a court establishes the driver was in fact operating a motor vehicle and that he/she was intoxicated with a BAC of 0.08 percent or greater.
Requesting an APS hearing does not stay the order of suspension or revocation issued by the DMV. Therefore, it is vitally important that a driver appear at the scheduled hearing prepared with evidence, witnesses (if necessary) and the ability to rebut the DMV's case.
It is not required to have an attorney present, but if requesting an APS hearing, it is best to have a lawyer in attendance. A driver has the right to review the DMV's evidence and cross-examine their witnesses, testify on their own behalf and introduce their own evidence and witnesses. This is a procedure well-known to experienced trial attorneys and being advised by a professional can make a world of difference when it comes to maintaining the ability to drive.
Furthermore, if a hearing officer renders a decision unfavorable to a driver, the driver has a right to request the DMV conduct an administrative review of the decision. A driver can even appeal the decision to Superior Court.
However, requests for administrative review or to appeal in court must be petitioned within a certain amount of time depending on the type of hearing and as prescribed by the Vehicle Code.
Consequently, it is best to be represented by an attorney knowledgeable in the Vehicle Code, DUI consequences and criminal defense law when facing a driver's license revocation, suspension and/or an APS hearing.
Need a Free Consultation?
If you have recently been arrested for DUI, accused of a crime, or need your record sealed or conviction expunged, contact a Los Angeles DUI Attorney today.
Seppi Esfandi is a certified specialist in California DUI law, and a top-rated Los Angeles Criminal Defense Lawyer who spent decades fighting for his client's rights and freedoms. 
Need a Criminal Defense Attorney? CALL NOW: 310-274-6529
Seppi Esfandi is an Expert Criminal Defense Attorney who has over 20 years of practice defending a variety of criminal cases.