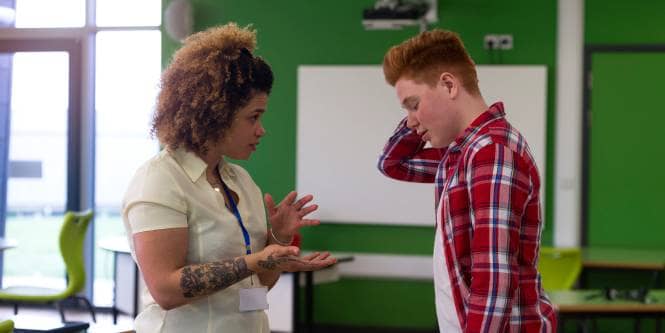 A student's expulsion from school serves as a stigma. The expulsion of a student not only forces them to attend a school outside of the district, but it may also affect their chances of being accepted to college and showing up on background checks. That's why it's important to know that all students nominated for expulsion have the right to a hearing before their school decides whether or not actually to expel them.
Everyone has the right to be represented by an attorney at an expulsion hearing, but unlike in a criminal case, you will not be given one at no cost. Seek the counsel of a seasoned expulsion attorney who will argue on your behalf in a hearing of this kind.
How School Expulsion Cases Work in California
Under Section 48900 of the California Education Code, a student can be kicked out of school for several reasons, such as:
But if students are told they should be kicked out of school, they have the right to ask for a school expulsion hearing.
The student's school district's governing board, a panel of three people chosen by the board, the county's hearing officer, or an independent hearing officer can run the hearing.
At the hearing, anyone, including other students and teachers, can say what they saw or heard. All of the rules for presenting evidence are loosened, which gives the wrong impression that this is a casual proceeding.
How Can You Win a Hearing for Expulsion?
Although there are channels for appeal, winning the expulsion hearing is the best result for a probable expulsion. Here are some suggestions for decreasing the possibility of your child being expelled after a hearing.
Examine the notice.

The school is obligated to issue a written notice of the hearing before the expulsion hearing is convened. The notification must specify the following:
The specific regulations that the school believes your child to have broken
The behaviors your kid engaged in that the school considers to be against the guidelines
The hearing's date, time, and place
Details on how to locate a lawyer for your child's schooling
The hearing in preparation
Before the hearing, you have the legal right to request certain papers from the school. You or your attorney should file a written request for copies of the following as soon as you are given notice of an upcoming hearing:
Anything the school intends to bring to the hearing
A list of the witnesses the school intends to call at the hearing
Any written testimony from instructors or witnesses who were students
Any other academic records that might be utilized to your child's advantage
Interrogating and locating witnesses
You or your attorney should approach any witnesses the school intends to call at the hearing. You may find out what they want to say so you can be ready by interviewing them beforehand.
It would be great if you also decided which witnesses, including non-family members who can attest to your kid's character, you wish to call in support of your child. You might ask a possible character witness to draft a letter that you may use as evidence if they cannot attend the hearing. Additionally, you have the authority to ask that subpoenas be delivered to witnesses who are members of the school personnel so that they must show up at the hearing and provide testimony.
Creating a Strategy
Depending on the specifics of the hearing, you and your attorney may use several tactics to defend your kid. For instance, you may provide proof that your kid is innocent if you don't think they truly disobeyed the regulations.
Suppose there is no question that your child violated the regulations. In that case, your efforts should persuade the institution that a less harsh punishment would be more fitting or shorten the expulsion period. A knowledgeable education lawyer can evaluate the facts of your situation and devise the best protection plan for your child.
The best action is to hire a skilled attorney to defend you and your child at the hearing if you want a good outcome in a school expulsion case. A conventional criminal trial has some similarities to an expulsion hearing, but not exactly. Therefore, you should choose a lawyer with a track record of arguing client cases.
Need an Attorney? CALL NOW: 310-274-6529
Seppi Esfandi is an Expert Attorney who has over 21 years of practice defending a variety of cases.