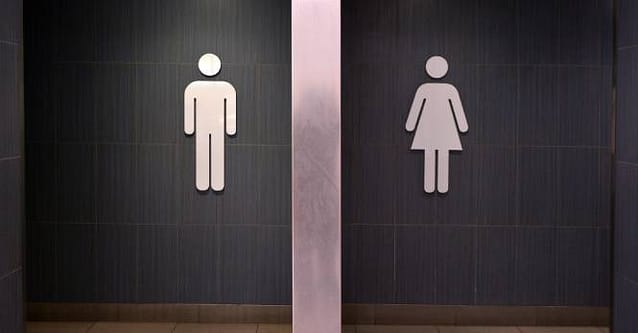 California and USA's Less Than One Percent
The American Psychological Association describes Gender Identity as "A person's deeply‐felt, inherent sense of being a boy, a man, or male; a girl, a woman, or female; or an alternative gender (e.g., genderqueer, gender nonconforming, gender neutral) that may or may not correspond to a person's sex assigned at birth or to a person's primary or secondary sex characteristics. Since gender identity is internal, a person's gender identity is not necessarily visible to others.
'Affirmed gender identity' refers to a person's gender identity after coming out as TGNC [Transgender Gender Non-Conforming] or undergoing a social and/or medical transition process."
Recently, a fellow Angeleno asked, "Is it illegal to use the women's restroom if I identify as female, but am biologically male?"
The answer is: In California it is not illegal. It is Legal.
Under California Civil Code § 51(b), business establishments, non-profit organizations, and government agencies that serve the public cannot stop you from using the restroom or other sex-segregated facility that matches your gender identity or ask you to provide ID to prove your gender in order to use a restroom or other sex-segregated facilities, such as dressing rooms or gym locker rooms.
The United States Census' Population Clock reports that there are 39,237,836 people in California. Of them, 77.7 percent are adults. According to a 2016 study published by UCLA Law School's Williams Institute, only 0.76 percent of those 77.7 percent of California adults identify as transgender.
Although less than one percent of Californians identify as transgender [as opposed to an estimated eleven percent of Californians living in poverty], California has the second largest transgender population in the United States (second only to Hawaii's with its 0.78 percent). Perhaps because of the relative size of California's transgender population, or perhaps because of the progressive advocacy agendas of Californians as a whole, over the past ten years several trailblazing laws have been enacted in an attempt to protect gender non-conforming individuals' rights and improve their perceived social status.
In 2013, Assembly Bill 1266 [AB1266], the "School Success and Opportunities Act" was introduced by California Assemblyman Tom Ammiano and approved by then-Governor Jerry Brown. It requires that students in K-12 schools be "permitted to participate in sex-segregated school programs, activities, and use facilities (such as bathrooms) consistent with their gender identity, without respect to the gender listed in a pupil's records" AB1266 went into effect in 2014 as detailed in the California Education Code §221.5 (f).
In 2016, Governor Brown signed Assembly Bill 1732 into law. AB1732, the most progressive in the nation, requires that "single-occupancy restrooms in California businesses, government buildings, and places of public accommodation be universally accessible to all genders." The law took effect March 1, 2017. [Transgender Law Center]
In 2017, Senate Bill 179, also known as "The Gender Recognition Act," was signed into law and went into effect in September 2018. The Gender Recognition Act eliminated the requirement that a person must have undergone physical treatment to declare a change in gender and that gender identification (identifying as male, female, or non-binary) is, at least in California, a matter of personal attestation.
In 2020, Governor Gavin Newsom signed Senate Bill 132, "The Transgender Respect, Agency, and Dignity Act," which extends personal gender attestation rights to prisoners in California's Corrections System. In November 2021, The Women's Liberation Front [WoLF] filed a civil suit against "The Transgender Respect, Agency, and Dignity Act" stating that, "Men are eligible for transfer regardless of whether they have had surgery on their genitals, have taken hormones, or been diagnosed with gender dysphoria.
Several hundred men have already requested transfer, and dozens of male inmates have already been moved into women's facilities, including men who have committed heinous violent and sexual crimes against women and children.
At this point, no request has been denied." WoLF alleges that, "Housing incarcerated women with male offenders violates [the women's] constitutional rights." Another way of expressing WoLF's allegation—especially in California— would be: "Housing incarcerated females with gender non-conforming offenders violates the female prisoners' constitutional rights." The ACLU has recently intervened in the case on behalf of Senate Bill 132.
Gender identity in California is fluid, and California's frequently changing, legislatively updated definitions regarding gender identity reflect that fluidity. Being up-to-date on these definitions is not only fashionable, but a legal requirement for California employers, who, by law, are required to post educational signage in their establishments explicating them.
California's Fair Employment and Housing Council Regulations [DFEH], effective July 1, 2017, include updated definitions, guidance on issues related to the use of facilities (restrooms, showers, locker rooms, etc.), use of information related to gender and inquiries regarding gender, pronoun and name preferences, dress and grooming standards, and communication between employees and company representatives.
So, in order to not make mistakes that might inadvertently hurt a gender non-conforming person's feelings (or incarcerate them in the wrong prison), it's important for conscientious Californians to continue to lead the rest of the country by learning to use correct pronouns and understanding the intricacies of legal gender lingo.
According to California's Education Code §210.7, "Gender" means sex, and includes a person's gender identity and gender expression. Gender expression means a person's gender-related appearance and behavior whether or not stereotypically associated with the person's assigned sex at birth.
The California Department of Education clarifies that:
Gender Identity refers to a person's gender-related identity, appearance of behavior whether or not different from that traditionally associated with the person's physiology or assigned sex at birth.
Gender Expression refers to external cues that one uses to represent or communicate one's gender to others, such as behavior, clothing, hairstyles, activities, voice, mannerisms, or body characteristics.
Transgender describes people whose gender identity is different from that traditionally associated with their assigned sex at birth. 'Transgender boy' and 'transgender male' refer to an individual assigned the female sex at birth who has a male gender identity. 'Transgender girl' and 'transgender female' refer to an individual assigned the male sex at birth who has a female gender identity. An individual can express or assert a transgender gender identity in a variety of ways, which may but do not always include specific medical treatments or procedures. Medical treatments or procedures are not considered a prerequisite for one's recognition as transgender.
Gender Nonconformity refers to one's gender expression, gender characteristics, or gender identity that does not conform to gender stereotypes 'typically' associated with one's legal sex assigned at birth, such as 'feminine' boys, 'masculine' girls, and those who are perceived as androgynous.
Sexual Orientation is not the same as gender identity. Not all transgender youth identify as gay, lesbian or bisexual, and not all gay, lesbian and bisexual youth display gender-nonconforming characteristics."
According to California's Transgender Law Center, "Trans justice is migrant justice, disability justice, racial justice, environmental justice, reproductive justice, economic justice, and gender justice. An agenda for trans liberation is a blueprint for liberation for all."
On a Today Show appearance in 2016 about the transgender bathroom panic going on in North Carolina at the time, then-candidate Donald Trump asserted, "There have been very few complaints the way it is. People go. They use the bathroom that they feel is appropriate."
If you have questions about gender-related laws and their enforcement implications in California, please do not hesitate to get in touch with us.
Need an Attorney?
You need an experienced civil rights lawyer to fight for your freedom and your rights.
Need an Attorney? CALL NOW: 310-274-6529
Seppi Esfandi is an Expert Attorney who has over 21 years of practice defending a variety of cases.