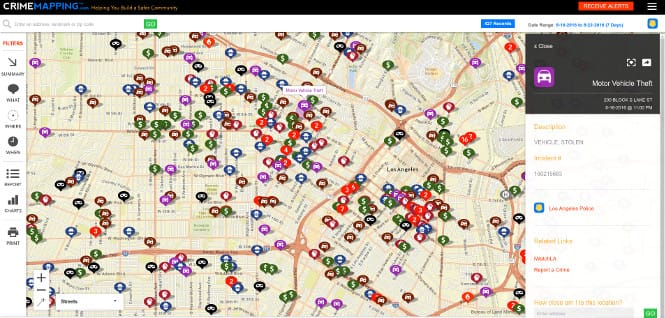 New Crime Mapping Web Application
Due to New Crime Mapping Web Application subject, CrimeMapping is an online public resource created by The Omega Group providing an overview of designated crimes within a particular law enforcement agency. Data is published with the expressed permission of each participating agency and the information is always validated through direct collaboration with law enforcement personnel.
The default date range for the map is set to one week. However, using the filter 'when' on the left side, you can customize the date range. So, let's try out the map:
View The Los Angeles Area Crime Map
(If you don't see Crime Icons, zoom in by scrolling)
Here is a list of the Crime Map's features:
Analyze crime activity within a radius of any location such as place of residence, business address or child's school.
Display the distance from any crime to any address of interest.
Generate simple interactive reports that allow for instant sorting as well as hyperlinks back to our intuitive mapping area.
View current records as our automated import process ensures that the crime data being shown is always up to date.
Jump quickly to any other agency listed through our Agencies tab.
Filter by crime type as well as date reported in order to focus on specific patterns.
Connect to other local public safety resources through the use of our Agency Links.
Plot only incidents for the agency you want to view using our Agency Filters.
Receive free Crime Alerts via e-mail.
Pan between areas and compare crime activity by community.
Help reduce crime by keeping citizens well informed.
Reach out to your community and share valuable information!
Seppi Esfandi is an Expert in Criminal Law who has over 20 years of practice defending a variety of criminal cases.
References:
[1] CrimeMapping.com on iTunes
[2] Crimemapping.com