CA Vehicle Code 23221 VC
VC 23221 – Drinking in a Motor Vehicle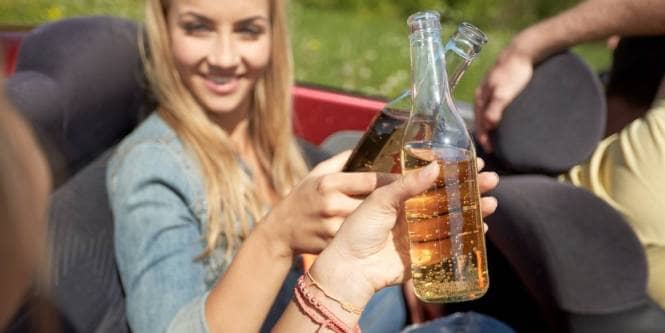 Drinking in a Motor Vehicle – Table of Contents
Vehicle Code 23221 VC: Drinking in a Motor Vehicle
What is the definition of drinking in a motor vehicle under VC 23221?
No person, of any age, shall drink any alcoholic beverage or ingest any marijuana products, while driving on the highway.
This is an open container Statute, meaning that a bag, bottle, or compartment must be open during the inspection or observation of the acts leading to a further investigation leading to a violation of Vehicle 23221 VC.
What about medical marijuana, does this apply toward VC 23221?
Medical marijuana does apply. You can possess the upwards of 28.5 grams legally in your vehicle, but you cannot openly ingest it in public when you are operating a vehicle in conjunction with other drivers on an open highway, road or path dedicated to the operation of licensed drivers.
If you digest alcohol in a stationary vehicle in public or private does a violation of VC 23221 still apply?
No. The vehicle must be on a highway or public road, and it must be in operation, or indicate that the driver has control of the vehicle. The same presumption of operation applies as to Vehicle Code 23124 VC, 23125 VC, 23126 VC. The operative word is volitional. This indicates the specific intent to have the vehicle move toward a given direction at some point. The vehicle's mobility derives from the possession of the vehicle with the specific intent to drive. This can be indicated from possession of the keys with the current desire to drive the vehicle in question.
What is defined as an open container under VC 23221?
An open container is anything that allows seepage or access to the liquid. The same is true for marijuana bags, an open bag is anything indicating the specific intent to have access to marijuana. With an open container, case law does indicate the desire to drink or the desire to partake in marijuana, even if an officer does not see the driver ingest alcohol or digest marijuana. It just must be on the driver's person.
What is defined as a vehicle under Vehicle Code Section 23221 VC?
A "vehicle" is a device by which any person or property may be propelled, moved, or drawn upon a highway, excepting a device moved exclusively by human power or used exclusively upon stationary rails or tracks.
VC 23221 – Sentencing
What are the penalties for a violation of Vehicle Code Section 23221 VC?
Violating Vehicle Code Section 23221 is an infraction within fines not exceeding $300 dollars.
What are examples of violating Vehicle Code Section 23221 VC?
Dennis and Emma are observed by officers parked on the side of the highway listening to music and taking on the phone. Upon further investigation it is seen that they are smoking marijuana and sharing a beer. The car is parked but the ignition is turned on. Both are arrested.
Contact Seppi Esfandi Today
If you are charged with drinking in a motor vehicle under Vehicle Code 23221 VC, call The Esfandi Law Group. Contact Los Angeles criminal defense attorney Seppi Esfandi, principal attorney of The Esfandi Law Group.
Our criminal defense team will be sure to fight until the end to reduce or drop your charges completely.
Call Us for a FREE Case Review: 310-274-6529
How to Win Your Case
We cannot stress enough that you read, understand and follow these 10 basic rules if you are criminally charged or under investigation: