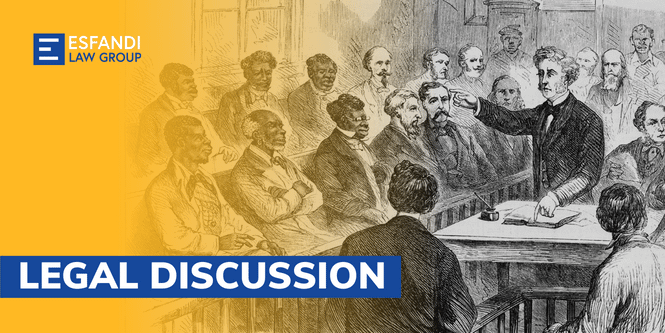 You Cannot Change a Juror's World View in a Few Days
Fear of crime arises as a societal phenomenon that, in extreme circumstances, impairs the quality of life, produces paranoia, anxiety, and other psychological disorders on a personal level, and, on a social level, promotes prejudice and segregation, making this insecurity a key policy concern. Fear of crime causes the wealthy to guard themselves and their possessions, perhaps shifting criminal activity to the less fortunate. Additionally, fear may convert specific public spaces into no-go zones, devastatingly affecting the local economy.
The 'Fear of Crime' and Influence on Jurors
The courtroom is one of the essential parts of the American legal system. Judges and juries are expected to provide closure to victims of wrongdoing by making rulings in cases. All other factors being equal, it is assumed that these judicial decision-makers can carry out their duties reasonably and impartially. This is not always a simple assignment since the judicial and jury selection process may subject them to various stresses and fears that can adversely affect both the people involved and the judicial system.
First, graphic details of crimes and injuries may be shown in court. There is no way to avoid seeing and hearing graphic details of crimes like murder, cruelty, and jury.
Second, there are situations when the judges' and jurors' security is at risk. For example, a Boston judge declared a mistrial after a defendant struck a jury. As his second trial was getting underway, the defendant made death threats against the jury. A judge in New York narrowly escaped being shot when a previous defendant opened fire with a sawed-off rifle in court. Injuries and even deaths have befallen other judges on the job. It's not only within the courtroom that some judges have been threatened with violence; in 2005, a man assassinated U.S. District Judge Joan Lefkow's husband and mother in retaliation for her verdicts. These examples show how court rulings may be affected because the jurors fear an outcome.
The effectiveness of judges and jurors may be impaired by anxiety and fear for their safety. To provide another example, jurors in a trial for a violent crime could find it difficult to control their emotions and obey the court's instructions because of the gravity of the situation. A judge's emotions may cloud or even prohibit them from rendering a fair sentence decision (e.g., about impermissible testimony). For instance, in gang-related trials, judges and jurors may be influenced by the fear of revenge.
The 'Fear of Crime' and Influence on Victims and Witnesses
Victims play an essential part in the judicial process. Many officials in this field have acknowledged that victims are essential to an efficient criminal justice system. Being a witness who isn't afraid to speak out helps stop crimes from occurring and saves lives.
One who has been the target of an offender's physical or verbal violence is considered a victim. In some instances, the victim will have to testify as a witness. People often speculate about what would happen to a victim who comes forward to testify in court and ask why victims would be afraid to do so.
Overarchingly, studies have shown that victims are reluctant to testify in court because they worry about the consequences for themselves and their families. Victims have expressed concern due to reports of assaults and attempted attacks on victims on their way to court. This might include any kind of violent attack, including a gunshot. Many people had experienced threats of violence, some of which had been so severe as to endanger the lives of themselves or their loved ones. It has also been suggested that one of the persons involved in these situations had taken other acts, such as visiting their home or making comments, or that someone had pointed, stared, or laughed at them. Contact with the accused may be frightening for some witnesses. It's possible that having to testify in court may make some people feel anxious and nervous. They may fear what may happen to them because of becoming a witness.
Victims who must testify in court often feel anxious about what could happen to them. There is widespread fear that the accused's loved ones will take revenge on them or their home will be destroyed. A further source of anxiety for victims is the remote likelihood that the accused would be acquitted and resort to further victimization. This eventually may lead to complicated cases being too long or too short because of insufficient evidence or a wrong verdict being given if all the burden of proof was the victim's testimony.
Need an Attorney? CALL NOW: 310-274-6529
Seppi Esfandi is an Expert Attorney who has over 21 years of practice defending a variety of cases.