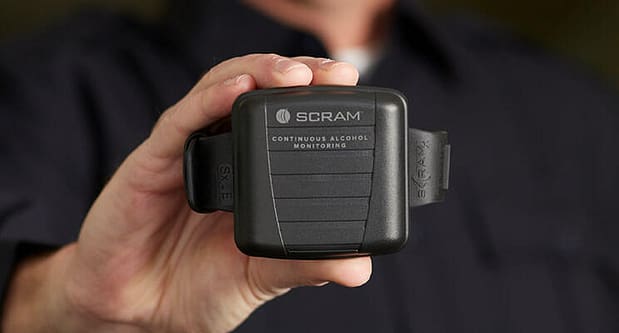 What Is a SCRAM Device in California DUI Sentencing?
If you are convicted of a DUI offense in California, there are a variety of penalties a judge can sentence you with depending on the circumstances of the case.
Usually, the defendant can expect fines, jail time, or even probation. In some California DUI cases, the judge may order the defendant wears a SCRAM device as a condition of their probation or as an alternative to jail time.
SCRAM stands for Secure Continuous Remote Alcohol Monitor. It is an ankle bracelet developed and marketed by Alcohol Monitoring Systems, Inc (AMS) from Colorado, and it remotely monitors the alcohol consumption of its wearer.
The anklet detects the presence of alcohol through your skin, and if any alcohol is detected. The court is notified within 24 hours.
How Does SCRAM Work?
When we consume alcohol, our bodies process it, and it enters our bloodstream. Later on, your body dispels the alcohol out of your blood mainly through your urine. Some of it is eliminated through your breath and saliva, which is how breath analyzers can detect alcohol in your system. However, a small percentage (about 1%) of the alcohol in your system is expelled as ethanol vapor through your sweat.
This is what a SCRAM device detects. A SCRAM device uses a transdermal sensor to analyze the sweat on your skin and detect the presence of alcohol at random intervals usually a minimum of 30 minutes in California. It then records its findings and sends them to the monitoring agency for further analysis. You will likely feel a slight vibration as the anklet measures and records its finding.
After further analysis, the monitoring agency will usually send the final information to the courts or probation officers for further action if necessary.
You should note that the SCRAM device has a lot of sensors that make it averse to tampering or trick. Any attempt to trick or tamper with your SCRAM anklet will be recorded and reported and can lead to some additional penalties.
Also, if you are worried about being in an environment surrounded by alcohol or if alcohol is spilled on you while wearing a SCRAM anklet, don't. The device can show a different pattern between spilled alcohol and consumed alcohol, so you are safe in that regard.
One thing you should remember about your SCRAM device is that since you will be wearing it 24/7, it is designed to be water-resistant. Thus, you can take a shower with it. A bath, on the other hand, is prohibited, or any other activity that will submerge your anklet in water like swimming.
Who Is Required To Wear a SCRAM Device?
There is no statute in California that mandates, who should or should not wear a SCRAM. Therefore, the order to wear a SCRAM is dependent on the judge's discretion. Usually, the judge will request the defendant wear a SCRAM device if the defendant:
Has multiple prior DUI convictions
Has a history of alcohol addiction
Previous attempts at alcohol treatment have not been successful
The purpose of the SCRAM device is to ensure the defendant does not drink at all. Thus, judges usually reserve this sentence for DUI offenders they believe are dangers to themselves or others on the road. Normally, a judge will hand out a SCRAM sentencing along with other alcohol treatments such as enrolling in Alcoholics Anonymous or other alcohol rehabilitation programs.
How Long Do I Have To Wear A Scram Device
How long your wear a SCRAM device will fall on the judge's discretion. The minimum sentence is 30 days, but you can be wearing a SCRAM device for longer than a year. A judge will consider several factors before deciding how long you should wear the device. Some of these factors include:
The number of prior DUI offenses
The seriousness of your current DUI offense
The severity of your issues with alcohol
Can I Travel With a SCRAM Device?
An ordinary SCRAM device has no travel restrictions. Thus you can travel and go to work or school as long as you do not drink alcohol. If you are under house arrest. You will be given a SCRAMx device instead. This device detects any alcohol in your system while also monitoring your location. Hence it is used to restrict the movement of its wearer while also ensuring they do not consume alcohol.
Who Pays For the SCRAM Device?
The cost of installing and monitoring the SCRAM device generally falls on the defendant. A SCRAM device will cost you about $50 to $100 to install and a daily monitoring fee of about $10-$12.
You should note that the SCRAMx device will usually cost more for monitoring.
We Can Help
If you've recently been arrested for a DUI in California, don't hesitate to call us.
Need a Criminal Defense Attorney? CALL NOW: 310-274-6529
Seppi Esfandi is an Expert Criminal Defense Attorney who has over 20 years of practice defending a variety of criminal cases.