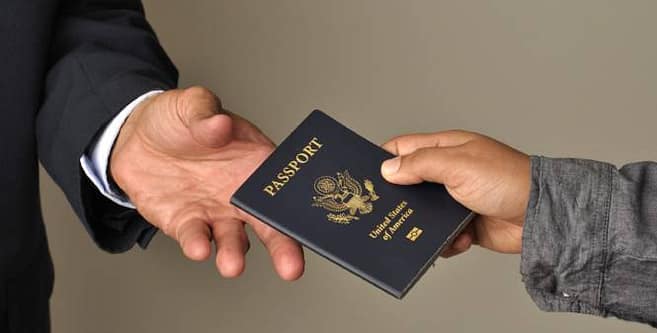 Passports and Criminal Records
Some legal problems can make obtaining a passport complicated. While a criminal history alone usually won't impact your ability to get a passport issued or reissued, there are some special legal circumstances that can cause your application to be rejected.
Read on to find out some of the legal problems that may impact your ability to obtain this important travel document.
What Is a Passport?
Passports are often associated with the ability to travel internationally. However, possession of a passport does not equate with the ability to exit one country or enter another.
From a legal standpoint, a passport is simply another form of identification—specifically, one issued by the federal government, in contrast to more common state-issued IDs.
The passport application does not even ask the applicant any questions about criminal history or felony status. However, because a passport does also grant the possessor the power to move between countries, there are some legal situations and some types of criminal convictions that can cause complications or even outright denial.
Legal Reasons for Passport Denial
Ongoing, serious legal issues are one certain way to have a passport application denied. While the passport application may not ask these questions, the Department of State will deny the application or renewal during processing if you are facing certain serious criminal charges.
An active warrant for a felony offense will likely result in a denied passport application, and may also lead to arrest. A bench warrant for a misdemeanor or other minor infractions will likely not trigger these consequences.
Another legal issue likely to bar your passport application is if you are in the middle of an ongoing trial. An active court case may only interfere with a passport application if you are deemed a flight risk. This will likely depend on the type and severity of charges and the potential length of sentencing faced.
In most cases, active parole will not threaten a passport application. The primary exception to this is when an individual is on current parole for drug-related charges. This situation will usually result in a denied application. However, active probation or parole for any reason could potentially result in a denied application.
A few other legal situations unrelated to criminal charges can also result in a denied passport application. Owing over $2500 in child support, and debt to the federal government in the form of unpaid taxes or certain types of loans can also prevent a passport application or renewal from being approved.
Criminal Convictions and Passport Denial
Passports are issued by the U.S. Department of State. If there are no outstanding legal issues and all criminal proceedings are resolved, there are still some types of charges that can result in a denied passport, regardless of how much time has elapsed since the conviction or completion of sentencing.
Drug-Related Charges
Drug-related felony charges are the biggest hindrance to acquiring a passport. In most cases, a misdemeanor drug charge won't impact the passport application process.
Felony drug charges can make it impossible to successfully gain or renew a passport. This can apply to any type of drug-related felony charge. Within these types of charges, some are a more serious hindrance to gaining a passport.
If a drug-related charge involved the use of a passport for illegal activity, like transporting drugs across international borders, it will likely not be possible to have a passport renewed. This is also true when a misdemeanor drug charge involves the use of a passport.
Drug charges and passport acquisition depend on whether the crime violated either the federal Controlled Substances Act or the Controlled Substances Import and Export Act.
In some cases, convictions related to money laundering or violation of the Bank Secrecy Act can also result in passport denial if the charges involve a violation of state or federal drug laws.
Sex Offenders
A criminal record related to a sex offense will not cause a passport application to be denied. However, in 2016 the International Megan's Law was passed. This law requires that individuals with sexual offense convictions must bear a unique marking on the passport indicating the nature of the crime.
In this case, you may be denied entry or exit until an older passport has been updated to indicate the conviction of a sexual offense.
Appealing a Passport Denial
Overall, there are only a small number of legal issues that should interfere with a passport application or renewal. However, these laws are open to interpretation. When a passport application is denied, a criminal defense attorney can help you navigate the appeal process to ensure that documentation is completed correctly and a strong case is made for why the application should be approved.
Applicants should remember that acquiring a passport will not necessarily grant the ability to leave the country. Even if a passport is successfully acquired, a criminal record will leave you facing unique challenges if you attempt to leave the U.S.
Expunging The Crime from Your Record
If you are granted permission to leave, you may find that criminal charges can result in a denial of entry to many countries.
For more information see: Expungements Page.
If you need to acquire a passport and are concerned that a criminal record might be a barrier, or you've had your passport application denied due to your criminal background, Esfandi Law Group can help. Contact Esfandi Law Group today to schedule a consultation.
Need a Criminal Defense Attorney? CALL NOW: 310-274-6529
Seppi Esfandi is an Expert Criminal Defense Attorney who has over 20 years of practice defending a variety of criminal cases.