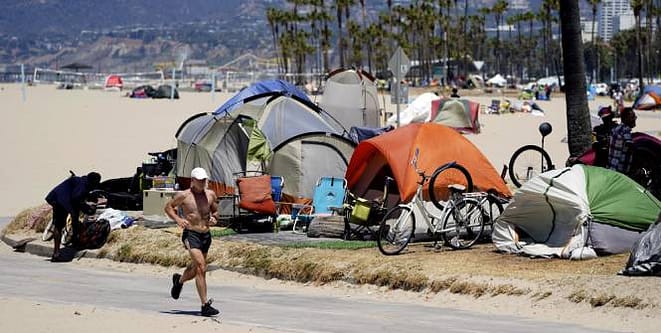 LA's Biggest Problem
In his capacity as co-moderator of the Tuesday, March 22nd Los Angeles Mayoral Candidates' debate at USC's Bovard Auditorium, Fox News anchor Elex Michaelson began with: "Polls show that homelessness is the number one issue on voters' minds" and asked each of the five participating mayoral candidates to offer "a single tangible strategy" for addressing "the crisis."
State of Emergency
Candidate Karen Bass said she would declare "a state of emergency," "expedite the process," "appoint a chief," and "access the [state and federal] resources" because homelessness is "a public health and public safety emergency."
Candidate Kevin De Leon established his low-income, street credibility as the youngest child of "a single, immigrant mother with a third-grade education," who worked "taking care of the rich" and who was, himself, homeless when he was in his early twenties. He then pushed his seven hundred million dollar "No Place Like Home" organization and, as "not a talker, but a doer," deemed Los Angeles "the epicenter of homelessness nationwide."
Candidate Rick Caruso urged people to visit his website, talked about the 30,000 beds he would be able to make available as mayor, and praised his grandparents for being immigrants, who "showed up on these shores" in pursuit of the "American dream that is now being dampened."
Candidate Joe Buscaino said that he, too, wants to provide beds and move forward on a citywide "No-Camping Law." He alluded to drug addiction and mental health problems among the homeless.
Candidate Mike Feuer reminded everyone that "experience counts" and referred to a piece on homelessness he wrote for the L.A. Times four years ago. He mentioned giving homeless people ultimatums that would do the trick of convincing them to surrender to authorities and accept the services on offer.
When the debate's co-moderator, L.A. Times columnist Erika D. Smith, further pursued the "homelessness crisis issue," Caruso said, "You can't allow encampments. You have to protect the communities that are being impacted." Bass said she "would never criminalize poverty." Instead she would rely upon "street-outreach workers, but the police might have to be in the background." Buscaino, again, emphasized that Los Angeles needs "to have a No-Camping Law that has teeth." He doesn't like it that people, "come to L.A., pitch a tent, take drugs" and are not accountable. "When a bed is available in L.A., the sidewalk should not be an option." De Leon insisted that "he's done much more than anyone," and, as evidence, mentioned that, despite homeless activists' protests, he shut down a homeless encampment in Little Tokyo. Feuer attacked Caruso for being a billionaire. Caruso attacked Feuer for being under federal investigation for corruption in his City Attorney's office. And then the moderators led the five candidates onto the next most popular issue: Crime.
The Tragic Story of Brianna Kupfer
On January 13th, Brianna Kupfer (24), was stabbed to death while working alone at an upscale furniture store on La Brea, a few blocks north of Beverly Blvd. Charges were filed against 31-year-old Shawn Laval Smith, a homeless resident of Los Angeles. That same day another homeless man, Kerry Bell (48), allegedly struck County-USC Medical Center nurse Sandra Shells (70) in the face while she was waiting at a downtown bus stop on her way to work. Shells fell after being hit and the fall caused her death. Brianna Kupfur was young and white. Sandra Shells was elderly and black. Both crimes were random and the accused perpetrators were unhinged homeless men.
Will random killings, like Kupfer and Shells', set the homeless community up to be targeted with hate crimes, vigilante violence, and other mistreatment? Heidi Marston, Executive Director of the Los Angeles Homeless Services Authority, warns that "it's important not to blame the entire homeless community for the violence or conflate the homelessness epidemic with the attacks."
In Los Angeles, depending upon whose statistics you are using, the homeless population is estimated to be more than 40,000 (or more than 44,000), making up one percent (or more than one percent) of the city's four million residents. Homeless advocacy agencies, and there are so very many of them, report that Los Angeles' homeless population has grown by more than 50 percent (or 54 percent) since 2015. It's estimated that at least 25 percent (or 50 percent) of California's homeless population are suffering from mental illness.
In 2021, homeless people were suspects in 43 of the city's 397 homicides, nearly eleven percent. They were victims in 90 fatalities, nearly 23 percent. In [only] 27 of those killings, the crimes were committed by a homeless person against another homeless person. [U.S. News & World Report]
Is it Illegal to be Homeless in Los Angeles?
Well, it used to be. Los Angeles Municipal Code 41:18, the city ordinance that addresses loitering, was updated last year to become much more specific than previously. This is because the ACLU, in the case of Jones vs. City of Los Angeles (2006), successfully argued that arresting people because of their homeless status, when alternatives to that status were not available, violated their Eighth Amendment constitutional rights.
In 2017, 69 percent of Los Angeles County Voters passed Measure H, thereby implementing a 25 percent sales tax lasting ten years to fund homeless services and prevention in compliance with the "Approved Strategies to Combat Homelessness" drafted by the Los Angeles County Homeless Initiative in 2016. Perhaps those well-meaning Angelenos, whom a proud Texan I know refers to as "Liberals in Limousines," didn't realize that even homeless people living in encampments pay sales tax for the meager sustenance and supplies they're able to buy in their attempt to survive. 
I live on the south end of Los Feliz, where East Hollywood meets Silverlake. On Hollywood Blvd., just East of Vermont, there is a Goodwill store. Across from the Goodwill Store a new apartment "community" called the Elinor is being built. The Elinor is almost complete and its "luxury" apartments are now being advertised. A 450 square foot studio at the Elinor rents at a little over $2,400 per month. On the sidewalk between the Elinor and the Goodwill Store, there is a large homeless encampment. Every so often, the police come and clear it out. Then, it will be gone for a week or two before it is resurrected and its denizen's tents and cardboard boxes, once again, line the sidewalk. Passersby, who've grown used to seeing burgeoning homeless encampments/communities spreading beyond downtown's Skid Row to all areas of the city, might, nevertheless, be startled to see all the seagulls lined up on the roof of the Goodwill Store, so far from the ocean. Why are they there? Seagulls are scavengers and thieves. Practical birds, they will eat almost anything they can find, including human waste.
A Means Without End?
Is it possible that the multi-billion dollar California homeless advocacy/management system needs the homeless to be in crisis so that it has reason to feed an overwhelming hunger for funding?
On March 23rd, it was announced that Habitat for Humanity of Greater Los Angeles has received $20 million of the $436 million donation from author and philanthropist MacKenzie Scott, one of the largest portions of the gift from the ex-wife of Amazon founder Jeff Bezos.
The salaried employees of government-funded housing agencies will continue with their tediously committee-approved agendas, virtuous volunteers will continue to serve institutions intent on housing and rehabilitating those they define as helpless, and dedicated do-gooders will continue to donate funds to those organizations. In the meantime, the encampment dwellers will continue to build (and rebuild) "outlaw" communities capable of sustaining themselves, despite being under constant duress and, often, under direct, legally ambiguous attack at the hands of law enforcement and/or mental health professionals.
According to a learned Political Scientist friend, "There are two primary causes for homelessness in the city of Los Angeles. The first being the famous Mediterranean Climate, which produces a hospitable environment for those not living in homes. The second would be high access to social services provided by the State of California and the City of Los Angeles." He assures me that "There is no significant causative relationship between homelessness and crime in Los Angeles," and that "the only causative relationship to be found with regard to the homeless crisis is the global increase of population and the deficit in housing necessary to sustain that increase. There's a statistical increase in crime all over the United States and a statistical increase in homelessness. Any level above zero homeless could be understood as a moral crisis." To address this moral crisis, he advocates "studying the relationship between drug addiction, mental health, and housing insecurity."
Related Articles
Arrests of Homeless Increase in Los Angeles
Need an Attorney?
If you have questions about the Los Angeles Homeless Crisis and Crime, please do not hesitate to get in touch with us.
Need a Criminal Defense Attorney? CALL NOW: 310-274-6529
Seppi Esfandi is an Expert Criminal Defense Attorney who has over 20 years of practice defending a variety of criminal cases.