Los Angeles
Los Angeles Grand Theft Attorney
Seppi Esfandi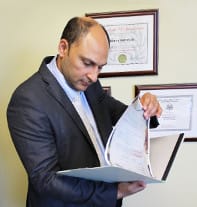 Been caught stealing? Falsely accused of stealing? We can help. Theft in California encompasses all forms, including identity theft, online theft using a stolen credit card, theft of intellectual property, theft of services, and theft of personal property (larceny, embezzlement, false pretenses, robbery, burglary, shoplifting).
The state of California divides theft into two primary categories:
Grand Theft [Penal Code 487]
Petty Theft [Penal Code 484]
The "reasonable and fair market value" of the stolen property or services determines whether the thefts are considered Grand Theft or Petty Theft.
In California, thefts of property valued at more than $950 are considered Grand Theft; theft of property valued at less than $950 are charged as Petty Theft.
Call Us for a FREE Case Review: 310-274-6529
There are, however, some notable exceptions:
Stealing chickens, avocados, olives, citrus or deciduous fruits, vegetables, nuts, artichokes, or other farm crops deemed to be worth more than $250 on the day you stole them will be charged as Grand Theft. The same goes for fish, shellfish, mollusks, crustaceans, kelp, and algae.
If you take the property directly from another person, as opposed to indirectly removing it from their business or home, it will be charged as Grand Theft regardless of the property's value.
Stolen automobiles, farm animals, or firearms also transcend the $950 dictate and constitute Grand Theft. While defrauding a public housing authority of more than $400 will garner a Grand theft charge [Penal Code 487i], stealing a dog worth less than $950 will not [Penal Code 487f]. Democratic Assembly member Rudy Salas' Assembly Bill 1603, currently before the California State Senate, proposes that the dividing line between Grand and Petty Larceny, in the case of shoplifting, should be reduced to $400.
Grand Theft is a wobbler; it can be charged as a felony or as a misdemeanor, depending on the defendant's criminal history, the value of the item taken, and whether a weapon was used.
A conviction of misdemeanor Grand Theft usually results in one year in county jail and a fine of up to $1,000. A Grand Theft felony conviction can result in up to three years in state prison and a fine of up to $10,000. The law also makes additional sentencing enhancements possible in accordance with the amount of the theft: A theft of more than $65,000 is eligible for a one-year sentencing enhancement, more than $200,00 brings a two-year enhancement, more than $1,300,000, a three-year enhancement, and more than $3,200,000, a four-year enhancement.
A defendant cannot be prosecuted for Grand or Petty Theft if the property was taken by mistake, if the property taken belonged to the defendant, or if the prosecutor cannot prove that the defendant took the property with "the intent of permanently depriving the true owner of it." [Black's Law]
Borrowing something with the intention of giving it back is not theft.
Retrieving something that you believe belongs to you is not theft.
Common Legal Defenses for Grand Theft
When you work with a skillful Los Angeles Grand Theft Attorney, there are several strategies they will try to deploy in your defense against theft charges in California, including:
Did Not Act Willfully
Although intending harm is not necessary, you do need to have acted "willfully" to be convicted of theft in California. So, say the shoplifting was a total accident. In that case, your Los Angeles theft attorney may be able to argue "accident" as your legal defense. Be aware that this is not always an available option, the details do matter.
Falsely Accused
People are often falsely accused of committing theft in California out of:
Desire for revenge
Mistake of fact
This is another area where an experienced Los Angeles Grand Theft defense attorney will use their expertise and experience to gather the necessary evidence and interview witnesses to find out the truth of what really happened and present it to the prosecutor to bring truth and justice to light.
Los Angeles Grand Theft Attorney
If you are being investigated for Grand Theft in Los Angeles, it's crucial that you get in touch with an effective and experienced Grand Theft attorney, who may be able to help you avoid the filing of criminal charges against you. If you've been charged with Grand Theft in Los Angeles, an attorney's early intervention on your behalf will render the best possible outcome of your case.
Call Us for a FREE Case Review: 310-274-6529
How to Win Your Case
We cannot stress enough that you read, understand and follow these 10 basic rules if you are criminally charged or under investigation: