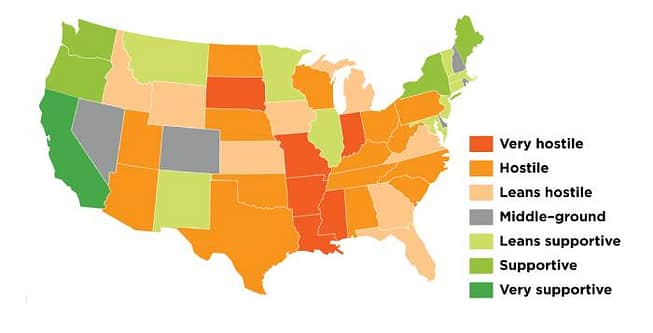 A Safe-Haven for 'Pro-Choice'
California abortion clinics are building new facilities that are closer to transit hubs in preparation to become a so-called "safe haven" for people coming to California for abortion services from states where the practices have been outlawed.
As new abortion restrictions sweep the nation in anticipation of a SCOTUS ruling this summer that could significantly roll back or even end women's constitutional rights to abortion — effectively overturning the landmark ruling Roe v. Wade —The Golden State is preparing to fill the void by welcoming a potential surge of patients who have lost access to abortion services in other parts of the country.
"People from across the country are already looking to California as a haven state, as a beacon to provide them the care they need," Jodi Hicks, president and CEO of Planned Parenthood Affiliates of California, said. "It is our moral imperative that we continue to provide the leadership that people are looking for."
In California, Planned Parenthood operates about half of the state's 165 abortion clinics. The organization said it has treated at least 80 patients from other states each month since September.
September is when Texas adopted a new law giving residents the right to seek civil damages against anyone who performs or helps an abortion after a woman is six weeks pregnant.
After that ruling, abortion clinics across The Lone Star State shut down to avoid an onslaught of lawsuits. These closures led to thousands of patients seeking abortions in other states, with an overwhelming influx in neighboring states like Oklahoma and New Mexico and even stretching into California.
A package of new abortion rights bills is currently moving through the California legislature, which could:
Expand the number of abortion providers
Provide financial assistance to women traveling to California for abortion services
Offer legal protections for California doctors offering abortions to out-of-state patients
The Golden State is pushing even harder to become a sanctuary state for women seeking abortion services. In September of 2021, after the changes to Texas' abortion law took effect, California Gov. Gavin Newsom summoned the Future of Abortion Council, an alliance of reproductive rights, health, and justice groups, to explore further how to designate California as a sanctuary state for abortion services.
In December, the Future of Abortion Council released 40 policy recommendations that formed the basis for the sweeping legislative package that's now advancing at the Capitol.
The plan also asks lawmakers to help abortion clinics beef up their workforces to prepare for the influx of patients by:
Providing scholarships to medical students who pledge to offer abortion services in rural areas of California
Help them pay off student loans
Assist with their monthly liability insurance premiums
If the sweeping changes are approved by the end of the session in August and signed by Gov. Newsom, the measures will take effect next year.
The centerpiece of the package is Senate Bill 1142, which aims to create a state-directed fund to help patients facing financial burdens on their quest to obtain an abortion, as well as money to support research into improving abortion access.
California is on track for a $31 billion budget surplus next year, meaning the state has money in its reserves to fund these services for out-of-town patients.
There is also Assembly Bill 2134, which states:
(a) Every individual has the fundamental right to choose or refuse birth control.

(b) Every individual has the fundamental right to choose to bear a child or to choose to have and to obtain an abortion, except as specifically limited by this article.

(c) The state shall not deny or interfere with an individual's fundamental right to choose to bear a child or to choose to have and to obtain an abortion, except as specifically permitted by this article.
Also included in AB 2134 is a provision to set aside money for clinics to provide uncompensated care for low-income patients whose insurance does not provide coverage for abortion and contraception.
Need a Lawyer?
We have experienced attorneys to fight for your freedom and rights.
Need a Civil Rights Attorney? CALL NOW: 310-274-6529
Seppi Esfandi is an Expert Attorney who has over 21 years of practice defending a variety of cases.