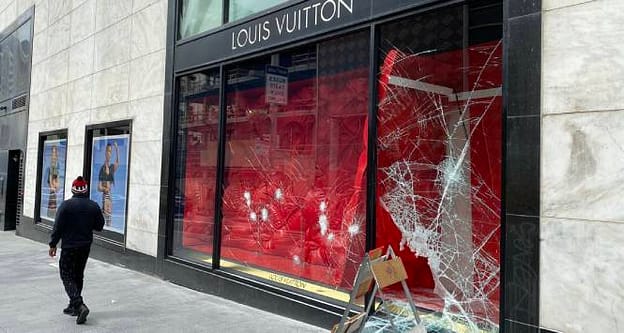 A New Trend
From Louis Vuitton in San Francisco to a mall in Walnut Creek and a Nordstrom department store in Los Angeles, California is currently seeing a surge in smash and grab robberies.
Since November 18, there have been 11 smash-and-grab incidents across Los Angeles alone where thieves have stolen more than $330,00 worth of goods.
In response, prosecutors and retailers across the Golden State are calling for stronger shoplifting laws.
What are Smash and Grab Robberies?
"Smash and grab" is when large groups or individuals rush into stores and steal goods or small and grab from display cases or windows.
In November, national retail groups estimated the annual losses from smash-and-grab robberies to be in the tens of billions of dollars. In response, some attorneys general and chief executives of major American retailers, including Home Depot, CVS, Target, and Best Buy are urging Congress to take action and crack down through a congressional bill that would mandate more prevention efforts by online marketplaces — where many say the stolen goods are sold.
"Retail establishments of all kinds have seen a significant uptick in organized crime in communities across the nation," the letter said. "Criminals are capitalizing on the anonymity of the Internet and the failure of certain marketplaces to verify their sellers. This trend has made retail businesses a target for increasing theft."
The White House is even getting involved, saying in December that it has been in contact with federal law enforcement over a string of flash mob "smash-and-grab" robberies across the United States, including California, Chicago's Michigan Avenue, and Minnesota.
The bill, which was introduced in 2020, would require verification of all third-party sellers on online retail marketplaces and require online platforms that allow third-party sales to "authenticate the indemnity of high-volume third-party sellers" in an attempt to thwart organized retail crime. To do so, online marketplaces would need to obtain the seller's government ID, tax ID, and bank account, and contact information.
In California, the thefts have become a political issue. Critics are placing blame on progressive policies, such as Proposition 47, a ballot measure that 60% of voters approved in 2014. The proposition reduced certain theft and drug possession offenses to misdemeanors from felonies.
California Governor Gavin Newsom and Attorney General Rob Bonta argue that police and prosecutors have the legal tools available to them to go after these criminals.
Punishment for Smash and Grab Robberies
The Retail Industry Leaders Association and the Buy Safe America Coalition released a report before the holiday shopping season that said asset protection professionals and law enforcement officials believe that changes to how shoplifting and other nonviolent crimes are prosecuted are playing a role in the recent rise in-store thefts. A number of states have increased the felony threshold for shoplifting because of prison overcrowding. The report says this is "effectively decriminalizing robberies" in some areas, reading:
"This shift in prosecution has led existing organized criminal enterprises, gangs, mafias, and syndicates that traditionally monetized their efforts with violent and drug-related income to shift their criminal operations to attack retail."
Retailers are already starting to feel the impact of the spike in organized retail crime in 2021. In October, Walgreens announced it was shuttering five downtown San Francisco locations because of the crime spike. Target reduced store hours temporarily at five San Francisco locations in response to the uptick in theft.
Governor Newsom announced the Golden State would increase the number of California Highway Patrol troopers posted near retails and recommended allocating more money to combat retail crime in the state budget for 2022-2023.
"The level of organized retail theft we are seeing is simply unacceptable," Newsom said. "Businesses and customers should feel safe while doing their holiday shopping."
Under current California Law, "organized retail theft" can be prosecuted if someone works with at least one other person to steal items that are for sale. This could be just two people working together or an entire "flash mob" — organized and planned robbery on social media, or a more sophisticated crime network dedicated to reselling goods that they steal.
To be convicted of smash-and-grab burglary, there are some requirements:
The retail establishment must sell merchandise from a fixed location (including restaurants).
The offender must cause more than $500 in damages.
Punishment ranges from two to 20 years in prison and a fine of up to $100,000.
A second or subsequent conviction increases the jail time range from 5 to 20 years.
Need Help?
 
If you or a loved one has been convicted of organized robbery or shoplifting, Seppi Esfandi can help. Esfandi has decades of experience defending Los Angelenos from a brand spectrum of crimes, including theft, robbery, and shoplifting. 
Need a Criminal Defense Attorney? CALL NOW: 310-274-6529
Seppi Esfandi is an Expert Criminal Defense Attorney who has over 22 years of practice defending a variety of criminal cases.