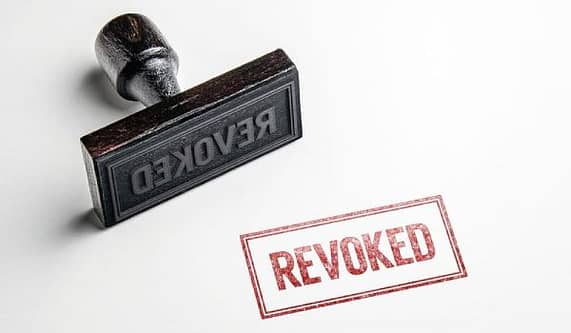 Yes, for Certain Felony DUIs
One of the first questions we hear from serious felony DUI offenders — especially those who have prior DUI convictions is:
"Will my license be permanently revoked?"
The thought of never being able to drive yourself to work, your kids to school, to Disneyland, the beach, or anywhere is quite harrowing. It's important to know that there are circumstances under California law that could warrant the permanent revoking of your driver's license — with no chance of ever getting it back.
But, most DUIs in California only involve either a temporary suspension, or even better no suspension — especially when you work with a good California DUI attorney.
What is Revocation?
California law states that revocation means your driving privileges have been terminated, and you can obtain a new driver's license after the period of revocation (unless your license has been permanently revoked.)
"13101.
When used in reference to a driver's license, "revocation" means that the person's privilege to drive a motor vehicle is terminated, and a new driver's license may be obtained after the period of revocation."
What is Suspension?
Suspension means your driving privileges have been temporarily withdrawn. Once the suspension period ends, your privileges will be restored.
"13102.
When used in reference to a driver's license, "suspension" means that the person's privilege to drive a motor vehicle is temporarily withdrawn. The department may, before terminating any suspension based upon a physical or mental condition of the licensee, require such examination of the licensee as deemed appropriate in relation to evidence of any condition which may affect the ability of the licensee to safely operate a motor vehicle."
What is Cancellation?
"13100.
When used in reference to a driver's license, "cancellation" means that a driver's license certificate is terminated without prejudice and must be surrendered. Any person whose license has been canceled may immediately apply for a license. Cancellation of license may be made only when specifically authorized in this code, when application is made for a license to operate vehicles of a higher class, or when a license has been issued through error or voluntarily surrendered to the department."
Reasons the DMV Revokes and Suspends California Driver's Licenses
There are a number of reasons the DMV may revoke a person's driving privileges, including:
Road rage
Drug or alcohol addiction
Physical or mental disorders
Committing certain crimes, like FELONY DUI
What Happens to My Driver's License After a DUI in California?
DUI law is extremely complex in the Golden State. There are several kinds of license suspensions, each that comes with different rules. The most common suspensions include:
Administrative suspension — An automatic suspension that goes into effect 30 days after the DUI arrest. This is different from all other kinds of suspension because it happens before you are convicted. An administrative suspension is never permanent.
Hard suspension — This means no driving at all, with no exceptions.
Soft suspension — This kind of suspension allows some exceptions that grant restricted driving privileges.
Restricted driving — Once you serve your hard suspension time and meet other qualifications, you can apply for temporary restricted driving privileges. This is often also referred to as a "hardship license." If you are approved for this kind of license, you'll be issued a temporary license that will allow you to drive to and from work and court-ordered drug and/or alcohol treatment. You are not allowed to do any other driving.
Permanent revocation — When your license is "revoked", it is taken away from you forever. In California, revocations are often issued to the most serious DUI offenders, including repeat offenders.
Charges that Can Lead to a Permanent License Revocation
In California, upon your fourth arrest and conviction for DUI, your license becomes revoked for life. It doesn't matter how long it's been since your last DUI. Commercial drivers may permanently lose their commercial licenses after their second DUI.
Can I Get my Revoked License Back?
You might be thinking, 'you're an attorney, can't you get my license back?' But, the truth is once a license is permanently revoked, there is no possible means to reinstate it.
Of course, if you aren't facing permanent revocation, you will be able to reapply and re-test for your license once your suspension period is up.
Also, an attorney can help fight your charges to reduce them and the penalties so that you don't end up with a permanent license revocation in the first place.
How Can I Keep My Driver's License After a California DUI?
One of the first things you should do after being arrested for DUI is to contact a licensed DUI attorney. Two of the DUI charges we talked about above carry mandatory permanent revocation. The only way you can fight those odds is to hire a lawyer who will fight for your case and innocence so that you are not convicted. In cases where the DUI judge makes the call, your attorney will help you present the strongest case possible and be granted other leniencies.
Seppi Esfandi has been fighting in the courtroom for his clients for __ decades. Esfandi is a DUI lawyer who has obtained favorable outcomes for his clients in a wide range of DUI cases. At the Esfandi Law Group, we thoroughly investigate every DUI case to identify substantive and procedural weaknesses and challenges. With careful examination of all the possible weaknesses and challenges, Esfandi formulates a vigorous, personalized, and highly effective strategy to secure the best possible outcome for his clients. Contact us today for a free case evaluation.
Need a Criminal Defense Attorney? CALL NOW: 310-274-6529
Seppi Esfandi is an Expert Criminal Defense Attorney who has over 20 years of practice defending a variety of criminal cases.