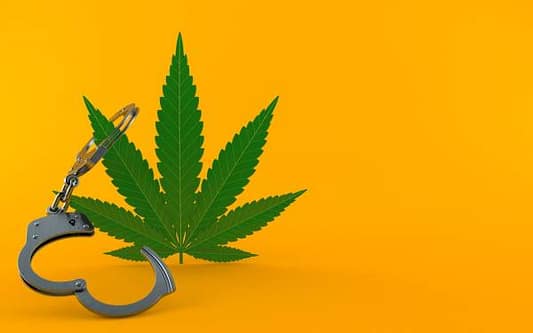 Prop 64
During the November 2016 general election, California voters let the country know how they felt about criminal convictions of the personal use, possession, cultivation or distribution of small amounts of marjiuana:
DISMISS THEM ALL.
On November 8, 2016, California passed Proposition 64 (Prop 64) with a resounding mandate. Titled the Control, Regulate and Tax Adult Use of Marijuana Act, Prop 64 allows adults over the age of 21 years old to possess and grow specific amounts of marijuana for recreational use. The law also added and amended sections of the Penal Code, Health and Safety Code, Business and Professions Code, and the Revenue and Taxation Code.
Subject to particular exceptions, Prop 64 all but eliminated the criminal ramifications for personal level possession and cultivation of marjiuana by those 21 years of age and older. As significant, it added Health and Safety Code (HS) Section 11361.8. Under this provision, a person currently serving a sentence, or who has already completed a sentence following a conviction of a violation of Section(s) 11357, 11358, 11359 or 11360 of the Health and Safety Code may be eligible to have their conviction:
1) reduced or re-designated as a misdemeanor or an infraction and resentenced;
or 2) dismissed as applicable.
Once the charges are reclassified or dismissed, the law also permits individuals to have their records sealed. HS 11361.8 essentially allows for Prop 64 to be retroactively applied to cases that govern conduct which is no longer considered illegal. For example, the Section states:
A person currently serving a sentence for a conviction, whether by trial or by open or negotiated plea, who would not have been guilty of an offense, or who would have been guilty of a lesser offense under the Control, Regulate and Tax Adult Use of Marijuana Act had that act been in effect at the time of the offense may petition for a recall or dismissal of sentence before the trial court that entered the judgment of conviction in his or her case to request resentencing or dismissal (emphasis added).
Health and Safety Code Section 11361.8(a)
The offenses covered by Section 11361.8 include the simple possession of marijuana (HS 11357), the cultivation of marijuana (HS 11358), the sale of marijuana (HS 11359), and the transportation, distribution or importation or marijuana (HS 11360). Furthermore, pursuant to HS 11362.1(c), marijuana and its by-products involved in any way with conduct deemed lawful by Prop 64 and the Health and Safety Code amendments made thereby, are not deemed contraband and therefore are not subject to seizure. And conduct deemed lawful by the amended sections of the Health and Safety Code cannot constitute a basis for detention, search, or arrest. Id.
Even more astonishingly, on September 30, 2018, former Governor Jerry Brown signed AB 1793 into law, adding 11361.9 to California's Health and Safety Code. HS 11361.9(a) took its predecessor a step further by making it a requirement that the Department of Justice (DOJ) review all convictions in the state summary criminal history database eligible for reclassification or dismissal under Prop 64.
HS 11361.9 further mandates that the prosecution review all convictions identified by the DOJ as eligible for relief. Here's the catch. Although courts are required for the most part to grant dismissals or reductions automatically for past marijuana convictions, the prosecution has the ability to challenge any particular resentencing, dismissal and/or redesignation. That's why it's important to petition the court on your own behalf, rather than allowing the prosecution to challenge your conviction without even knowing.
If you were 18 years of age or over and charged with HS 11357, HS 11358, HS 11359 or HS 11360, you may be eligible for relief under HS 11361.8. To request such relief, you must file an application for resentencing or dismissal with the court. It is important to note that Prop 64 does not amend code sections pertaining to the sale of marijuana to minors, the employment of minors to sell marijuana, or the illegal manufacture of concentrated cannabis.
Also of significance: recreational use of marijuana in public is still illegal; car searches for marijuana and/or cannabinoid products are still legal with specific articulable facts; and standardized field sobriety tests may still be used to determine cannabis impairment.
Further, manufacture of concentrated cannabis under Health and Safety Code Section 11379.6 remains a felony. And Prop 64 does not amend Health and Safety Code Section 11470(f) (allowing for the forfeiture of "[a]ll moneys, negotiable instruments, securities, or other things of value furnished or intended to be furnished by any person in exchange for a controlled substance…"), relating to 11359 and 11360 cases.
As for minors, Prop 64 does not wholly decriminalize marijuana related offenses, but it does amend several existing statutes so that most marijuana related offenses are now infractions for minors. Additionally, the penalties that can be imposed by the courts for these infractions are limited to at least four hours of drug education or counseling and some amount of community service.
See Appendix I of Proposition 64: 'Adult Use of Marijuana Act' Resentencing Procedures and Other Selected Provisions by Justice Richard Couzens. By and large, these are the only sanctions that can be applied to a minor found to have committed a marijuana related offense under the Health and Safety Code.
Regardless of your age—adult or juvenile—or when your past conviction may have taken place—26 years ago or six years ago—it is important to meet with a knowledgeable criminal defense attorney who can make sure your matter gets dismissed and sealed. You also want a seasoned attorney by your side who's privy to the new regulations and can use them in your defense or in negotiations with the prosecution.
RELATED ARTICLE: How to Remove a Marijuana Conviction
Arrested in Los Angeles?
A good criminal defense attorney can help you turn obstacles into fair chance success using the courts.
Need a Criminal Defense Attorney? CALL NOW: 310-274-6529
Seppi Esfandi is an Expert Criminal Defense Attorney who has over 20 years of practice defending a variety of criminal cases.