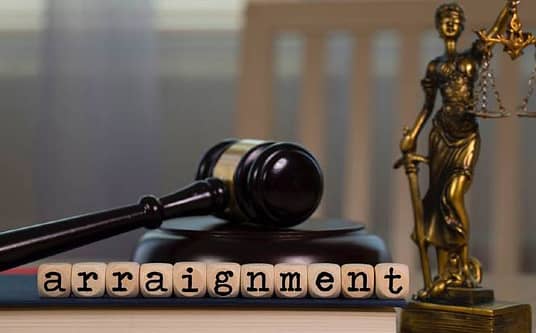 Stage 2: Arraignment
First Court Date:
The first court date after an arrest is called an Arraignment. After an arrest, a defendant who is in custody must be brought to court and arraigned within two court days. Arraignment is the earliest stage of a criminal proceeding.
What happens at an Arraignment? The defendant is brought before the Judge of the Superior Court and the formal charges are read. The defendant is given the opportunity to enter a plea of guilty, no-contest, not guilty, or not guilty by reason of insanity. The defendant also has a chance to demand a speedy trial or waive time for a future court date (more on this below).
Bail:
The judge usually sets bail at the Arraignment. Although the arresting police department sets a preliminary bail based on the arrest charges, the Court actually sets bail according to the charges that are subsequently filed, and, typically, the judge sets this bail in accordance with a pre-set bail schedule depending on the County where the crimes are charged. There is one bail schedule for Felonies and another for Infractions and Misdemeanors.
At the arraignment, a defendant's attorney can ask for a bail reduction or an Own Recognizance (OR) release based on a promise to appear in Court.
Once these arraignment issues are settled, a new court date is set. For felonies, this is often in another courtroom called a Preliminary Hearing Courtroom.
Timing:
There is a difference between an arraignment when the defendant is in custody and an arraignment when the defendant is not in custody. A defendant in custody must be given an arraignment with two days of his or her arrest. The two day countdown starts not the day of, but the day after the arrest and holidays and weekends also don't count. So, if a defendant is arrested on a Friday and the next Monday is a holiday, then the arraignment will take place on Tuesday or Wednesday at the latest.
If a defendant is not in custody, either because he or she posted bail, was given an OR release, a Citation (Cite) release, or received a letter to appear, then there is no deadline for the setting of the arraignment, as long as it is within the statute of limitations. Typically, this means that cases must be filed within one year of the crime for misdemeanors and within four years for felonies. The defendant can also bail out between arrest and arraignment. If this happens, he or she is considered an out-of-custody defendant, so there is no two day deadline for the arraignment.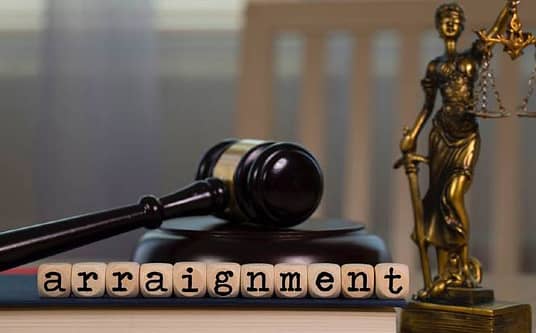 At the arraignment, the judge will inform the defendant of his or her right to a speedy preliminary hearing (for felonies only) and, also, his or her right to a speedy trial (for both misdemeanors and felonies). The felony defendant has a right to a preliminary hearing that starts within ten court days of the defendant's arraignment and a separate right to a speedy trial within about 74 days of the preliminary hearing. If he or she is in custody, a defendant in a misdemeanor case has a right to a speedy trial starting within 30 days of the arraignment, and within 45 days if he or she is out-of-custody. If speed is not to a defense's advantage, defendants can waive their right to a speedy trial. If there is an advantage to having a speedy trial, then no time waiver should be sought.
Entry of Plea:
A defendant has four choices of plea to enter: guilty, no-contest, not-guilty, or not guilty by reason of insanity. The typical plea at the early stage of the arraignment is not-guilty. Then, a new date for plea negotiations is set and, if plea negotiations don't work out, a trial date is set. In some cases, an experienced defense attorney will realize that the prosecutor has undercharged the crime. For instance, if the prosecutor has left out a defendant's prior strike, the defendant's attorney might plead the defendant guilty at this early stage.
The entry of a guilty plea bars the prosecutor from amending the complaint to add more serious charges later because of the Fifth Amendment rule against Double Jeopardy. If the defendant is not represented by a private or public attorney at the arraignment, the Court will automatically enter a not guilty plea on the defendant's behalf and set a new court date at which the defendant will obtain counsel.
Motions at Arraignment:
Other than the motion for a bail reduction or OR release, a less common motion at an arraignment is a demurrer. A demurrer challenges the sufficiency of the complaint itself on legal grounds such as:
Untimely Filing of the complaint based on a lapsed statute of limitations.
Venue Issues. For instance, the Court does not have the authority to hear the matter because it has been assigned to the wrong court.
Jurisdiction Issues. For instance, a particular police department cannot make this arrest because it is outside their statutory jurisdiction.
Misjoinder. Defendants have been wrongfully joined and their cases must be severed for the action to proceed.
Double Jeopardy or Kellett issues (Kellett v. Superior Court, 409 P. 2d 206 – Cal: Supreme Court 1966). The charges have been previously brought and cannot be brought again because they violate the Fifth Amendment prohibition on double jeopardy.
Demurrers are rare and are rarely successful at Arraignment.
After the Arraignment:
After the arraignment, a new court date is set. This begins the pretrial process. During the pretrial process, discovery is exchanged and attorneys engage in plea negotiations. The pretrial process ultimately leads to either a negotiated settlement or, if there is no settlement, to a trial for misdemeanors and a preliminary hearing and subsequent trial, if necessary, for felonies. In the unusual event that there is a guilty plea at the arraignment, a sentencing date will be set afterward.
An Extremely Important Step
It's highly preferable that you call a lawyer for legal advice as soon as possible and it's completely free to consult. Contact Esfandi Law Group now, it's completely free.
Need a Criminal Defense Attorney? CALL NOW: 310-274-6529
Seppi Esfandi is an Expert Criminal Defense Attorney who has over 20 years of practice defending a variety of criminal cases.