Seppi Esfandi
2022 Law Scholarship Application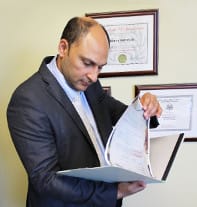 Law Offices of Seppi Esfandi, A Criminal Defense Law Firm in Los Angeles, CA, is offering one $1000 scholarship to a law student in the United States.
The 2022 scholarship will be based on an essay and can be done on any topic. One very important item to include in the essay is the reason you need the scholarship.
Please be as detailed as possible (interesting stories/struggles are most welcome). The range can be from 800 to 1500 words. We ask that you don't write over 1500 words, please. The branch of law you are currently studying is not a factor in our judgement, but do tie in your background story with why you chose this branch of law if possible.
Example Topics
These are only examples of possible topics, we encourage that you touch on these at least (but by all means your essay is not limited to these subjects):
Why I want to practice law (be specific as to which branch of law you will study, and why)
Discuss any adversity you had to overcome to fulfill your goal of attending law school
What you hope to achieve with your law degree
Scholarship Requirements
The following is required in order to receive the award:
Applicant must be a law student in the U.S.
Applicant must be a U.S. citizen or permanent resident (DACA Students are also welcome)
Applicant must have some sort of financial need or have financial aid obligations
Must be a full time student (proof of full time status will be required before award is distributed).
Deadline
The deadline to apply for this scholarship award is September 19th, 2022. The selected applicant will be notified by October 4th, 2022 and arrangements will be made for the distribution of the award. The award will be distributed directly to the student.
Method of Contact
Completed essays shall be sent either by email or by mail to:
scholarship@esfandilawfirm.com
(SUBJECT: 2022 Scholarship Essay)
Law Offices of Seppi Esfandi – Scholarship Essay
1925 Century Park East, Suite 830
Los Angeles, California 90067
Any applicant who applies gives Esfandi Law Firm permission to contact them about the application for further follow up information. They also give Esfandi Law Firm the opportunity to use their name/and or information on this website as a listed recipient of the award. Applicants have full permission to list this award on any type of marketing information or career oriented paperwork.
Please include how you heard about the scholarship.
Best of luck, we look forward to your submission!
2021 Scholarship Recipients
Recipient #1: Thao "Annie" Le

Selected by Scholarship Committee: $1,000

Law School: University of San Francisco School of Law

Essay #1: Thao "Annie" Le's Essay
Recipient #2: Peyten Sharp

Selected by Scholarship Committee: $1,000

Law School: University of California Berkeley Law School

Essay #2: Peyten Sharp's Essay
2017 Scholarship Recipient
Recipient: Misty D. Gaubatz

Essay: Domestic Violence

Selected by Scholarship Committee: $1,050

Law School: University of Montana

How to Win Your Case
We cannot stress enough that you read, understand and follow these 10 basic rules if you are criminally charged or under investigation: