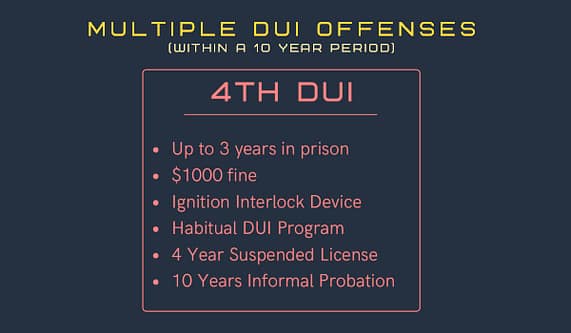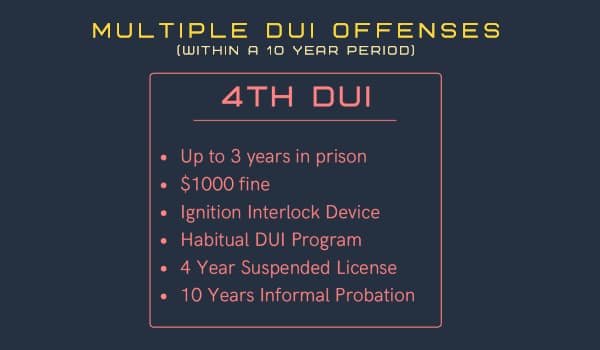 So You got Your Fourth DUI…
This article is part of a series on DUI charges.
In California, DUIs are seen up to repeat offenses up to the fourth time. Following that are grave consequences that jeopardize your future.
Below, we'll discuss what being charged a 4th time entails – and what you can do to avoid a conviction.
What Constitutes a Fourth DUI?
It means being charged with a DUI for the fourth time – throughout a 10 year span.
Most individuals with a DUI history never reach that point. However, getting there is never good news for a defendant.
With the first three repeats, the crime is counted as a misdemeanor. The fourth repeat is counted as a felony.
This puts you at risk of over 1 year in jail, and $10,000+ in fines. More details on that below.
Sentencing for Fourth DUI Convictions
California DUI penalties are quite harsh. However, each penalty differs based on the case.
For example, if your record contains previous soft DUI charges, then expect your fourth time penalty to be similar.
However, if your DUI record involves manslaughter, then expect a harsher conviction.
Those are called aggravating factors. The fewer of those on your record, the better.
That aside, sentencing for 4th-time charges includes the following:
16 months (or) 24 to 48 months in prison
Fines of $390 to $1000
Three years of HTO status (habitual traffic offender)
California driving license revocation (lasting four years). However, the defendant can continue to drive if their car contains an IIG device. That device must be kept for 3 years minimum.
Prosecutors – How They Charge DUI #4
For a fourth-time charge to stick, a prosecutor has to prove that you've had multiple DUI convictions before.
Specifically, they'll have to prove the following:
You were the driver at the time of arrest
Your BAC (blood alcohol content) was 0.08%+
You incurred 3 convictions at a minimum under a vehicle code section
The codes that define the criteria for a DUI include the following:
VC 23152a and VC23152b (driving under the influence and driving with excess BAC)
VC 23153 (driving under the influence with injury). This code also looks at manslaughter caused by drunk driving
VC 23103.5 (wet reckless charges)
Non-Californian convictions that match a DUI violation in California
Expunged convictions following the previous codes
What Do Prosecutors Look At?
With fourth-time charges, even expunged convictions are looked back upon. This makes it a serious charge for any defendant.
Also, any prosecutor will look at the following records:
Court records of previous charges
Your DMV (Department of Motor Vehicles) records
Certificates for finished drug and alcohol programs as ordered by court
What Can You Do to Combat a Fourth Charge?
There are some consequences to that, which include:
The key point of fourth-time charge is the increased sentencing.
The best way to fight a fourth charge is by trying to reduce it. Your lawyer can attempt to review and challenge your previous convictions.
Having just a single DUI removed from record can greatly drop your sentence. In fact, it can change your DUI's classification back to a misdemeanor.
A drop in charge has many pros for you. For example, it means a lesser chance of your driver license being revoked.
It also means a clean criminal record.
Multiple DUI Chart
Where Should You Start?
Our law firm offers all the guidance you need.
You need a lawyer not just for your repeat DUIs. But you a competent lawyer to review and tackle your previous charges.
The more charges you can clear, the better.
We recommend you get started as fast as possible. Call us now for a consultation!
With more than 20 years of experience, Esfandi Law Group's Los Angeles Criminal Defense Attorneys will fight hard for you. Contact us today to learn more.
Need a Criminal Defense Attorney? CALL NOW: 310-274-6529
Seppi Esfandi is an Expert Criminal Defense Attorney who has over 20 years of practice defending a variety of criminal cases.