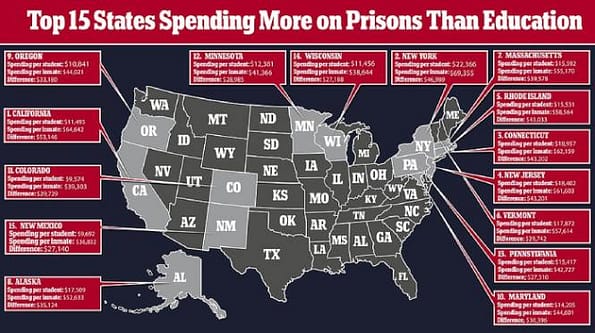 A Profound Correlation
Many people believe that Education and Crime have an inverse causal relationship, that the more education one has received, the less likely one will be to engage in criminal activity.
According to the Justice Policy Institute,
"Overall, individuals incarcerated in U.S. prisons and jails report significantly lower levels of educational attainment than do those in the general population.
Furthermore,
Research has shown a relationship between high school graduation rates and crime rates, and a relationship between educational attainment and the likelihood of incarceration. The impact of policies related to education and public safety are concentrated among people of color, who are less likely to have access to quality educational opportunities, more likely to leave educational systems earlier, and more likely to be incarcerated."
The Evidence is Clear
FBI violent crime statistics and US Census Bureau reports indicate that there is definitely a correlation between the number of people who do (or do not) attain a high-school diploma and/or post-secondary education and higher violent crime rates. California is one of the ten lowest-ranking states on the educational attainment list and has a higher rate of violent crime than states (like Minnesota) where educational attainment is higher and violent crime is lower.
Educational advocacy groups, such as the Alliance for Excellent Education, calculate that by increasing male students' high-school graduation rates by merely five percent, California would annually save more than $2.4 billion in crime-related spending and add nearly 200 million dollars in earnings. The Alliance points out that "the national average for educating a student is $12,643 per year while the annual state average cost to house an inmate is more than double that amount, at $28,323." Although different non-profits and policy groups report varying rates of arrest and incarceration of high-school dropouts compared to high-school graduates, the results always indicate that those with less education are "more likely to commit crimes and be jailed than their more educated peers."
The prevailing belief is that "Improving high schools will lead to increased graduation rates, which, in turn, will result in lowered crime and incarceration rates and increased economic activity."
Sociological scholars have demonstrated that restraining high-school-aged males during the years when they are most likely to commit crimes lowers crime rates. The reason the crime rates are lower, though, has nothing to do with becoming educated. Rather, the lower crime rate can be completely attributed to simply keeping those young males occupied enough to not have extra time or energy to engage in criminal activity, what Bell (2018) calls "a direct incapacitation effect." Studies have also shown that higher-level educational attainment inversely correlates with fewer incidents of lower-level crime.
Jacob and Lefgren (2003) found that "school attendance reduces contemporaneous juvenile property crime while increasing juvenile violent crime" and that "the increased level of interaction among adolescents facilitated through schools may raise the likelihood of violent conflicts after school." So, while attendance in high school is apt to reduce property crimes, it actually raises the rate of violent crimes among the juveniles themselves.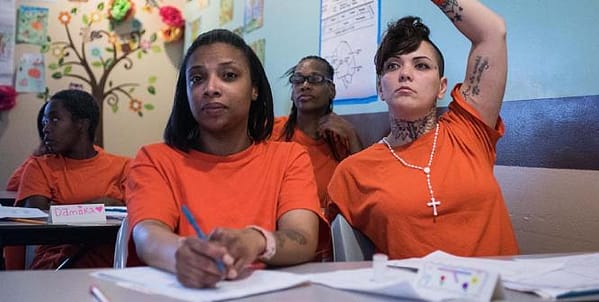 Lochner and Moretti (2004) studied "separate effects of education for different types of crime." Their results state,
"suggest similar effects across the broad categories of violent (murder, rape, robbery, and assault) and property (burglary, larceny, motor vehicle theft, and arson) crime — a one-year increase in average years of schooling reduces both property and violent crime by about 11-12%. However, the effects vary considerably within these categories. A one-year increase in average years of schooling reduces murder and assault by almost 30 percent, motor vehicle theft by 20 percent, arson by 13 percent, and burglary and larceny by about 6 percent. Estimated effects on robbery are negligible, while those for rape are significantly positive. This final result is surprising and not easily explained by standard economic models of crime."
So, educational attainment may cause murder, assault, motor vehicle theft, arson, burglary, and larceny to go down, but it may also cause rape to go up.
Working Theories
The scientifically unproven yet presumptive theory describing the correlation, or relationship, between Education and Crime is called "The Human Capital" theory. It's based on the idea that if someone gets an education and seizes opportunities for advancement and social reward resulting from that education, then that person will be less likely to want to risk that "capital" by engaging in criminal behavior. When the early studies about the correlation between education and crime were conducted, having a high-school diploma went a long way to an individual's becoming securely employed.
A person who worked hard at a decent job could reasonably look forward to community-standing, home ownership, and savings. A high-school education was celebrated and respected. The idea that high-school graduates were prepared to take on adult life in the form of marriage, starting families, etc. was prominent.
Now, most people would agree with Bill Maher's recent quip that "This country has no education standards anymore. They will let you out of a public high school and give you a diploma and you don't have to actually know anything." Additionally, just as orange is the new black, a Bachelor's degree is the new High School diploma, a Master's degree the new Bachelor's, and a PhD the new Master's. It's all about inflation.
Growing Up is Harder
According to the IRS, being a dependent child lasts not until age 18, but until the age of 24 (as long as the child in question is a full-time student for five months of the year). People being considered children for a longer time than they were before correlates with keeping them in school longer before unleashing them on the environment; the only difference is that Community Colleges replaced high school as the "educational" holding pens for the non-elite. Thomas Sowell (2001) pointed out that teachers' and school administrators' "jobs depend on having a large captive audience, and the self-interest of 'educators' is served by extending the period of students' incarceration—starting earlier in kindergarten and preschool, and including summer school for all. There will never be a lack of high-sounding excuses for these exercises in promoting the self-interest of teachers unions and educational bureaucrats." And it seems that many young people, even if they've never heard of Thomas Sowell, are savvy enough to have started to figure that out for themselves.
NPR and The National Student Clearinghouse Research Center report that "Total postsecondary enrollment, which includes both undergraduate and graduate students, fell a further 4.1 percent or 685,000 students in spring 2022 compared to spring 2021. This follows a 3.5 percent drop last spring, for a total two-year decline of 7.4 percent or nearly 1.3 million students since spring 2020."
What about those who graduate from reputable four-year universities to suddenly discover that not only can they not find work in their professional field of choice, but they cannot even earn enough money to rent a roommate-free apartment or pay for transportation from their coffee shop (or retail) job to their unpaid (or underpaid) internship?
When the Reward of Committing a Crime Clearly Outweighs Risk
A recent college graduate I'll call 'Sam' wrote an autobiographical screenplay about a guy who, due to post-collegiate financial desperation, creates and operates an ingenious internet fraud scam targeting Hollywood Insiders in order to pay off his massive student loan debt. In addition to paying off his debt via the fraud, Sam was able to option the screenplay (which will likely never be produced) for a sizable sum.
Educational Attainment has an impact on one's ability to recognize and navigate social status issues; it does not have an impact on whether or not a person is capable of mendacity. As Veselak found, "Individuals with all levels of educational attainment commit crimes." They just commit different types of crimes depending on how much education they have attained.
"Offenders with higher levels of education will be more likely to engage in crimes involving fraud and other high-skilled crimes, while offenders with lower levels of education will be more likely to engage in theft and other low-skilled crimes." (Veselak, K.M., 2015)
Education goes on all the time, regardless of what sort of education it may be or the environment in which it occurs. Although many incarcerated people participate in GED completion programs while in prison, research has shown that the impact of this achievement is minimal with respect to improving post-incarceration employment opportunities. Nevertheless, an incarcerated person's learning how to commit "advanced" crimes likely does expand that person's post-incarceration criminal horizons. In his 1952 book, Who are the Guilty?: A Study of Education and Crime, psychiatrist David Abrahamsen explains that "We have plenty of cases to show that many a crime was originally planned in prison. One prisoner learned from a fellow prisoner how to crack a safe, a newly acquired knowledge he used with great skill when he came out of prison."
Scholars Agree
Scholars agree that being educated has very little to do with being a criminal. Rather, being educated has a direct correlation to the activity level at which a person will function, regardless of whether the activity is legal or illegal. As Lochner (2007) points out, "One obvious concern with these studies is their use of arrest and incarceration as measures of crime. It is possible that education improves the chances that someone evades arrest or conviction or that judges tend to give more educated defendants lighter prison sentences."
Criminal individuals possessing higher levels of educational attainment, whether formal or informal, have the capacity to perpetrate higher-level crimes and, often, the wherewithal to protect their own best interests while (and after) doing so.
Related Articles:
Seeking Counsel?
When you don't have all the answers, give yourself the opportunity to learn from those in the know. A seasoned criminal justice lawyer will help you evaluate the facts and circumstances of your case and help ensure that your charges are dismissed.
Need an Attorney? CALL NOW: 310-274-6529
Seppi Esfandi is an Expert Attorney who has over 21 years of practice defending a variety of cases.
Bonnie and Clyde
advanced their reputation
and made their graduation
into the banking business. – "The Ballad of Bonnie and Clyde" (1968)