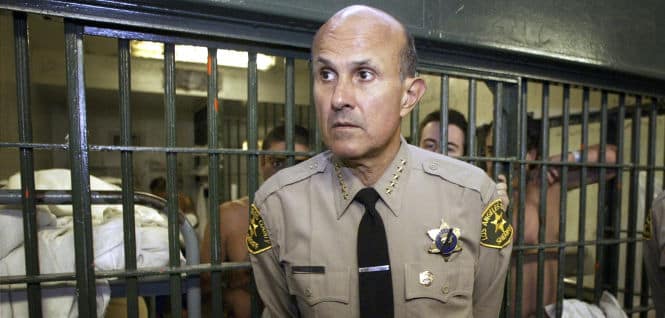 Corruption & Overcrowding in the City of "Angels"
Los Angeles Jails, California Prisons: Corruption & Overcrowding, Former Los Angeles Sheriff Lee Baca stands in front of an overcrowded Los Angeles jail cell. He was sentenced to three years in federal prison on May 12th, 2017 for attempting to cover up evidence of inmate abuse during an FBI investigation.
Inmate Abuse
In 2011, the FBI started a covert investigation into the suspected corruption by The Los Angeles Sheriff's deputies and the LA County jails, called "Operation Blue Line". The plan was to bribe corrupt deputies with cash to get them to guard a warehouse full of narcotics, arrest the ones who fell into the trap, then interrogate them for information about abuses inside the county jails as a 'deal'.
Operation Blue Line was never carried out because sheriff's officials hid an inmate informant and threatened an FBI agent with arrest, essentially monkey-wrenching the entire operation. Sheriff Baca was caught lying to the FBI to cover up the wrongdoings of his department.
15 deputies being investigated for inmate abuse, turned into over a dozen deputies plus Sheriff Lee Baca himself being charged and convicted for conspiracy, obstruction charges and false statements. They were all sentenced to several years in Federal Prison ranging from 18 months to 41 months each.
Some Come Clean, Others Remain Defiant
After the fall, Deputy Gilbert Michel, essentially spilled the beans on the LA Sheriff's culture of abuse in the County Jails. Michel explained in federal court in downtown L.A. how he beat inmates when he worked at Men's Central Jail between 2008 and 2011. According to him, it was all orchestrated by Lee Baca himself. Later admitted to his wrongdoing:
"We thought that we ran the jail," he said. "It was our jail. It wasn't anyone else's jail. And we controlled the jail. It's a little arrogant to think that you own that. You don't. The people of Los Angeles County own that jail."
Sheriff Lee Baca, on the other hand, refuses to admit any wrongdoing to this day, insisting he did the right thing protecting the inmate abusing deputies. He also stated to the court he is suffering from Alzheimer's, shortly before his sentencing. [1]
The new sheriff has installed hundreds of cameras throughout LA County Jails, which has helped to curb the abuse of power by deputies.
More Overcrowded Than Ever
Los Angeles County Jails (as well as California Prisons) remain severely overcrowded. In fact, jail overcrowding has been a problem since the 1990's.
On average, between 17,000 and 20,000 inmates are housed in Los Angeles County Jail per month. To put it into perspective, that's more than the entire state of New York at an average of 15,000 inmates monthly.
One way to reduce overcrowding would be to reform California's bail system. The Board of Supervisors for Los Angeles County recently announced that it will be reviewing the county's bail and pre-trial release policies. By the end of 2016, 40% of the inmates in LA county jails were awaiting trial and over half of them had a bail amount between $500,000 and $1 million dollars – an astronomically high amount for most prisoners.
The median monetary bail amount in California is five times the national figure, according to the Public Policy Institute of California.
Two California Democratic lawmakers are pushing legislation to eliminate cash bail in most cases, instead relying on empirical analysis of each defendant's case to determine whether they should be released. Similar policies are already in place in Washington, DC.
California Prison Spending Soars
Governor Brown's increase in corrections spending falls out of step with the will of the people of California.
65% of California voters have already taken a stand against wasteful spending by passing Prop 57. Despite the will of the voters, California Department of Corrections and Rehabilitation insists on neutering the potential cost saving effects of Prop 57 by refusing to implement expanding credits to non-violent third strikers retroactively. Advocates of Prop 57 argue that by fully implementing the will of California voters to reduce mass incarceration will save millions of dollars.
California's revised budget for 2017-18 increases total funding on corrections to $11.4 billion, up from $10.6 billion last year.
Reports project a decrease in prison population by .7% (2000 inmates) due to voter-mandated criminal justice reforms like Prop 47, and Prop 57. So, why does the California Department of Corrections budget continue to soar? [4]
Politics for Corruption & Overcrowding
There is a political problem known as the 'Willie Horton effect', where one case gone wrong can negatively affect an otherwise successful program in every other case.
Willie Horton was an inmate in Massachusetts who in 1986 absconded from a weekend-leave program. A year later he brutally raped a woman and assaulted her boyfriend. Despite more than 99% of those allowed to go home from prison, returned without incident, Horton's case was used in an attack ad launched by George H.W. Bush in his successful presidential campaign against Massachusetts Gov. Michael Dukakis.
Politicians quickly learned it's lesson: No matter how successful an "early release" prison program is, a single failure can doom it's success.
Conclusion of Corruption & Overcrowding
If you need help getting someone out of jail, don't hesitate to contact us now. We're ready to get you out of jail.
We assist inmates in custody at any of the Southern California jails:
Seppi Esfandi is an Expert in Criminal Law who has over 21 years of practice defending a variety of criminal cases.
If you or a loved one have recently been arrested, please don't hesitate to call us for a free, no-obligation consultation with Seppi Esfandi. During your call, Mr. Esfandi will hear the details of the case and advise you on the best approach to defend yourself.
Call Us for a FREE Case Review: 310-274-6529
References:
[1] https://www.latimes.com/local/lanow/la-me-ln-baca-sentencing-comments-20170512-story.html
[2] https://www.economist.com/news/united-states/21720299-still-overcrowded-and-sometimes-brutal-failing-jails-los-angeles-county
[3] https://curbprisonspending.org/for-immediate-release-ca-prison-spending-soars-to-all-time-high-in-governors-may-budget-revise/