California Penal Code 667 (b) - (i) PC
PC 667 (b) – (i) – California Three Strikes Law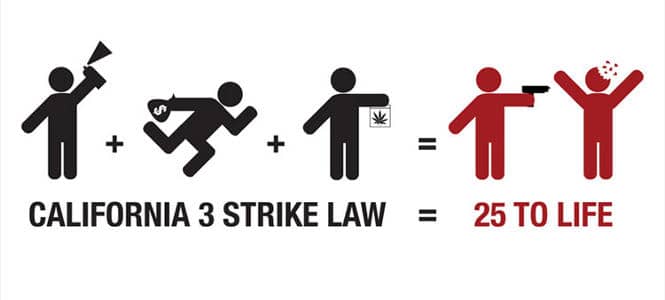 California Three Strikes Law – Table of Contents
What is the California "Three Strikes Law"?
What has come to be known as the California "Three Strikes Law" was in fact the result of a sentencing enhancement scheme brought about by the legislature in 1994 and codified under California three strikes law Penal Code § 667(b) – (i). Another Penal Code section was enacted by voters towards the end of 1994 namely § 1170.2, under Proposition 184. "Strike" is the word used by the California legislature meaning imposition of "harsher sentencing".
The California Three Strikes Law is really a special type of habitual offender law, used in many states and many countries to punish repeat offenders (recidivists) who already have prior felony convictions. In 1994, California voters overwhelmingly supported the California Three Strikes Law initiative following the murders of 18-year old Kimber Reynolds and 12-year old Polly Klaas by repeat offenders.
In some cases, where prior strikes included an armed robbery conviction (Taylor v Lewis, 9th Circuit 2006), the California Three Strikes Law made more sense, as it did in the Reynolds and Klaas cases. However, in others, where such almost trivial crimes such as nonviolent shoplifts were termed "strikes", it made less and less sense (Ramirez v Castro, 9th Circuit 2004). Through its application spanning almost two decades, the California Three Strikes Law caused many notable unnatural results, and soon became a highly controversial subject.
In several California Three Strikes Law criminal cases, the defendants convicted under this law and facing dramatically increased sentences, often unfairly, appealed to the US Supreme Court, some without success, even when claiming Cruel and Unusual Punishment in violation of the 8th Amendment of the Federal Constitution. Some of these cases showing markedly disproportionate results included:
Ewing v California (2003) 538 US 11, 155 L Ed 2d 108, 123 S Ct 1179: a theft of three golf clubs, each worth $400, became the justification for sending the defendant to a 25 years to life sentence because he had a prior criminal record which included strikes for one robbery and a burglary;
Locker v Andrade (2003) 538 US 63, 155 L Ed 2d 144, 123 S CT 1166: many prior nonviolent strikes became the motivation behind imposing a 50 years to life imprisonment sentence for stealing nine children's videotapes collectively worth $150 (petty theft);
The Original Sentencing Scheme of the 1994 California "Three Strikes Law"
A person who had one or more prior convictions automatically qualify for a harsher sentence under the California "Three Strikes Law". Specifically, there are 2 sentencing schemes under the California "Three Strikes Law". First, if a person is convicted of a new crime but already has a conviction for a single prior strike, the sentence imposed for the new conviction is automatically doubled. This is known as a "Second Strike". Further, the sentence imposed for a person with a record showing two or more prior strikes is a life sentence. This result is accurately referred to as California "Three Strikes Law".
Determining which prior convictions can be charged as "strikes"
All prior serious or violent felony convictions can be charged as a strike
Some out-of-state convictions can be a strike
Some juvenile delinquency adjudications can be strikes
Prior serious or violent felony convictions
The California three strikes law Penal Code specifically enumerates those felonies which qualify as "violent" and "serious" felonies. "Violent" felonies are defined under California Penal Code § 667.5(c) as 23 possible crimes, some of which are murder/manslaughter, mayhem, any robbery, arson, kidnapping, rape, spousal rape, extortion and so forth. Some 42 felonies have been listed as "serious" felonies under California Penal Code § 1192.7(c), some of which are included here:
Out-of-state convictions
As long as the conviction in a foreign court would have been classified as a strike-type conviction in California, the out-of-state conviction can be used for sentencing in California under the Three Strikes Law. For example, in a 2002 California Three Strikes Law case, the prosecution successfully argued that a Texas conviction for burglary with intent to commit "theft" could indeed be used in California as an underlying strike offense for a new conviction of arson. People v Avery (2002) 27 Cal.4th 49, 115 CR2d 403. A lot of litigation in this case revolved around the "intent" requirement for theft under the Texas code, which at first appeared to be significantly different to that of California's three strikes law Penal Code. If it were in fact different, then the prosecution would not be able to prove "serious" felony and the California Three Strikes Law would not apply to the extent that it did. However, the Supreme Court of California concluded that Texas's "intent to deprive the owner of property temporarily but for so extended a period of time as to deprive the owner of a major portion of its value or enjoyment", was sufficiently the same as California's requirement for theft to "permanently" deprive the owner of property. So the Three Strikes Law applied.
Juvenile Adjudications
Even juvenile convictions can be used as strikes if:
The defendant was 16 or older when he/she committed the offense;
The prior offense is a "serious" or "violent" crime as defined in the California Penal Code;
The prior offense is listed under California's Welfare and Institutions Code § 707(b) (enumerating a list of 30 offenses);
The defendant appeared to be a fit and proper subject for purposes of juvenile law; and
The defendant was made a ward of the court (under 18 years of age and unable to manage his or her own assets) under California's Welfare and Institutions Code § 602, the reason being that the juvenile defendant committed one of the offenses listed under the Welf & I C §707(b) or Pen C §§667(d)(3)(D) or 1170.12(b)(3)(D).
To "strike a strike": When the presiding court has discretion to reduce a sentence
In some situations, the sentencing court may have discretion to strike one or even more of the prior convictions of a defendant. This may drastically cut some of the defendant's sentence. However, this is not always the case as sometimes it may be an abuse of the court's discretion to strike one or more prior convictions.
California classifies certain offenses as "wobblers". Examples include receipt of stolen property under CP §496 and burglary under CP §459. That a crime is classifiable as a wobbler means the prosecutor has discretion to charge the defendant with either a misdemeanor or a felony conviction, and this depends on several factors like the facts and circumstances surrounding the defendant's actions. The judge will have the final decision as to whether to convict a defendant of a misdemeanor or felony. Likewise, under the California Three Strikes Law, the court has discretionary powers to reduce a "wobbler" offense to a misdemeanor, regardless of whether a defendant had one or more prior strikes. By the same token, if circumstantial evidence merits the opposite result in the court's discretion, the court is free to impose a felony conviction on the defendant.
Some other reasons California courts have decided to dismiss prior felony convictions have included insufficient evidence or in furtherance of justice under California Penal Code §1385. In a well-known case, the California supreme court explained its exercise of discretion by stating the following: if the "nature and circumstances of the present felonies and prior serious and/or violent felony convictions" together with defendant's "background, character and prospects" are not the kind considered under sentencing enhancement schemes, then the court can ignore the previous, albeit violent, felony conviction(s) of the defendant. People v Williams (1998) 17 Cal.4th 148, 161, 69 CR2d 917.
However, some courts have been found to abuse their discretionary powers by striking prior convictions when they shouldn't have. For instance, in People v Gaston (1999) 74 Cal.4th 310, 87 CR2d 829, the defendant's auto theft to "support his drug habit" should have been a third strike, and not a second strike, so it was abuse of the trial court to ignore one of the felonies in his prior criminal record (robbery and kidnapping). The reasons for citing abuse of discretion stated were that these were "serious" prior felony convictions, the defendant had been in prison multiple times yet had not learned from his mistakes, and violated his parole.
Post-2012 California "Three Strikes Law" Amendment
In the aftermath of cases like Ewing and Andrade with disproportionate sentences being imposed for even minor crimes, what had seemed to be a justifiable motivation behind enacting the enhanced sentencing structure of California Three Strikes no longer made sense to the majority of California voters.
In November 2012, voters successfully amended the law under Proposition 36, adding the following two provisions that are currently in effect:
An offender can only be charged as a "third strike offender" if the new conviction is based on a "serious felony" or a "violent felony", and the offender already has two or more prior strikes. In other words, the 3rd offense must be a "strike" – not a petty theft or shoplifting offense. The sentence imposed in such a case has now been changed to 25 years to life in prison – not an automatic life prison sentence.
An offender that is presently serving a 3rd strike sentence for a minor crime may ask the court to reduce the imprisonment term to a 2nd strike sentence. This petition can be filed where the court finds that an offender would have been eligible for a 2nd strike sentence. That is, the court must establish that the offender seeking such a petition no longer poses an unreasonable threat to society.
Sentencing for California "Three Strikes Law"
The Three Strikes Law not only imposed longer prison sentences for particular repeat offenders, but it also introduced other significant sentencing modifications. Under California Penal Code Section 667:
A person convicted of a serious felony who previously has been convicted of a serious felony in this state or of any offense committed in another jurisdiction that includes all of the elements of any serious felony, shall receive, in addition to the sentence imposed by the court for the present offense, a five-year enhancement for each such prior conviction on charges brought and tried separately. The terms of the present offense and each enhancement shall run consecutively.
PC § 667(a)(1)
Key Features of the Three Strikes Law:
Third Strike Offense – If a defendant has two or more preceding felony (either serious or violent) convictions, the sentence for any additional felony conviction—need not be a serious or violent felony—will be life imprisonment with the minimum time served of 25 years. This group of defendants is colloquially referred to as the "third strikers."
Time Lapse Not Considered – The court does not take into consideration the length of the time between the previous and current felony convictions. Therefore, a serious or violent felony offense committed decades earlier can still open a defendant up to a third strike violation for any subsequent felony.
Consecutive vs. Concurrent Sentencing – The statute calls for consecutive sentencing—rather than concurrent—regardless of the circumstances when a repeat offender is convicted of committing multiple offenses.
Unlimited Aggregate Sentencing – The provision does not limit the number of felonies that can be included in the required consecutive sentencing.
Loss of "Good Behavior Credits" – Repeat offenders under the Three Strikes Law are unable to take advantage of the standard one-half reduction in prison time served for good behavior or by earning credits from work, education or related activities.
Probation Prohibited – The statute prohibits granting probation to a repeat offender for any new felony.
Suspension Prohibited – A "striker" is not eligible to receive the imposition of a suspended sentence for any previous offense.
Diversion Prohibited – A repeat offender is required to serve his or her sentence in state prison and is ineligible for any diversion programs.
Serious and Violent Offenses:
The original Three Strikes Law was amended by Proposition 36 in 2012 to refine the types of cases and offenses applicable to the sanctions of Penal Code Section 667. Under Proposition 36, to receive a third strike, the defendant must have committed a "serious or violent felony." Prior to Proposition 36's passing, any felony (no matter how minute), could trigger a third strike and thus a lifetime sentence for a defendant. Today, however, only certain delineated serious or violent felonies can submit a repeat offender to a consequential third strike.
Examples of "violent" felonies:
Murder or voluntary manslaughter.
Oral copulation or sodomy by force.
Arson.
Kidnapping.
Carjacking.
Assault with a deadly weapon.
Any felony involving a firearm.
PC § 667.5
Examples of "serious" felonies:
First-degree burglary.
Robbery.
Grand theft involving a firearm.
Sale of cocaine, heroin, PCP or methamphetamine to a minor.
PC § 1192.7(c)
How Strikes Affect "Good Behavior" Credits:
Typically, a defendant convicted of a felony offense is entitled to "half-time" or "good behavior" credits (this amounts to two days of extra credit for every two days served).
If the defendant was convicted of a prior strike and their current offense is not a "violent" crime, then they are limited to 20% good time credits in state prison.
If the defendant was convicted of a prior strike and their current offense is a "violent" crime, then they are limited to 15% good time credits in state prison.
However, if the defendant is convicted of multiple strikes prior to any new felony conviction, then no good behavior credits are available.
Ultimately, the law institutes a life sentence for nearly any crime, so long as the defendant has two prior convictions for crimes defined as serious or violent by the California Penal Code. As discussed above, it also doubles the prison sentence for people convicted of virtually any California felony who have two violent felony or serious felony priors. Beware, as second-time offenders can also receive a double sentence under Penal Code Section 667.
Prosecuting for California "Three Strikes Law"
In "Three Strike" cases, prosecutors have the discretion to move to dismiss or "strike" the felony strike. This is usually done in the interests of justice or where the prosecutor believes the defendant does not deserve another strike. A prosecutor may also move to dismiss a defendant's strike if he or she believes the allegation may be too difficult to prove at trial.
The prosecutor in this scenario must adequately prove that a defendant has the requisite prior strikes, aka "proving the strike allegations." Prosecutors may attempt this with court records, prison records, fingerprint records and the like. Nevertheless, an experienced criminal defense attorney—especially one accustomed to dealing with the district attorney's office—can negotiate with the prosecutor on a defendant's behalf to either "strike the strike," or to disprove the prosecution's strike allegations.
Defending for California "Three Strikes Law"
Like prosecutors, courts can also excuse or dismiss a defendant's prior strikes in the furtherance of justice. The defendant can petition the court directly to remove such a strike. This request is made by means of a Romero motion. A defendant can also petition the court to dismiss altogether (rather than simply excusing) the strike on his or her record.
A judge will render his or her decision based on the totality of the circumstances in the case. The judge will assess the circumstances of the case to determine if a dismissal is appropriate. In doing so, courts generally look at the type of crime charged, the length of time that has passed since the prior strikes occurred and the defendant's criminal history, in addition to other factors.
A savvy criminal defense attorney can also fight the strike offense by getting the charge reduced to a misdemeanor offense. Moreover, the revisions to the Three Strikes Law under Proposition 36 permit those defendants who were convicted of crimes no longer listed as strike offenses to appeal their sentences, allowing for the opportunity at an early or immediate release.
We Want to Help
If you or a loved one is being charged with violating the California Three Strikes Law, we invite you to contact us immediately for a free case review. Schedule an appointment to meet with us in person, or feel free to submit an evaluation online and we will get in contact with you ASAP. We can provide a free consultation in our office located in Century City, or by phone. Our experienced and assiduous Los Angeles Criminal Defense Lawyers will be sure to fight until the end to reduce or drop your charges completely.
Call Us for a FREE Case Review: 310-274-6529
How to Win Your Case
We cannot stress enough that you read, understand and follow these 10 basic rules if you are criminally charged or under investigation: