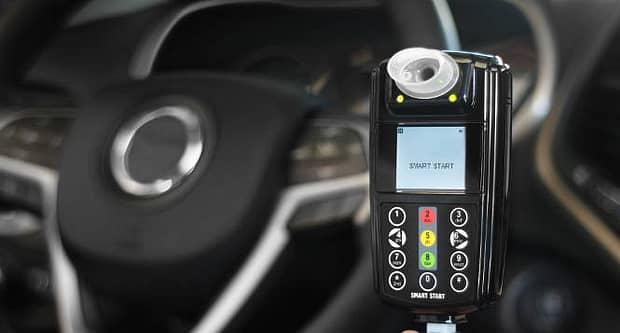 What are Ignition Interlock Devices?
An Ignition Interlock Devices for a DUI (or IID) is essentially a breathalyzer for your vehicle that prevents your car from being started if you have a Blood Alcohol Concentration (BAC) greater than 0.08% (0.04% for commercial drivers) in California.
There's been a significant decrease in alcohol-related crashes, injuries and deaths in states where IID is a requirement for all DUI offenders.
The device requires the driver to blow into a mouthpiece with a BAC below the pre-programmed level before starting the vehicle. Sometimes, after the initial sample is taken to start the car, while the car is being driven, the IID will request another breath sample. This is to ensure that someone else didn't provide the initial breath sample, or that the driver hasn't gotten drunk in the car while driving.
Who Needs an Ignition Interlock Devices for a DUI or IID in California?
California Ignition Interlock Device Laws make it mandatory to use an IID in the following situations:
First DUI with bodily injury offense (IID required for 6 months)
First DUI offense with no injuries (a 6 month IID license with full driving privileges, or a 1 year IID license restricted to work commuting only)
Second DUI offense (IID required for 1 year)
Third DUI offense (IID required for 2 years)
Fourth or subsequent DUI offenses (IID required for 3 years)
Expanded Adoption of IID in California
Smart Start IID's have stopped more than 11 million illegal vehicle starts throughout the U.S.
Ignition Interlock Devices will expand statewide in California beginning in 2019, thanks to Senate Bill 1046 signed by Governor Jerry Brown. Alameda, Los Angeles, Sacramento and Tulare Counties have required IIDs for some DUI offenders since 2010. Due to the success in these areas, the bill has passed for IID use throughout the entire state of California. The program's results show that IIDs reduce both DUI accidents and repeat DUI offenses.
We're Here to Help
Are you under police investigation for a DUI (California DUI Types, VC 23152), or have been arrested in the greater Los Angeles area? We cannot stress enough the importance of consulting and retaining a lawyer to protect your rights, privacy and future.
Need a Criminal Defense Attorney? CALL NOW: 310-274-6529
Seppi Esfandi is an Expert Criminal Defense Attorney who has over 20 years of practice defending a variety of criminal cases.