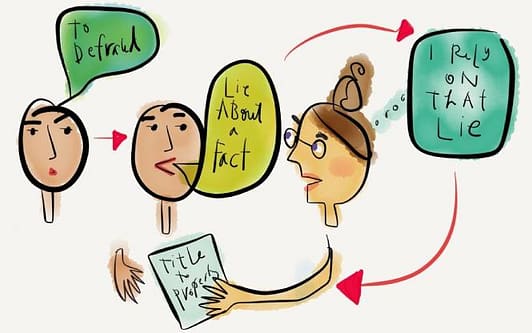 What is the Crime of False Pretenses?
Black's Law defines "False Pretenses" as:
"The crime of knowingly obtaining title to another's personal property by misrepresenting a fact with the intent to defraud."
False Pretense is a Property Crime. Depending on the property's value, a False Pretenses crime can be charged as either Petty Theft (a misdemeanor) or Grand Theft (a felony). [PC 486] If the value of the property is under $950, the crime is considered "Petty Theft" and will be charged as a misdemeanor. If the value of the property is over $950, the crime is considered "Grand Theft" and will usually be charged as a felony.
The characteristics of the Crime of False Pretenses are:
a False Representation of a Material Fact (past or present) that causes the victim to pass possession and title of his or her property to the Defendant;
the Defendant must know the representation is false;
the Defendant intends to defraud the victim
Back in the 1940s, when Ben 'Bugsy' Siegel knowingly sold investors shares totaling more than 100 percent of the fledgling Flamingo Hotel and Casino, it was a crime of Theft by False Pretenses. Similarly, when Mel Brooks' "The Producers" heroes, Max Bialystock & Leopold "Leo" Bloom, deliberately sell investors more than 100 percent of their Broadway Musical, "Springtime for Hitler," they, too, are committing the crime of Theft by False Pretenses. The only difference was that Siegel believed the Flamingo Hotel and Casino would eventually thrive, while Bialystock and Bloom were counting on "Springtime for Hitler" to fail.
The 1971 Comedy/Western "The Skin Game" starring Lou Gosset, Jr. and James Garner depicts a classic example of a crime of Theft by False Pretenses. Gosset's character, Jason, "though born a free man in New Jersey, poses as Quincy's slave as the pair ride through Missouri and Kansas in 1857." Quincy, played by Garner, sells "slave" Jason for top dollar at local slave auctions then rides out of town. After each sale, Jason either runs off after dark or Quincy finds a way to spring him loose. Then Quincy and Jason move on to repeat the con in another town. The selling of the fake slave, Jason, is a crime of False Pretenses. Quincy's helping Jason escape after a sale would be considered Larceny.
The FBI lists 17 specific scams having "False Pretenses" characteristics: Adoption Fraud, Business Email Compromise, Charity and Disaster Fraud, Election Crimes and Security, Health Care Fraud, Holiday Scams, Identity Theft, Investment Fraud, Letter of Credit Fraud, Market Manipulation ("Pump and Dump") Fraud, Money Mules, Ransomware, Romance Scams, Sextortion, Skimming, Spoofing and Phishing, and Telemarketing Fraud. [https://www.fbi.gov/scams-and-safety/common-scams-and-crimes]
According to an extensive 2011 Federal Trade Commission survey, more people reported being victims of Weight Loss scams than any other kind of fraud. "An estimated 2.1 percent of consumers – 5.1 million U.S. adults – purchased and used such fraudulent weight-loss products during 2011." While the Weight Loss Program salesperson who sold the Weight Loss program to the "victim," might be accused of committing the Crime of False Pretenses, unless that salesperson knew at the time of selling it that the Weight Loss Program didn't work and intentionally lied and said it did work, no Crime of Theft by False Pretenses has occurred.
The second most common type of fraud reported in the Federal Trade Commission survey was fake prize promotions. "An estimated 2.4 million U.S. adults – 1.0 percent of the population – were victims of fraudulent prize promotions during 2011." If the sellers of the prize promotions wrote on their website about the prizes, but knew there were never going to be any prizes awarded to the prize promotion purchasers, then Theft by False Pretenses did occur.
If a psychic advises you (in writing and in front of two witnesses) to put three hundred dollars into a brown paper bag, and to then, while counting backward from seven, tie a red ribbon around the plain paper bag, and then, at precisely four thirty-two that afternoon, to leave the red ribbon-tied bag under the blue bus bench on the Southeast corner of Main Street and Sycamore Avenue, so that you will no longer be haunted by the demonic spirits causing your chronic insomnia and you do it…and sleep peacefully for the first time in years—it most definitely is not a Crime of False Pretenses.
However, if you imagine the greatest music festival that is ever going to be and you really want it to be true and you're doing everything in your power to make it true, but, somehow, it's just not coming together and you realize you've "grossly underestimated" the cost of putting on an event of this magnitude and although you keep doing everything you can to make the beautiful dream come true, including creating some false financial documents, and somehow everyone ends up in the Bahamas without food or drinking water or shelter or supermodels, then you, like Fyre Festival organizer Billy McFarland, might find yourself charged with Theft by False Pretenses. At that point, whether it was puffery, or a "good idea gone bad," or if, as Judge Naomi Buchwald decided regarding McFarland's sentencing, "the bad intent was long withstanding" will be in question.
If you have been accused of Theft by False Pretenses [PC 532], you must make absolutely sure that you are working with a qualified criminal defense attorney, one who can capably clarify your (past, present, future) state(s) of mind and explain why your actions and the evidence do not meet the specific characteristics required for conviction of Theft by False Pretenses.
Need a Lawyer?
Seppi Esfandi is an expert California Criminal Defense Attorney committed to successfully defending a variety of crimes, including "Theft by False Pretenses."
Need a Criminal Defense Attorney? CALL NOW: 310-274-6529
Seppi Esfandi is an Expert Criminal Defense Attorney who has over 20 years of practice defending a variety of criminal cases.