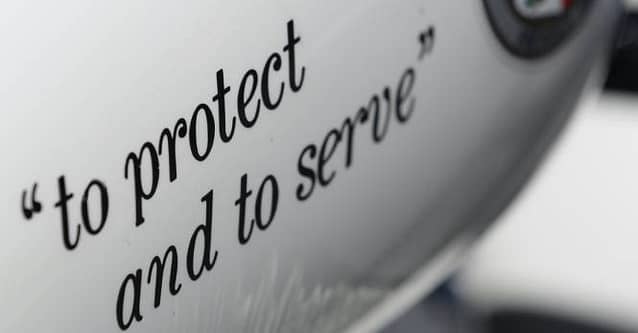 Police Officer Conduct: False Reports
Under California Penal Code 118.1, a police officer can be charged with misconduct for knowingly and intentionally filing a false report with the agency that employs him or her. The report has to be a report about a crime (as opposed, for example, to a traffic accident or fire) and the false statement(s) in the report must be in regard to a material (as opposed to incidental) matter.
A PC 118.1 violation is a wobbler and, as such, can be charged as either a felony or a misdemeanor. If a police officer knowingly and intentionally files a report that includes false statements made by a third party, that police officer is not liable under Penal Code 118.1. However, the non-police officer who made the false report would be charged with a misdemeanor under California Penal Code 148.5
In short, yes.
Police can be charged and held accountable for falsifying reports.
It's hard to prove that someone knowingly and intentionally lied and that the reported falsehood is not just a simple mistake or a memory short circuit. For this reason, it's reasonable to assume that many citizen complaints regarding falsified police reports fail to achieve potentially prosecutorial status.
Nevertheless, it does, occasionally, happen.
False Report Case Studies
In May 2021, after a five-month investigation that initially targeted more than twenty suspected Sacramento Police Department officers, 26-year-old, three-year SPD veteran Alexa Palubicki was arrested on two felony counts of filing a false report. As a result of the investigation, some other unnamed SPD officers have been suspended.
In July 2021, LA West Traffic Officer Alejandro Castillo, a 13-year LAPD veteran, was arrested for discrepancies between written reports and body cam footage of a DUI stop. He was charged with felony false reporting and perjury. The case remains under investigation by the LAPD Internal Affairs Division.
On December 4th, 2021, two Long Beach police officers were arrested for filing false reports about a firearms arrest that happened more than three years ago. Although the Long Beach detectives noticed discrepancies between their reports and surveillance videos in February 2018, the officers continued to work until their arrests. Agency spokesperson Richard Mejia said, "a preliminary review by the department didn't initially warrant the officers' removal from work, and administrative cases typically are put on hold until prosecutors decide whether to pursue charges." The officers were not pulled from the field and suspended until the Los Angeles County District Attorney's Office filed charges; Long Beach detectives submitted the case for prosecution in January 2019. The officers were booked on suspicion of perjury, filing a false police report, and filing a false government document. One of the officers was released on two dollars bail, the other was released on one dollar bail. [U.S. News]
On December 10th, 2021, La Mesa (San Diego County) police officer Matthew Gages was found not guilty of falsifying a May 2020 report involving a young man who was smoking near the Grossmont Trolley Station. The alleged falsity of Dages' arrest report as portrayed on social media spawned a peaceful protest that grew into a riot during which several downtown La Mesa buildings were burnt down. The La Mesa Price Department fired Gages and he was charged with one count of lying on a police report. Now, Dages' attorneys have filed a Civil Suit on his behalf that will begin in April 2022. Their argument is that Dages' termination violated California Code of Civil Procedure section 1094.6.
Police Officer Training
Police officers in training are taught that at least 45% of their job is writing and that future testimony begins in the field with the writing of the report. They are instructed to write well-written reports that include all reasonable suspicion, probable cause, and elements of the crime. They are warned that defense attorneys will try to create reasonable doubt in the minds of the jury based, in part, on the sloppiness of an investigation and/or officers not being truthful. They are encouraged to review their reports several times before testifying in court, to not read from the actual report in court, to leave out exculpatory evidence, and to manipulate facts to the prosecution's advantage. [LAPD Testimony Training Document]
In 1990, California Voters passed Proposition 115 (The Crime Victims Justice Reform Act). Proposition 115 makes it possible for police officers to testify to witnesses' and victims' statements at a preliminary hearing without those witnesses or victims being present. While hearsay is normally thrown out of court, Proposition 115 allows District Attorneys to overcome any objection based on hearsay. Proposition 115 is covered under California Penal Code 872.
Complaints about LAPD and Los Angeles Sheriff's Department misconduct can be filed in person, online, or by telephone. They can be filed anonymously and third-party complaints are also accepted. The Office of the Inspector General (OIG) was established in 1995 through a voter-approved amendment to the Los Angeles City Charter.  A subsequent amendment to the charter, in 1999, clarified and expanded the authority of the OIG. "The OIG conducts civilian oversight of the Los Angeles Police Department (LAPD) in furtherance of holding the LAPD accountable to the people that it serves.  Among other things, our office completes audits, reviews, and investigations of alleged misconduct, serious uses of force, and other areas of interest with respect to the LAPD." The Los Angeles Sheriff's Department has its own Civilian Oversight Commission, which was established in 2016.
 
The LAPD Internal Affairs Division is responsible for investigating complaints of misconduct of LAPD employees that are either administrative in nature, or have potential criminal elements associated with the complaints. Investigators assigned to IAD interview complainants, witnesses and accused employees. They collect and preserve evidence, and ensure other investigative approaches are conducted or considered such as photographs, drawings, and record research. The completed complaint investigation is submitted to the Commanding Officers for review.  For criminal investigations, the completed investigation is also presented to the Justice System Integrity Division of the Los Angeles County District Attorney's office.
According to a United States Department of Justice's Community Oriented Policing Services (COPS) Report: Standards and Guidelines for Internal Affairs, both the LAPD and the Los Angeles County Sheriffs Office IAD Divisions follow an elaborately detailed complaint investigation procedure that encompasses Intake, Classification, Investigation, Adjudication, and Discipline. The LAPD has an Internal Affairs "Quick Team" to handle cases that have "very minimum follow up potential, or [are] clearly Demonstrably False." The LAPD's Chief is responsible for ultimately determining what, if any, discipline there will be. In the Sheriff's Department, disciplinary decisions are made by Employee's Unit Commander and, for discharge and demotion, by the Undersheriff.
Systemic Implications
Obviously, cases of police filing false reports are problematic for District Attorneys because if a police officer is found guilty of filing a false report, all their previous cases come into question. Both prosecutors and defense attorneys keep track of officers who have been disciplined for lying by falsifying reports in order to identify who can be impeached at trial.
If you have information or questions about a police officer lying on a report, it's best to consult with an experienced attorney and find out how to best navigate the complicated police officer misconduct matrix.
Need a Lawyer?
Seppi Esfandi is an expert attorney with over 20 years of practice defending a variety of criminal cases.
 
Need a Criminal Defense Attorney? CALL NOW: 310-274-6529
Seppi Esfandi is an Expert Criminal Defense Attorney who has over 20 years of practice defending a variety of criminal cases.