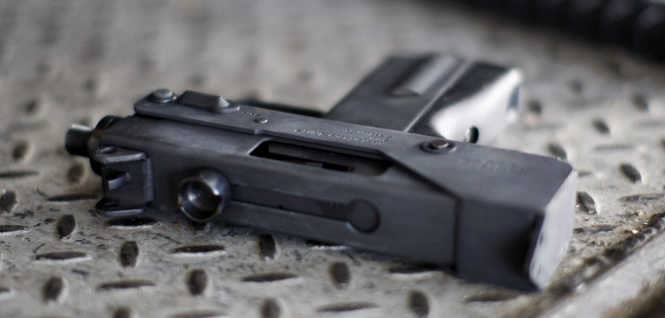 Nationwide Violence vs. Los Angeles
The Gun Crime Statistics (Dangerous Weapons, PC 12020) in Los Angeles is considerably higher than the national average in America. On average, the total crime rate is 31 per thousand residents in the city of Los Angeles, with 6 out of one thousand being violent crimes. It is not the highest violent crime rate of any city in the US, that 'honor' belongs to the prestigious city of East St. Louis. [1]
Los Angeles Gun Crime Statistics
The chance of becoming a victim of any firearm crime (violent or property) in Los Angeles is 1 in 33. Based on FBI crime data, Los Angeles is not one of the safest communities in America or even in the state of California. Relative to California, Los Angeles has a crime rate that is higher than 75% of the state's cities and towns of all sizes. [2]
However in terms of per capita, The City of Angels is near the middle of the pack in all violent crime, not much more or less dangerous than would be expected from the statistics, considering the population of the greater Los Angeles area is pushing 19 million.
For a more in-depth look, see Violent Crime Statistics For Every City In America.
An Unsettling Rise in Violent Crime
For Los Angeles, we found that the crime rate with the use of weapons is one of the highest in the nation, compared to cities (both large and small). Violent offenses tracked included rape, armed robbery, murder and non-negligent manslaughter, and aggravated assault, including assault with a deadly weapon (Assault with a Deadly Weapon, PC 245(A)(1)). According to our analysis of FBI-reported crime data, your chance of becoming a victim of one of these crimes in Los Angeles is 1 in 155.
Our analysis also reveals that in 2016, Los Angeles's rate for weapon-related property crime is 24 per one thousand persons. This makes Los Angeles a place where there is an above average chance of becoming a victim of a crime with the use of weapons, when compared to all other cities in America of all population sizes. Property crimes are motor vehicle theft, arson, larceny, and burglary. Your chance of becoming a victim of any of these crimes in Los Angeles is 1 in 42. [3]
Conclusion of Gun Crime Statistics
The facts are still the facts in Los Angeles: two-thirds of murders were committed with firearms. It's a lot easier to shoot someone than look them in the eyes while strangling them. Or, stabbing someone at close range may make one realize the magnitude of their actions and think twice, whereas pulling a trigger from a distance, often times may not. That's why firearms have consistently remained, America's favorite murder weapon.
References:
[1] https://www.neighborhoodscout.com/blog/top100dangerous
[2] https://www.neighborhoodscout.com/ca/los-angeles/crime
[3] https://www.latimes.com/local/california/la-me-lapd-crime-increase-20160722-snap-story.html