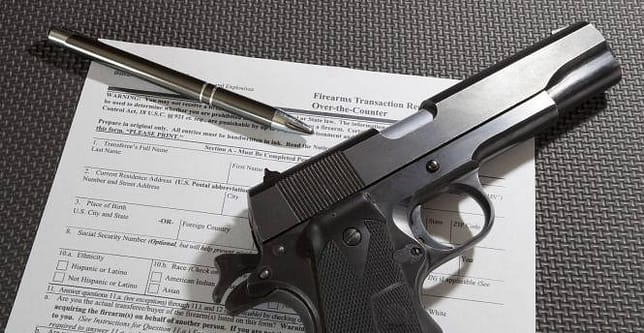 Penal Code 26500 PC
Under California law, certain immediate family members can transfer gun ownership to one another without any paperwork, background checks, or official gun dealers involved. This includes transfers between:
Parent and adult child
Grandparent and adult grandchild
Spouses
Registered domestic partners
For most other gun transfers, the person giving the gun is required to possess a Federal Firearm License, or FLL. They are also required to be a legal firearms dealer and complete a background check on the person they are transferring the gun to before the transfer takes place.
If you sell or transfer a gun without being licensed to so, you will be in violation of Penal Code 26500 PC under California law, which states:
(a) No person shall sell, lease, or transfer firearms unless the person has been issued a license pursuant to Article 1 (commencing with Section 26700) and Article 2 (commencing with Section 26800) of Chapter 2.

(b) Any person violating this article is guilty of a misdemeanor.
Penalties for this misdemeanor charge include up to six months in the county jail.
Under California Penal Code 26840, anyone in the Golden State acquiring a firearm must have a Firearm Safety Certificate or FSC. So, while some family members can legally give a firearm to another family member or spouse without paperwork, the person receiving the gun must still be in possession of a valid FSC.
How Can Spouses or Registered Domestic Partners Transfer Firearms to One Another?
The following conditions must be met in order for spouses/domestic partners to legally transfer guns between one another:
The recipient cannot be prohibited from possessing a firearm.
The firearm in question is legal to possess in the state of California.
The spouses/domestic partners are legal residents of California.
How Can a Parent or Grandparent Transfer a Firearm to Their Child or Grandchild?
In order for parents or grandparents to conduct paperless transfers of a gun to their children or grandchildren, they must meet the following conditions:
The child/grandchild cannot be prohibited from possessing a firearm.
The firearm in question is legal to possess in the state of California.
It's important to note that the following family members are prohibited from conducting paperless firearm transfers:
Siblings
Cousins
Stepchildren/stepparents
Aunts
Uncles
If the firearm being transferred is a handgun, there are a few other steps the transferee must complete:
Receive a Handgun Safety Certificate before the transfer is complete
Receive a Report of Operation of Law or a Report of Intra-Familial Handgun Transaction ($19 fee) within 30 days of taking over possession.
What's Required to Become a Licensed Dealer in California?
For any transfers or sales outside of the above-mentioned familial parameters, including at gun shows, you must obtain and maintain the following:
A valid FFL
All regulatory and/or business licenses required by your local municipality
A valid seller's permit from the State Board of Equalization
A certificate of eligibility issued by the Department of Justice
An appropriate one-year license issued by an authorized licensing agency
It's important to note that once you are a licensed dealer, you are still prohibited from selling illegal firearms. In California, illegal firearms are:
Guns that are considered assault weapons in California
Guns that are "generally prohibited" in the state
Handguns that are not listed on the Department of Justice's Roster of Handguns Certified for Sale
When you sell a gun in California, you must:
Request a valid driver's license to ensure the person buying the gun is at least 21 years old
Complete a background check on the buyer
Collect specific DROS information and submit it to the Department of Justice
The state of California also has a 10-day waiting period before you can release the firearm to the purchaser or transferee.
We Can Help
If you have recently been charged with violating Penal Code 26500 PC or any other California gun laws, Seppi Esfandi is here to help. Esfandi has decades of experience as a Los Angeles criminal defense attorney.
Schedule an appointment to meet with us in person, or feel free to submit an evaluation online, and we will get in contact with you ASAP.
Need a Criminal Defense Attorney? CALL NOW: 310-274-6529
Seppi Esfandi is an Expert Criminal Defense Attorney who has over 20 years of practice defending a variety of criminal cases.