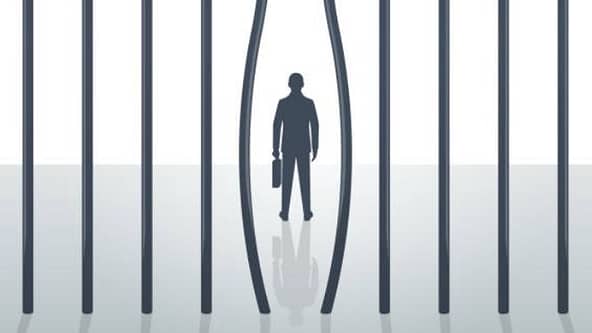 Can I be convicted of a felony in California and not go to jail?
Yes. It is possible to avoid jail or prison times after being convicted of a felony in California.
Do I have to go to jail if I get a California felony conviction?
No. An individual receiving a felony conviction in California does not necessarily have to go to jail.
While it is true that California felonies are punishable by up to three years in County Jail, by a State Prison Sentence of up to life (with or without the possibility of parole), or by the death penalty, incarceration is not the only possible outcome of a felony conviction.
California Specific
California's court system is the largest (and possibly most complicated) in the nation. It is also distressingly fluid. For example, the version of PC1170 approved in August 2020 has already been repealed; a new version will take effect in January 2022.
In most California felony cases, the judge has the discretion to sentence a convicted individual to felony probation. In these cases, the jail or prison sentence is "suspended" pending the successful completion of probation. California Rule of Court 4.14 specifies the criteria upon which a judge should base his or her decision to grant or deny probation. According to these criteria, the judge must consider both the facts that relate to the particular crime and the facts that relate to the particular defendant. A typical probation term is three, four, or five years. A judge may impose additional suspended sentence penalties, such as jail time (up to 365 days).
In some California felony cases, the judge does not have the discretion to grant a sentence of probation. In these cases, unless the crimes are deemed particularly serious or violent and, as such, require serving a mandatory state prison sentence, the judge must sentence the convicted individual according to California's Determinate Sentencing Law. [PC 1170]. If you are convicted of a felony and are not eligible for probation, PC 1170(b) prescribes three possible sentencing terms—an upper term, a middle term, and a lower term. California Superior Court Judges must choose between the three different imprisonment terms based on the particular offense. This is known as the "triad" method because, for each conviction, there is a prescribed low term, a prescribed middle term, and a prescribed high term. Typically, these terms are 16 months (low), two years (middle), or three years (high) in County Jail. Theoretically, the judge starts in the middle with the prosecution arguing for a longer term based on "aggravating circumstances" and the defense arguing for the lower term based on "mitigating circumstances." Aggravating Circumstances are circumstances that would lend themselves to a longer sentence. Mitigating Circumstances are circumstances that would lend themselves to a shorter sentence.
At least four days prior to the time set for imposition of judgment, either party or the victim, or the family of the victim if the victim is deceased, may submit a statement in aggravation or mitigation. In determining the appropriate term, the court may consider the record in the case, the probation officer's report, other reports, including reports received pursuant to Section 1203.03, and statements in aggravation or mitigation submitted by the prosecution, the defendant, or the victim, or the family of the victim if the victim is deceased, and any further evidence introduced at the sentencing hearing. The court shall select the term which, in the court's discretion, best serves the interests of justice. The court shall set forth on the record the reasons for imposing the term selected and the court may not impose an upper term by using the fact of any enhancement upon which sentence is imposed under any provision of law. A term of imprisonment shall not be specified if imposition of sentence is suspended. [PC 1170]
Your Best Chances
If you are convicted of a felony, it is crucial that an experienced attorney work on your behalf to prepare a winning "Statement of Mitigation."
Depending on the offense for which an individual is serving time and other factors, almost all California convicts end up serving only a fraction of the officially imposed jail or prison sentence.
In 2011, after the US Supreme Court mandated that California do something to reduce its ridiculously overcrowded prison population, the California "Realignment" Law went into effect. This law provides for split sentences between jail time and Post-Release Community Suspension. Post-Release Community Suspension lasts no more than three years and, often, much less. Similarly, Proposition 57 (overwhelmingly passed by California voters in 2016) was designed to increase the value of Good Conduct Credits [GCC], also in an effort to comply with the US Supreme Court's ruling and reduce California's "cruel and unusual" penal situation.
A knowledgeable attorney, one who is committed to achieving the best possible outcome for you and yours, will help make a felony sentence reduction possible or even win a suspended sentence so that a convicted individual can serve probation instead of jail or prison time.
Additionally, California Assembly Bill [AB 1950], in effect as of July 2021, significantly reduces the length of probation in most felony cases. Again, since the Courts and District Attorneys are not required to notify eligible defendants of their new and more advantageous AB 1950 situation, it's important to have a qualified legal professional monitoring and facilitating one's best interests.
Just because you are arrested for a felony doesn't mean you will be charged with a felony. Just because you are charged with a felony doesn't mean you will be convicted of a felony. Just because you are convicted of a felony doesn't mean you will be sentenced to County Jail or State Prison time.
It's possible that one thing, and one thing only, is absolutely certain regarding the murky and ever-shifting landscape of California Felony Sentencing Law: If you are charged with or convicted of a felony, you will need an expert Criminal Defense Attorney to navigate the most optimal course out of the dark woods and into your bright and clear future.
When Do You Need a Lawyer?
As soon as possible.
If you have recently been arrested, accused of a crime, or need your record sealed or conviction expunged, contact a Los Angeles Criminal Defense Attorney today.
Need a Criminal Defense Attorney? CALL NOW: 310-274-6529
Seppi Esfandi is an Expert Criminal Defense Attorney who has over 20 years of practice defending a variety of criminal cases.