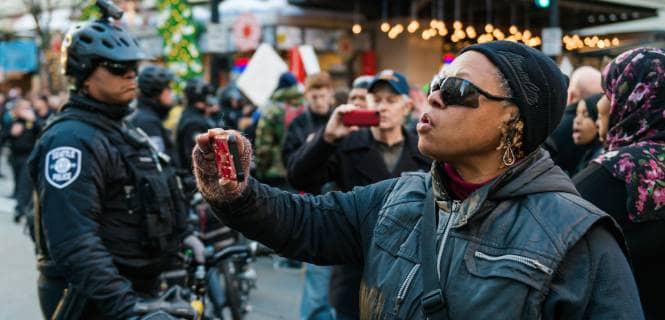 First Amendment Right
Due to the First Amendment's protection of free speech, the press, and the public's right to know, the courts have upheld the practice of filming police officers. Most courts that have examined this question have ruled that you have the right to record (photograph, video, and audio) police officers in public while conducting their duty, citing the First Amendment.
Judges have ruled that non-professional journalists and documentary filmmakers have the same rights to free speech as professional journalists. More "news" is being captured and broadcast by public members because of the widespread availability of personal filmmaking equipment.
But it doesn't imply you may covertly film a cop or breach any other laws.
What You Need to Know to Film Cops in California
Under the following conditions and limits, the state of California has concluded that citizens may videotape law enforcement officers:
Suppose the citizen recording does not obstruct the officer's capacity to do their work. In that case, the citizen can film or videotape the cop while the officer is doing official responsibilities.
Making an officer know that they are being filmed or recorded is lawful.
Anyone attempting to videotape police should do it casually and collectedly. You may use your right to silence by informing the officer that you are exercising your freedom to free speech under the First Amendment to the United States Constitution. If a law enforcement official has stopped you, you must inquire whether you're free to go unless you're under arrest for a crime.
If a police officer requests that you maintain a safe distance, you should abide by such request. If a police officer asks questions, showing identification might help ease tensions. As a result, while filming police officers, it's important to always comply with their requests and speak with government officials doing their jobs in a friendly, respectful manner.
Do not offend or bait the police while filming them. Don't say or do anything that could accidentally hurt the case. In a criminal prosecution or a civil rights case, the attorney might utilize the recording to verify that the police violated the suspect's constitutional rights.
Explain that the freedom to record police officers is guaranteed under the First Amendment of the United States Constitution if a police officer orders you to cease filming or tells you that doing so is prohibited.
Never, under any circumstances, should a camera or smartphone be pointed toward a police officer in a manner that may make them seem to be armed. Do not give law enforcement any reason to detain or hurt you.
When is it Illegal to Film California Law Enforcement?
The freedom to film police officers is usually protected by the Constitution, although problems might occur if the filming disrupts the officer's duties or is done secretly. It would be best if you didn't get in the way of a police officer when they are doing their job.
In some instances, it is illegal for a person carrying a camera to interfere between a police officer and a suspect physically. If a police officer instructs you to move back, you should comply since courts often defer to their judgments on whether your actions constituted illegal interference. The law also makes it unlawful to record a cop undercover. Covertly recording a police officer is a crime punishable by up to a year in county prison and a $1,000 fine. All Californians must provide their permission to record any conversation they are a part of since the state follows the "two-party consent" standard.
The prosecution of this offense is based on California Penal Code 632, which makes it illegal to record or eavesdrop on any private conversation. It's also vital to remember that you may not have legal permission to film a police officer who is not on duty.
Related Article: What Should I Expect if I'm Arrested at a Protest?
Resisting Charges
You should remain calm and compliant if you are arrested for filming a law enforcement officer. Thus, cooperate with the police and don't give him any reason to suspect you of resisting arrest. Then, you may talk about your right to remain silent under the First Amendment. If you try to evade arrest in California, you might face charges under Penal Code 148a. If you were unlawfully held, you might be able to sue for damages caused by violating your constitutional rights.
In Need of a California Criminal Law Specialist?
Esfandi Law Group has been fighting for the rights of Californians for over 20 years. We're here to help.
CALL NOW: 310-274-6529
Seppi Esfandi is an Expert Attorney who has over 21 years of practice defending a variety of cases.